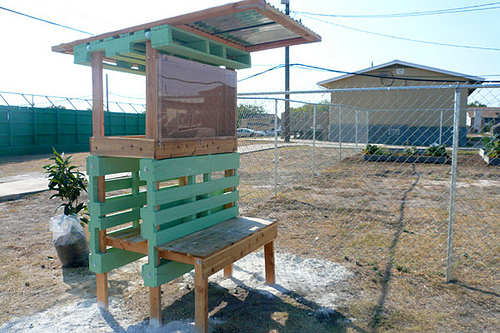 The recent season change reminds me of how much our temperature drops during the winter and how much our city changes aesthetically.  On that note, I was wondering how other "green art"-type groups deal with their surroundings.
I found a group call Austin Green Art from Austin, Texas which seems to focus on using existing materials (disposed or excessively produced) to make useful structures and raise awareness of environmental issues.  While this group is about as different from Broken City Lab – they seem to market to children quite a bit and require constant donations for operation – as it is similiar, it's nice to see participation from a wide range of age groups in their documentation.
I found this "Green Bench" to be a great example of a project that could encorporate ideas such as: static visual art display (in the plastic cover), shelter, sustaining plant life, and potential solar energy production.  I'd like to see benches like this line a few of Windsor's streets.