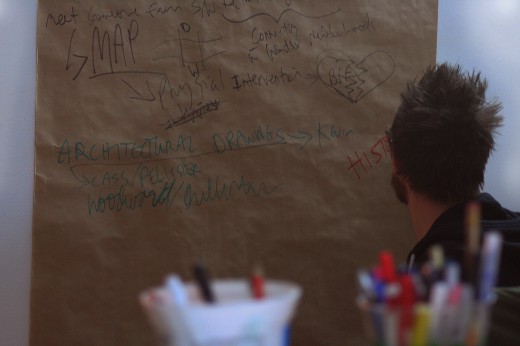 As most of us were busybodies for the  duration of last week, it was great to keep the momentum going at Friday's meeting.
We took no time at all in getting to the meat of our discussion- organizing the research for How to Forget the Border Completely.
Before marking up the giant brown paper on the wall, Justin provided a quick demo on the tools that some of us will be using to gather footage and documentation.
Michelle is ahead of the game with her areas of interest. She's been in contact with a few people of importance for some interviews and is making preparations to do so within the next few weeks.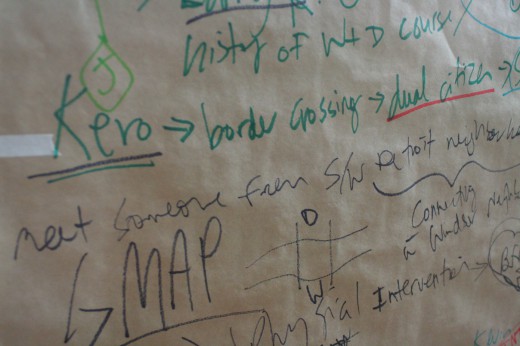 For some reason, it was a lot easier to figure out our plans with this giant paper. Like old times.
With the research that we'll be gathering, it'd be important to create a brief summary of the history of the two cities with relations to each other. Hiba and Kevin's names are scrawled beside that note as they'll be seeing into that aspect. Myself along with Josh and Karlyn will be looking into ways to connect the international neighbourhoods through various means. What kinds of things or events will it take to entice visitors to each other's playgrounds?
Kevin and Josh will also piece together a drawing of sorts to compare the similarities between a few streets that parallel each other across the river.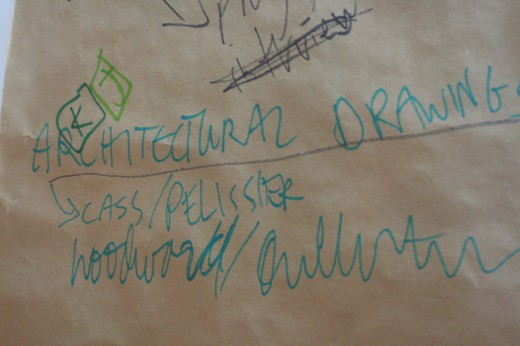 Everyone will surely be taking part in other research segments, it is just easier to divide things up now based on who is more interested in which areas to begin.
This coming Friday is all about the letters! We'll be refurbishing those that have been damaged after our last excursion and more continuing our conversations about where we'll be placing them next.
How to Forget the Border Completely is generously supported by the Ontario Arts Council.