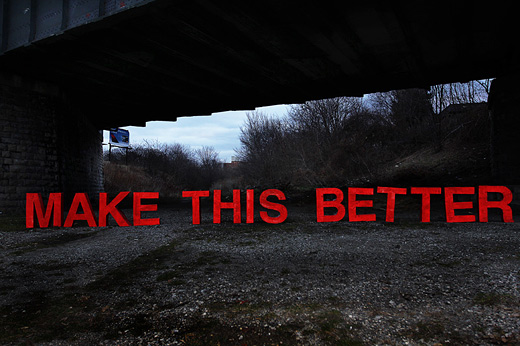 This is the first in what will be an ongoing series of posts as we temporarily install these letters across the city to generate some conversation and creative thinking around how we can indeed make this (place) better. You can check out the process of making these letters in this archive of posts.
Ripper's Valley is visible from the Riverfront bike path, which happens to be how I first became interested in it. As an avid cyclist, I very frequently ride down this section of the Riverfront path and quite often see a bustling community of families, a diverse range of cultures, a balanced number of mothers and fathers, grandparents, babysitters and children using the play equipment and nearby benches during the day.
However, within feet of this area is a dead-zone. The entrance to the railway cut is dark, looming, and segregated from the Riverfront Park. In my experience, children venturing toward the entrance are most often called back by their parents and reprimanded to stay within the direct area of the play equipment.
I discovered the slang term used for this location by asking around within a group of peers about the space. Many of them called it Ripper's Valley, referring to the infamous serial killer Jack the Ripper. The temporary installation of these letters attempts to counter that experience and reference. The act of existing in this space after sundown, providing lighting, watchful eyes, and perhaps deterring illegal or harmful activity from manifesting for the duration of our stay possibly subverted the current condition and environment of the park. We wanted to ask ourselves: How could you make this space better? What about other city residents? What could we do as a community to make it better?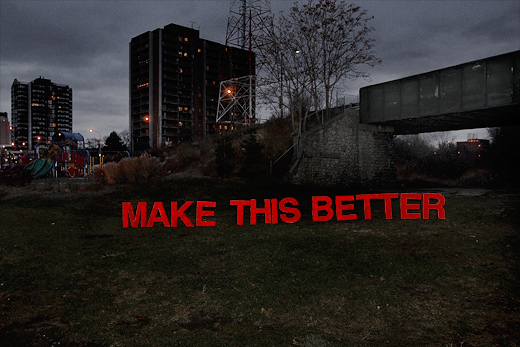 And,  it is possible to imagine something different here, something that could transform it into a place. Imagining this cut with a few slight changes, children could be encouraged to enter into and engage with the space and play in the natural environment with an understanding of what used to be there and the larger picture of why this history is important. Historical preservation of the cut as an interesting point in Windsor and Detroit's international trade relations, a former connector between the international border, would instill a sense of place that is not currently found in the park.
That's why I chose this site as a place I would like to change somehow, and through awareness of the important history of the site versus its current condition, we hope to spark a conversation about the potential to do something great here.