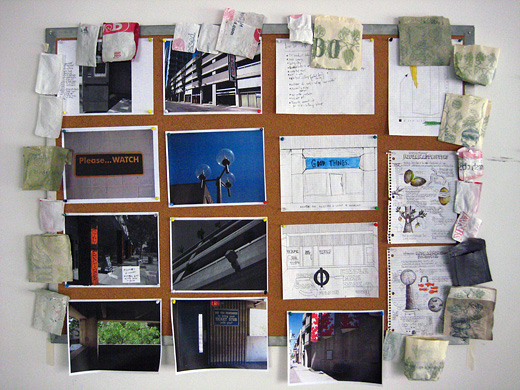 Another week and another day in 406 Pelissier, which as it continues is now part of Windsor's Visual Fringe. It's tough to find time to get down there, but I think we made the best of a few hours last Tuesday. We're continuing work with the planters, which is (as they always seems to be) another fairly long-term research and development type of project. However, we made some great progress and some new strategies for designing the planters, and did a couple more test transplants.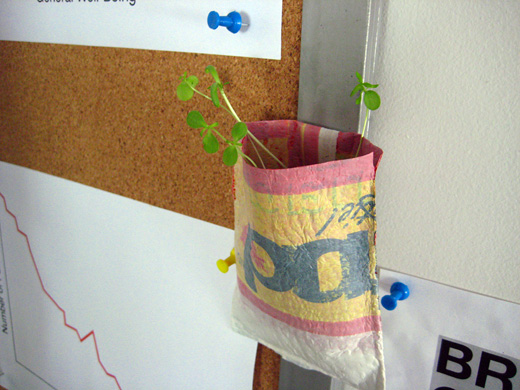 Our initial test planter continues to grow some wildflowers from seeds.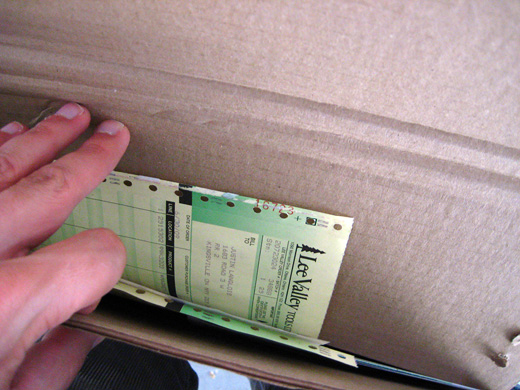 Lee Valley delivered our rare-earth magnets, I accidentally order 3/8″ instead of 1/2″, but they still seem to be working okay.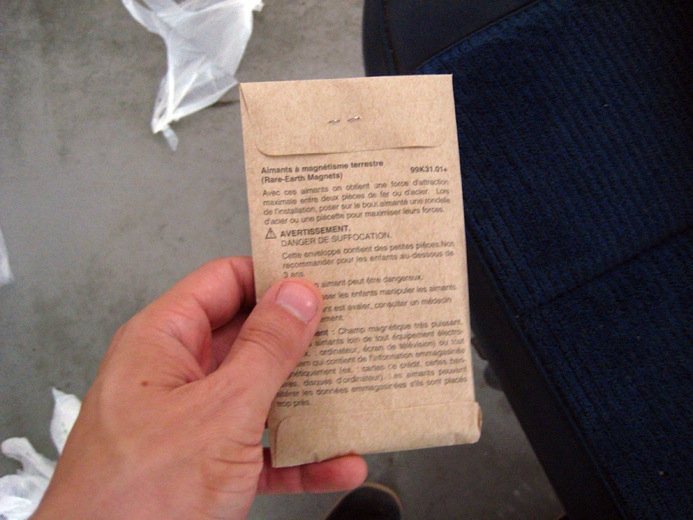 100 magnets come in this little envelope.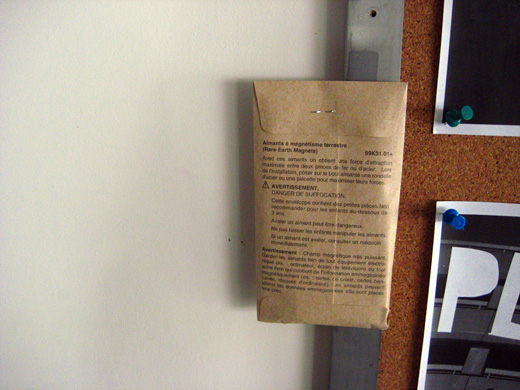 The magnets are much stronger when put together, so if there are particularly heavy planters, we can double up the magnets to carry the weight.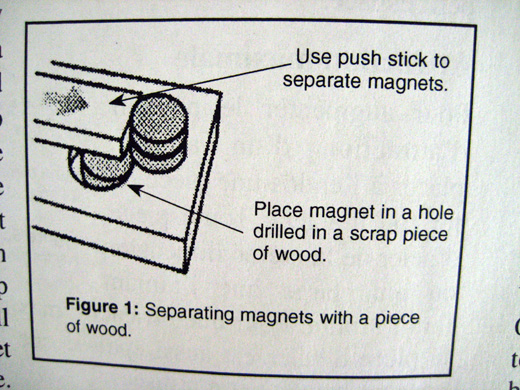 These are the directions for separating the magnets, which come stacked on top of one another.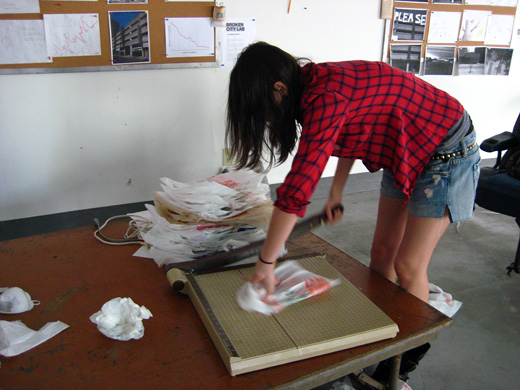 Danielle immediately set to work cutting more plastic bags.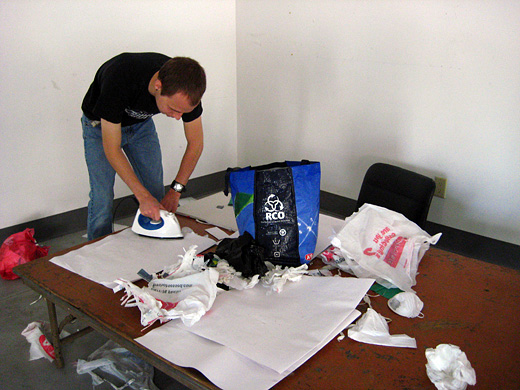 Josh set out ironing some more planters.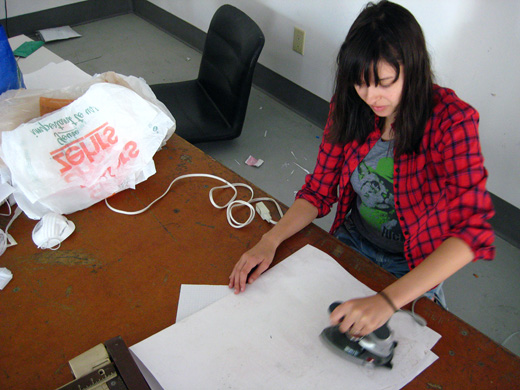 Danielle and Josh set out ironing the bags to create the planters.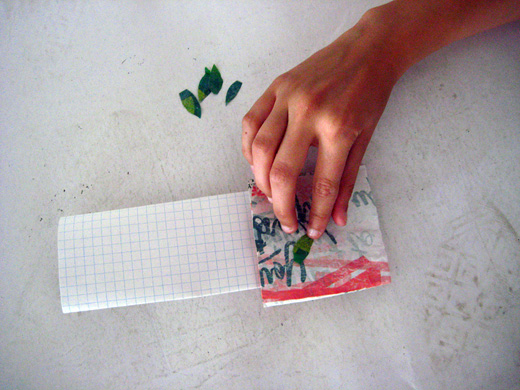 Danielle also started working on some new ways of designing the planters.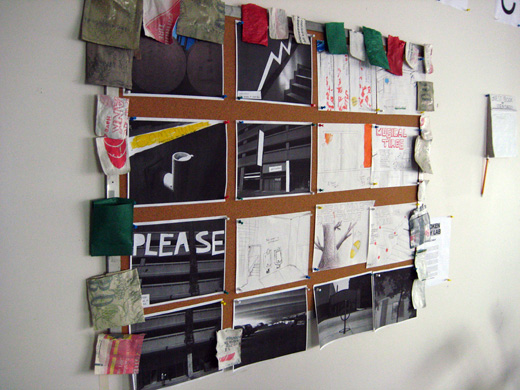 These planters were mostly from the previous weeks, but as we continue to work through this project, it's great to see how many we've finished.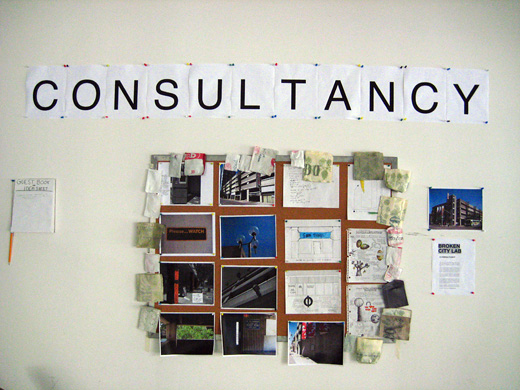 Here are some more planters.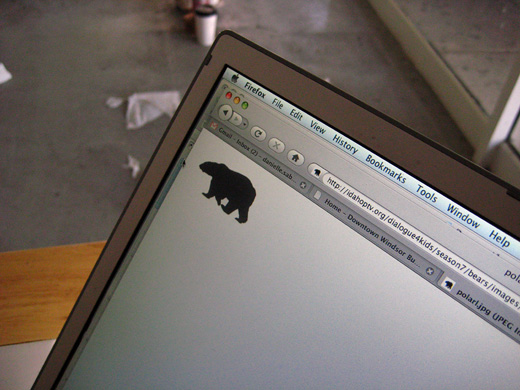 Danielle started seeking out some basic shapes to cut out of other plastic bags to then iron onto the planters.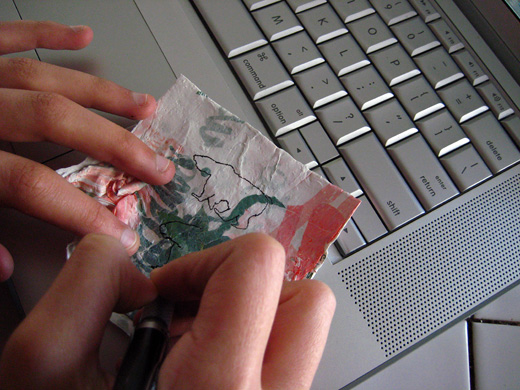 She would draw the shape onto ironed sheets and then cut them out with an Xacto knife.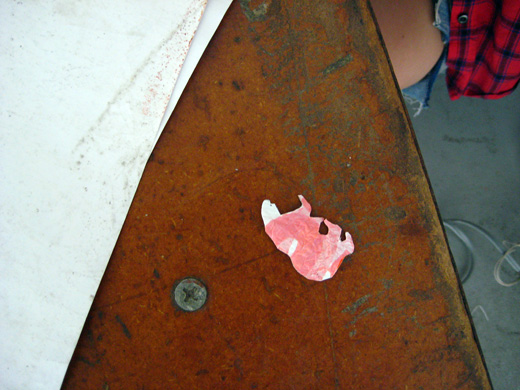 Here's the bear.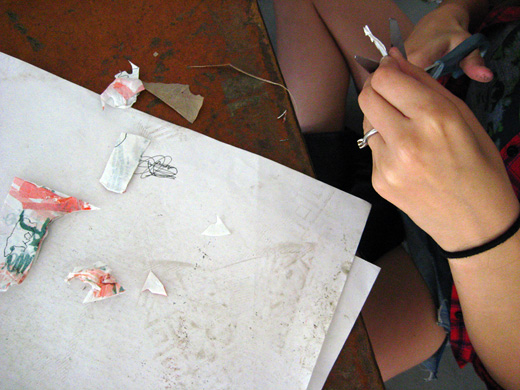 This process seemed potentially a lot more interesting than the original stencils or stamps that we had considered earlier.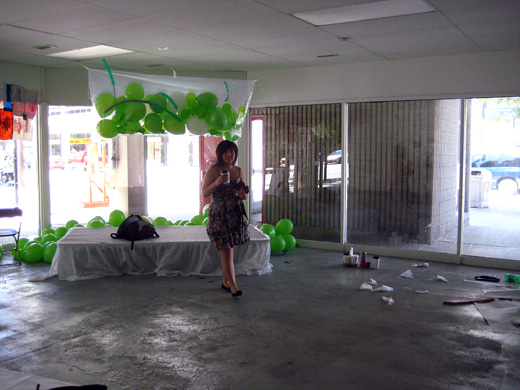 Cristina with coffee (ready to destroy a proposal we'd been working on).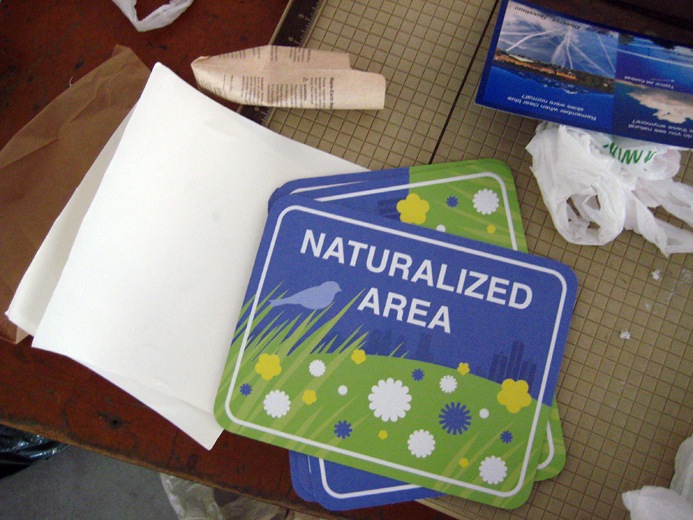 The signs we'd been working on, picked up just moments earlier from FastSigns.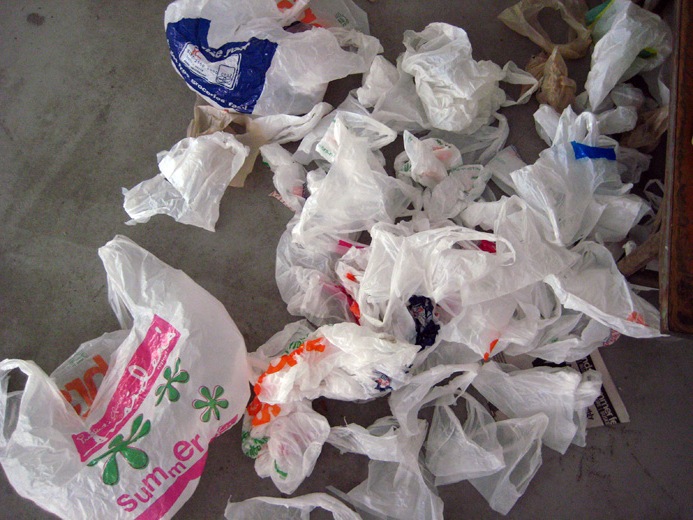 Here are some of the many cut off pieces of plastic bags that can be turned into other planters or sheets, though obviously not quite as sturdy as solid sheets, the results look more interesting given the variety of colours that come out of it.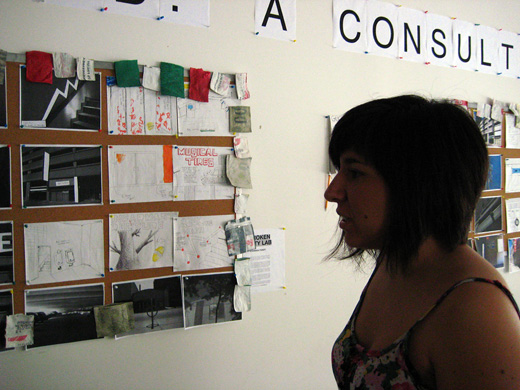 Cristina takes a look at the finished planters hanging on the bulletin board edges via our rare earth magnets.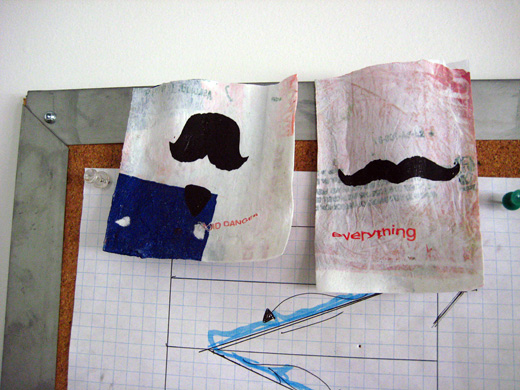 Here are some more of Danielle's layered planters.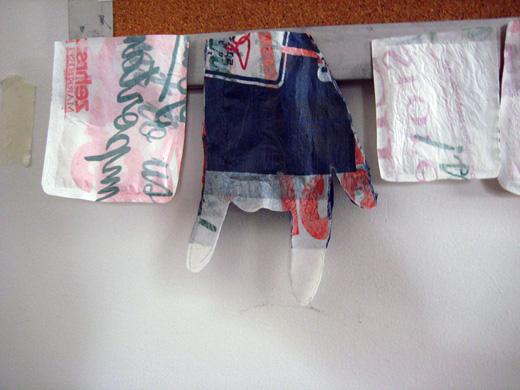 Josh made this—it's awesome.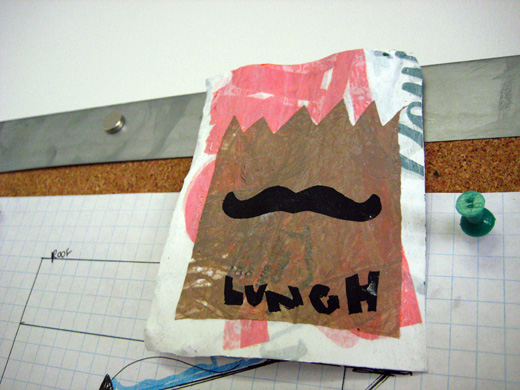 Danielle's paper bag lunch design.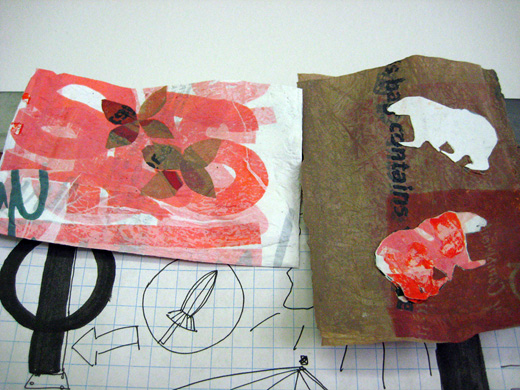 Some flowers and bears.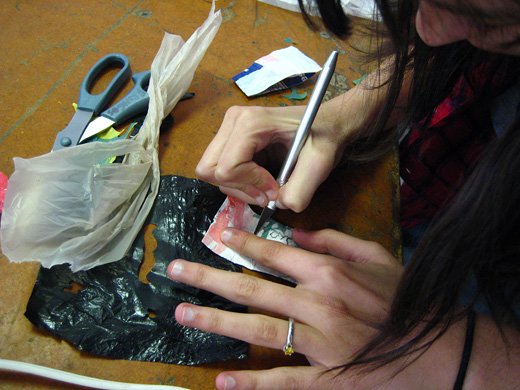 Working on other designs with an Xacto knife, I'm anxious to see more planters worked out this way.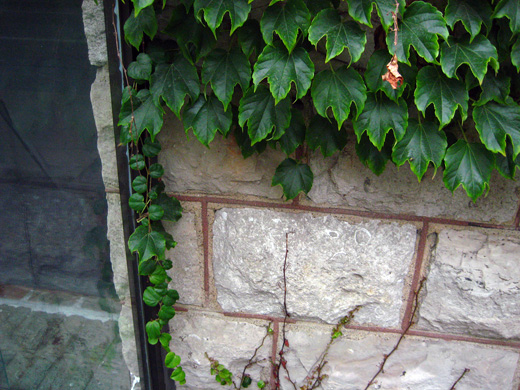 Adam from Yellow Wood came by, and even though we didn't have a lot of time, we figured we would start doing some more tests for planters, working with transplanted vegetation.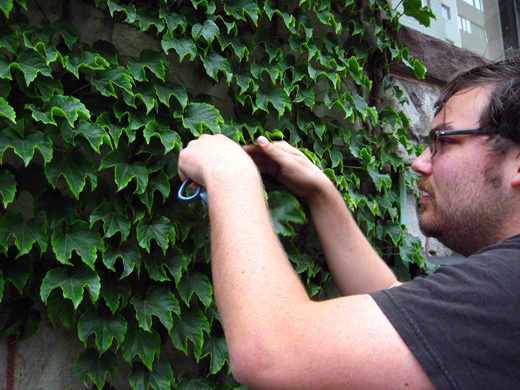 We trimmed a few leaves from this ivy.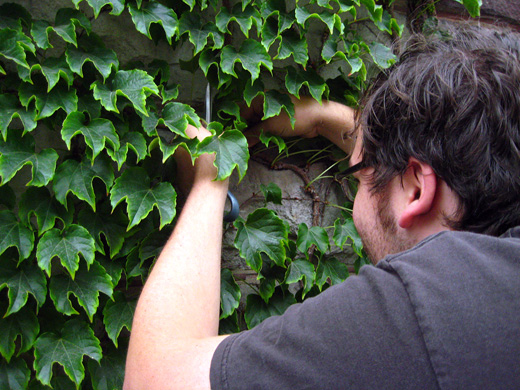 It was tough to figure out exactly where to cut from, we figured it wouldn't work just cutting the leaves, so Adam cut a bit further down the branch.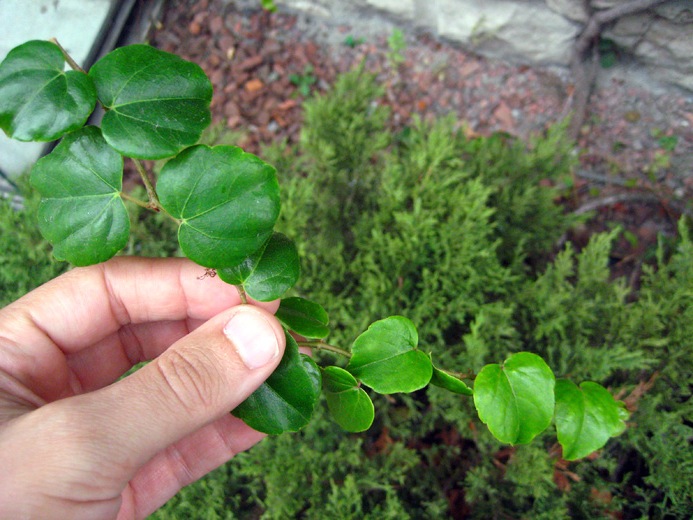 We also cropped a bit of the newer growth to see if it would do any better than the more established leaves once transplanted into our planters.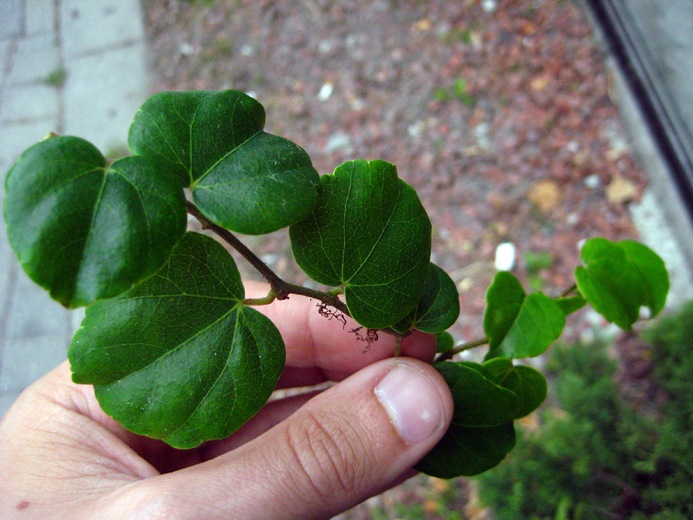 Here was a part of a branch of the more established leaves.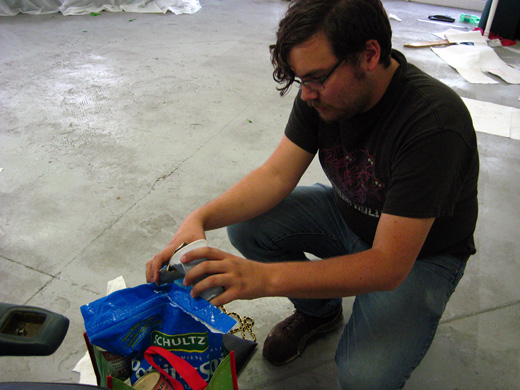 Back in the space, Adam added some soil to one of the finished planters.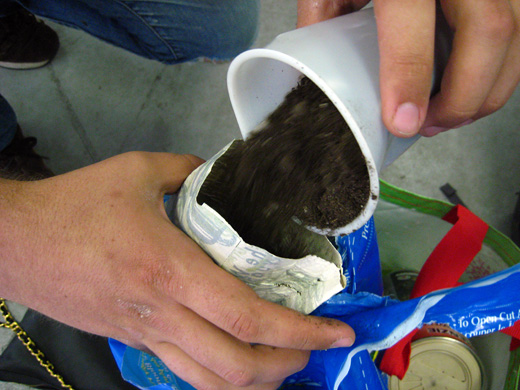 We half-filled the planter then added the cut-off branch.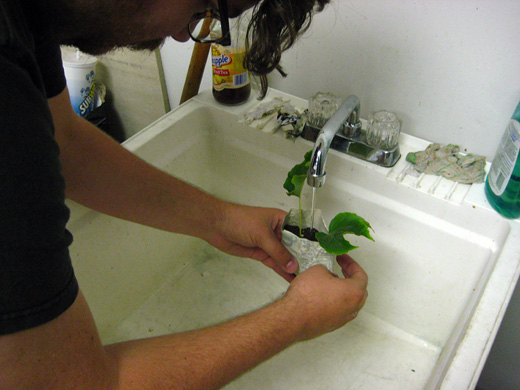 Then we added water, and then some more soil.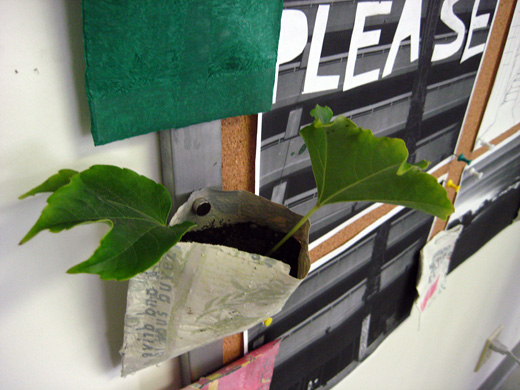 This planter was fairly heavy given the the size of it, lots of soil and water.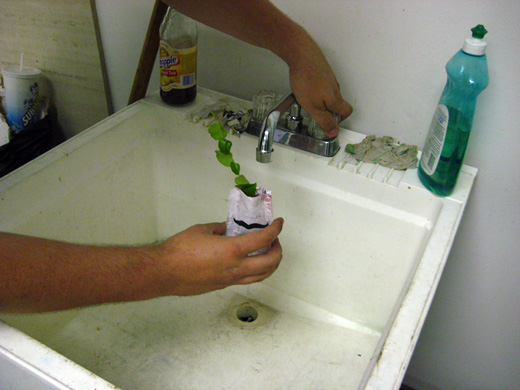 The next planter was a bit smaller, maybe even too small for this bit of young ivy.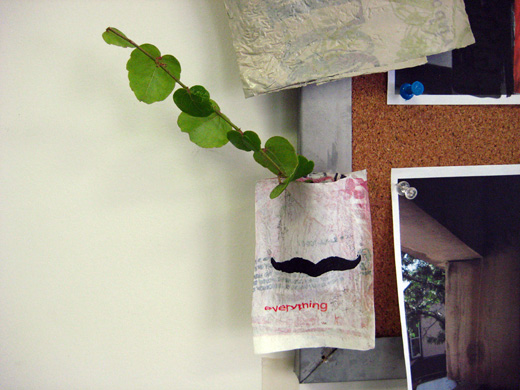 We figured it was worth a shot though, it'll help us to determine what to plant in which planters.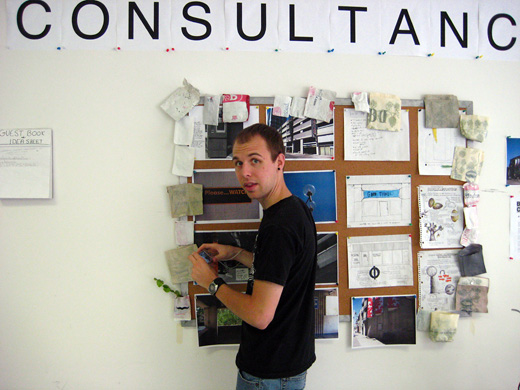 Josh taking some photos of his own.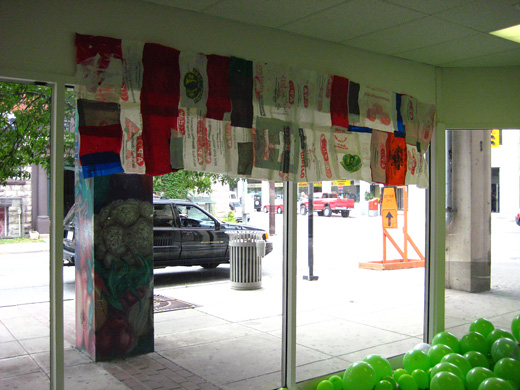 Our banner in-progress rehung near the window.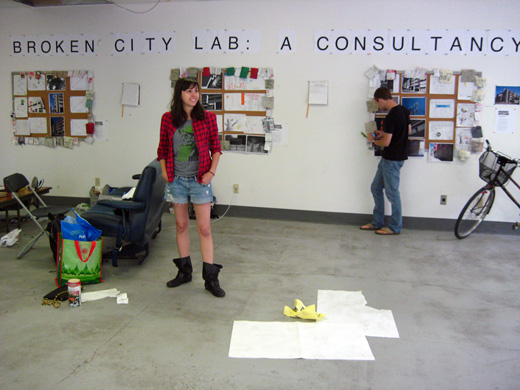 The end of a very productive day, we still have another 50 planters or so to go though. Not sure the next time we'll make it down to the space, but it'll likely be soonish, as there's lots of work left to do and little time before August, when we'll be moving to yet another space.