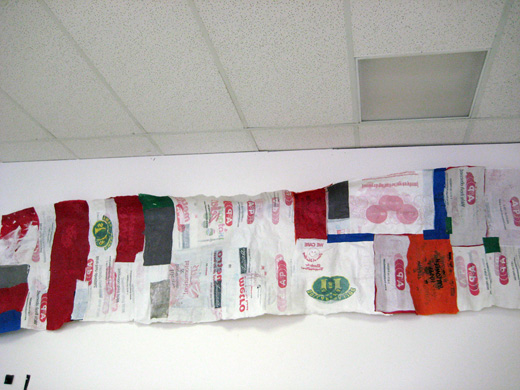 Another day spent at 406 Pelissier. Working with these plastic bags is really time consuming, but it will be worth it. The projects we have in mind are taking longer than we may have initially aniticipated, but that's been the case with everything we've ever done.
The banner is growing steadily, but we're hoping for a final length of somewhere near 18 feet. We've also scouted a location, but we're still working on the message for the banner itself.
Our continuing work with the planters is going well, as we're about 1/3 of the way to the grand total of planters we're hoping to make. Also, the test planter is doing well, with some wildflower seeds sprouting already. With the planter being indoors, it has certainly helped to keep the soil moist, but also (and as we had figured long ago), the first and second design iterations of the planters were drying the soil very quickly due to the use of newspapers. With the plastic bags, the soil seems to be holding moisture much better. We've been careful to create drainage holes, but we probably need to integrate this into the design more effectively.
After Jodi's comment, we decided to try out some masks.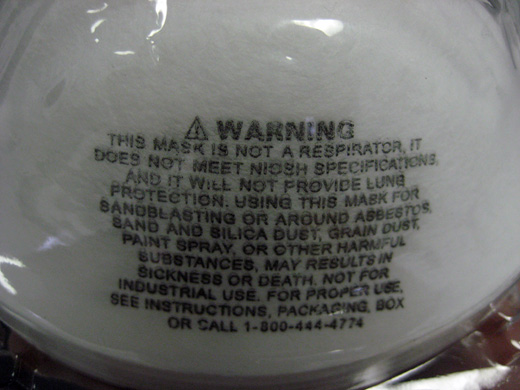 However, as the warning indicates, these masks really aren't going to save our lungs from whatever may be coming off the bags. However, something is probably better than nothing.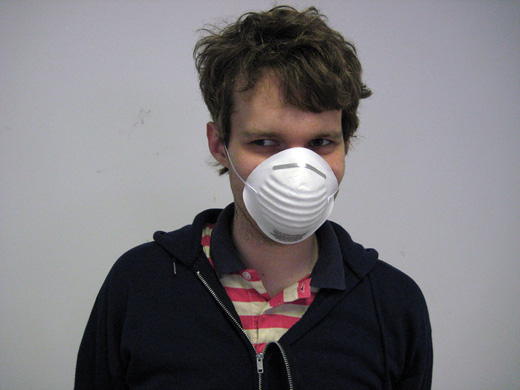 Steven was the first to don the mask.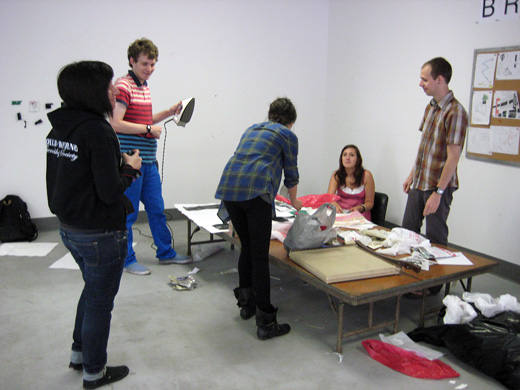 Cristina, Steven, Danielle, Michelle, and Josh started setting up a work area.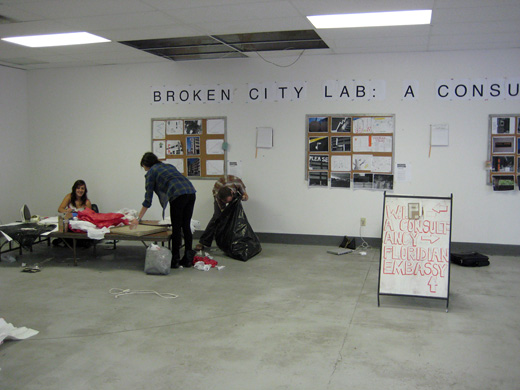 Josh began to dig out the many plastic bags Steven brought.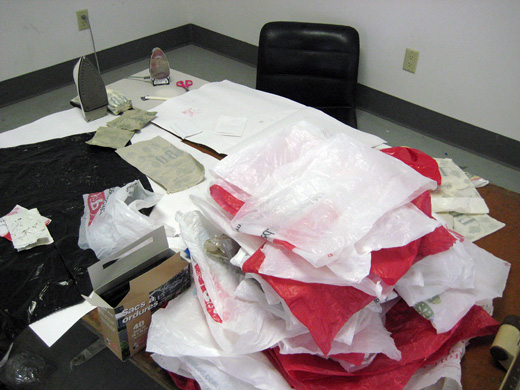 We pulled out the rest of the plastic bags Steven brought last week and began to straighten them out. With more people, it made sense to try to be a bit more organized.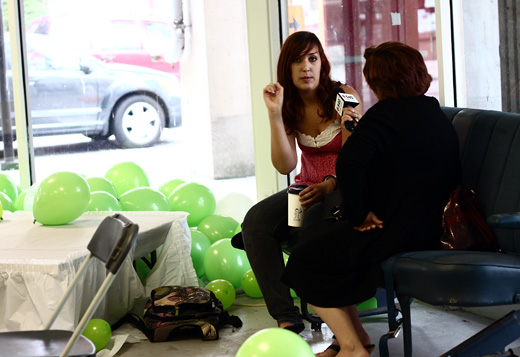 After an interview with the University of Windsor's Daily News, Michelle did an interview in French with Radio Canada, which will air Thursday morning at 6:30am and then again at 7:45am. From what little French I could pick up, it sounded like the interviewer asked some good questions; Michelle said it went well and that they want to speak with her again later on in the summer!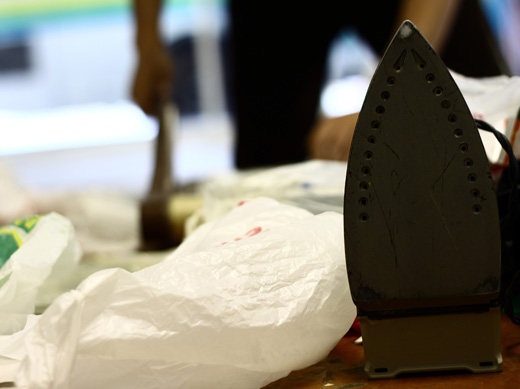 The iron heating up. The type of iron is ideal, as we discovered, the smaller irons or irons specifically designed for steaming, don't really get hot enough.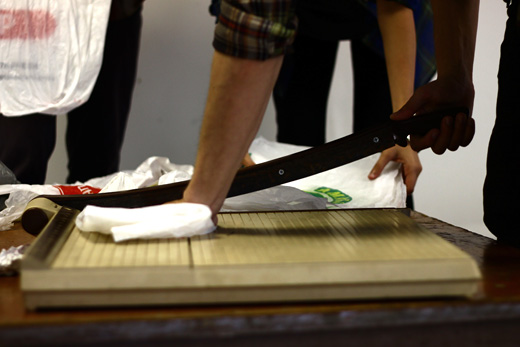 I took my turn at cutting some plastic bags.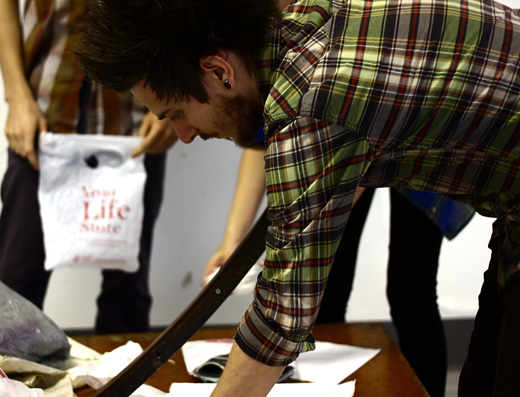 If you fold the bags over a couple times it's a lot easier to cut. The reason we were cutting the handles off and the bottoms of the bags was to create a more uniform shape to start off with. All the scraps can be reused for other parts.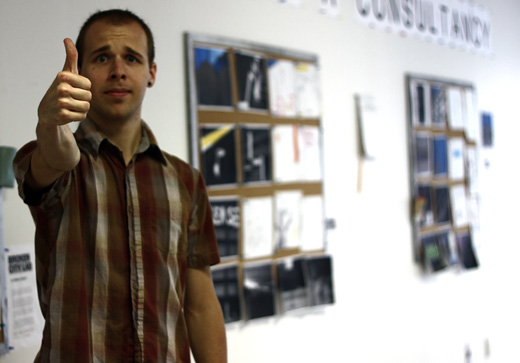 Josh gives the formal thumbs up (we missed you Josh).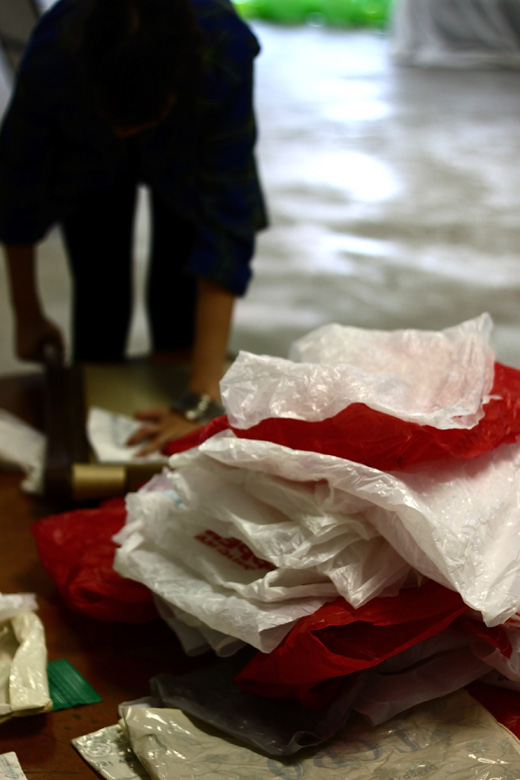 The pile of plastic bags waiting to be cut, as Danielle begins working on her cutting skills.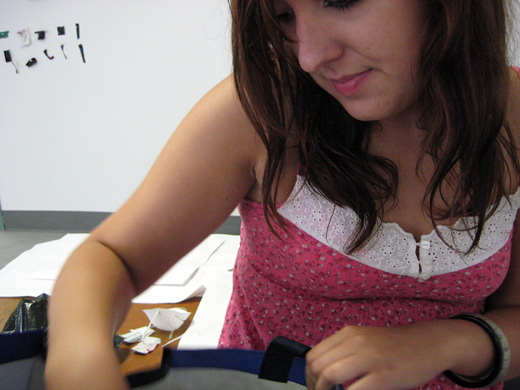 Michelle moves the planters that we already finished from last week into another bag.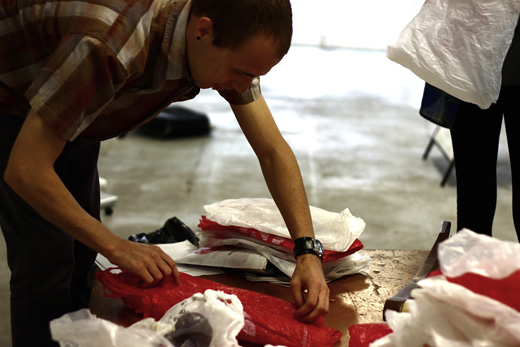 Josh folded the bags to hand off to Danielle to cut.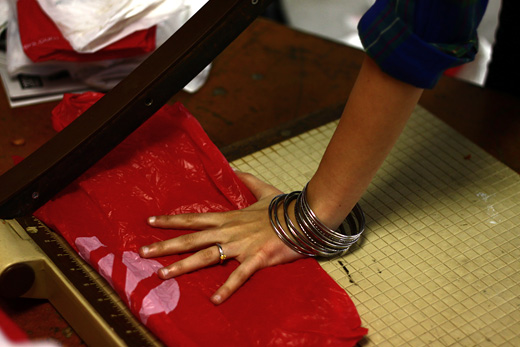 Danielle cut the bags, which were then handed off to Michelle and Cristina.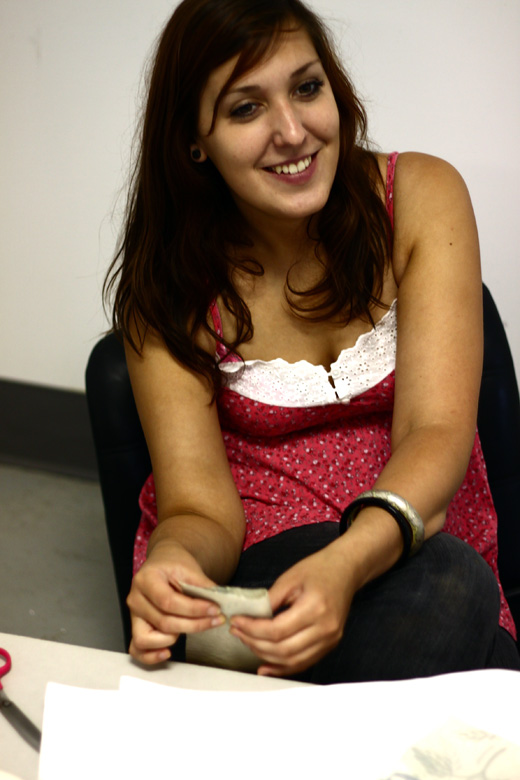 Michelle starts to fold a sheet of newly fused plastic into a planter shape.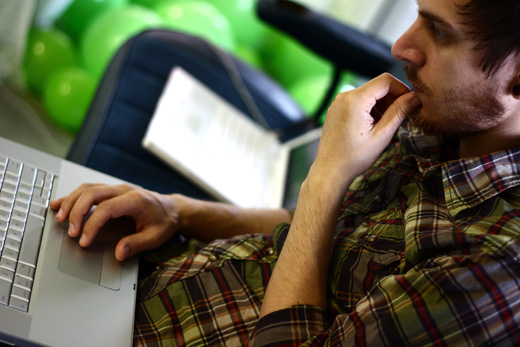 I worked on another proposal, this time for Visual Fringe.
Steven kept busy with the banner, working to maintain some uniformity in the bags, as the red looked really good.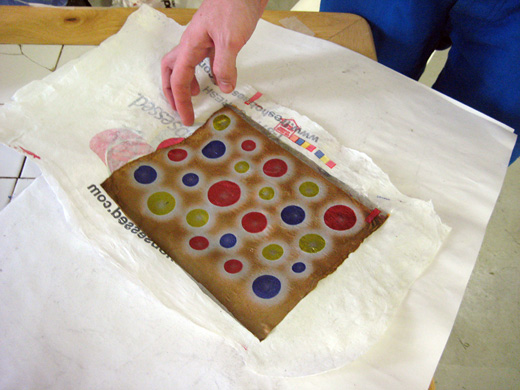 He also attempted some patching with other smaller bags, the Wonder bag above looked especially great.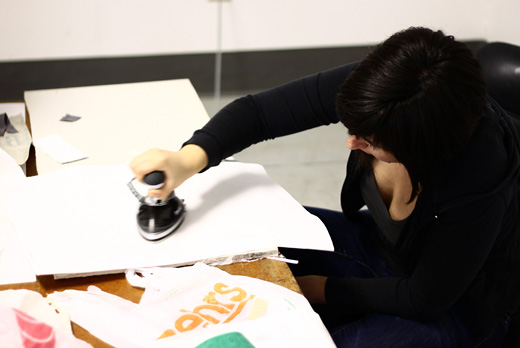 Cristina using the little Shark iron, again, not the ideal tool as it's really designed for steaming.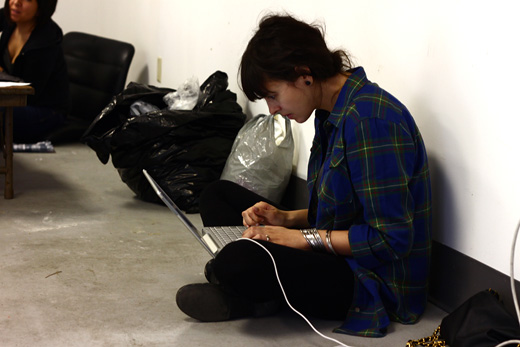 Danielle worked away on her thesis in between cutting and ironing.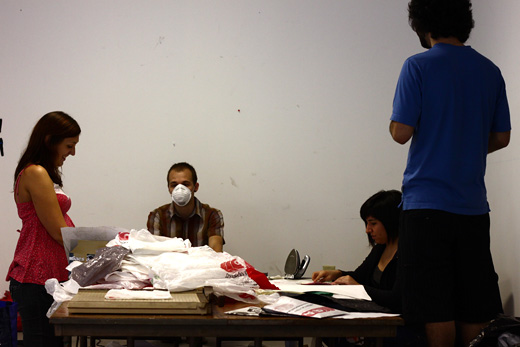 Kiril stopped by to see the progress and get a tour. His submission was one of the ones selected for Text In-Transit.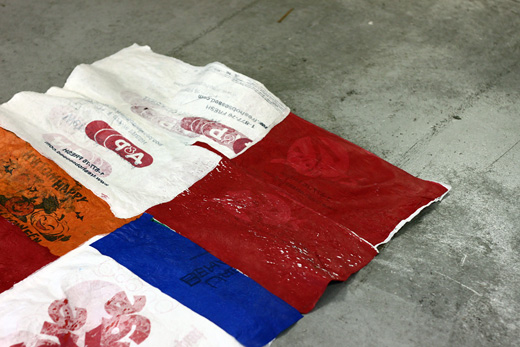 The edge of the banner, layered plastic, multi-coloured.
Cristina works on folding a planter using biodegradable green plastic bags. The biodegradability of these bags is sort of misleading though. The bags will biodegrade under the ideal conditions (most-often found in industrial composting situations), but they won't begin to break down until they're in that situation. This is fine for our project, as we don't necessarily want the planters to biodegrade as long as they're up and around the city, I just wanted to make that note in case anyone else wanted to use biodegradable plastic for some sort of fusing project.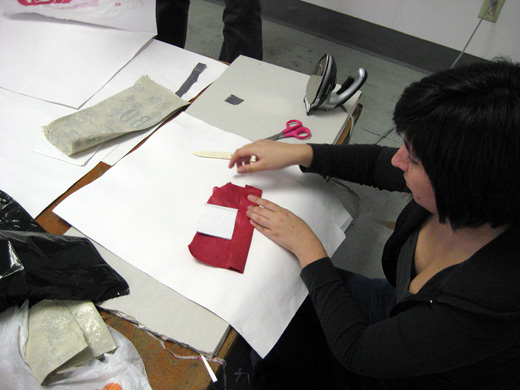 Another planter in the making with a red Zellers bag.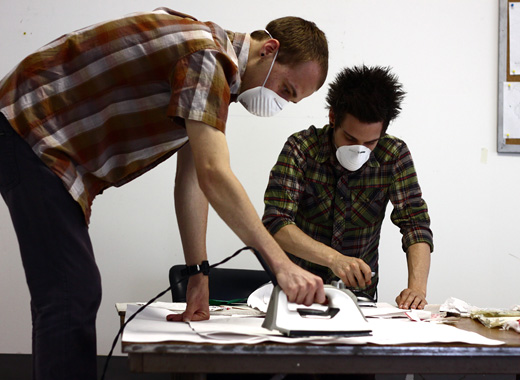 Josh and I decided to wear the masks as we tried to make planters.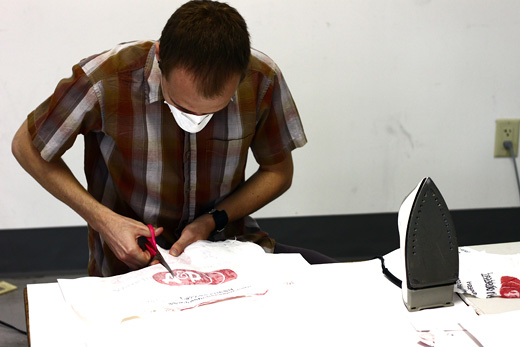 Josh had a good system going with the A&P bags—it helps to work continually with a bag of the same size, making things move along much faster.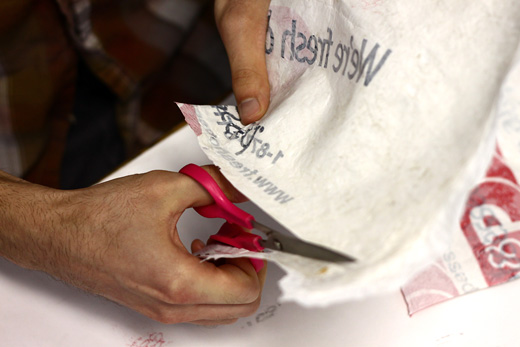 He was trimming the edges too, which made his planters much more uniform.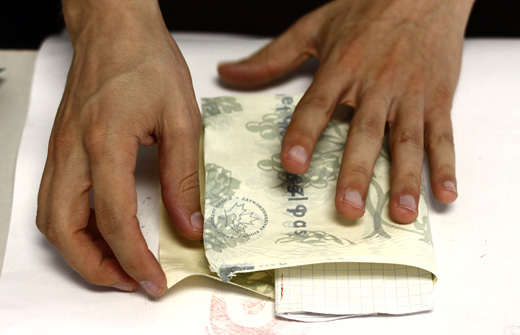 My planters, on the other hand, weren't nearly as uniform. The LCBO bags were by far the best to use though, I wish we had more.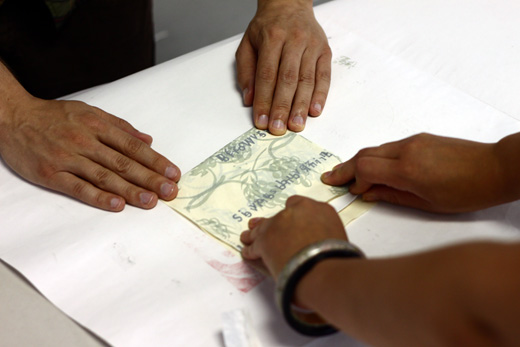 Michelle stepped in to give me a hand with the folding.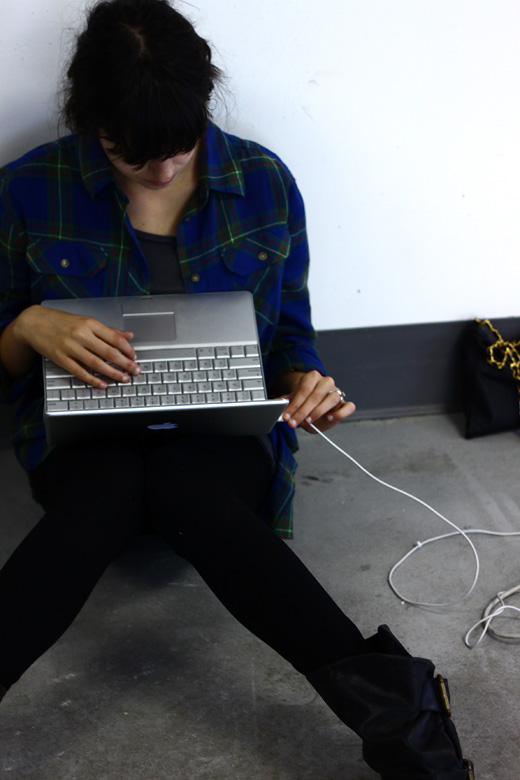 Danielle kept working on her thesis.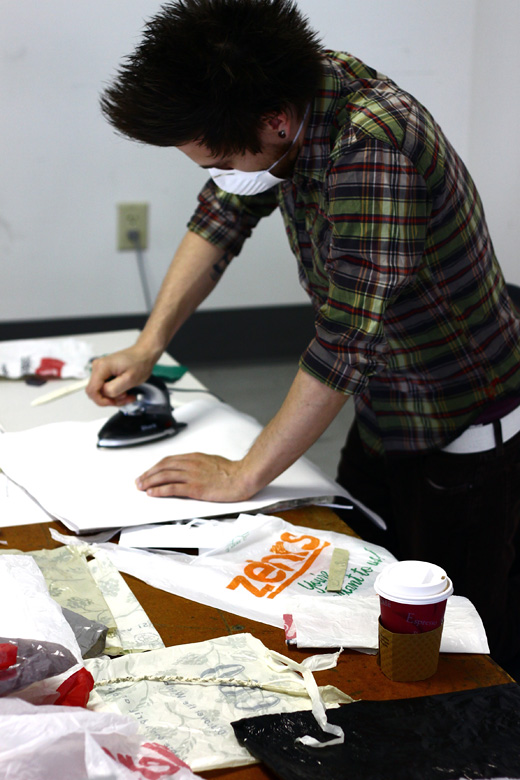 I took over using the Shark, which I found especially frustrating. It took a long time to fuse the plastic bags, again due to the lack of intense heat.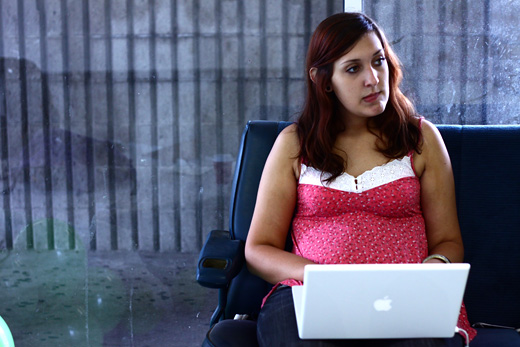 Michelle worked on some labels for the planters.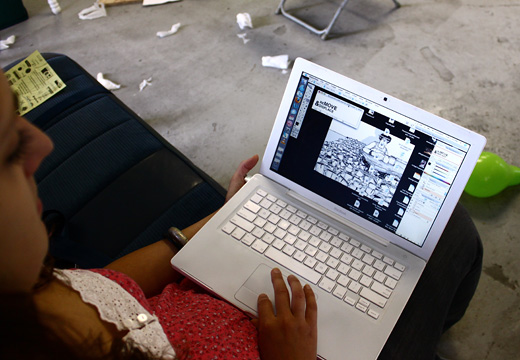 We figured that since we're now using plastic bags, we could use some basic mailing labels to stick on some information, as ink just rubs off when applied straight to the plastic. We didn't try sharpies, but ultimately, I'm not sure handwriting the information we're hoping to get onto the planters in practical.
Michelle also looked into a drawing/rendering of parts of a leaf to add something graphic to the label.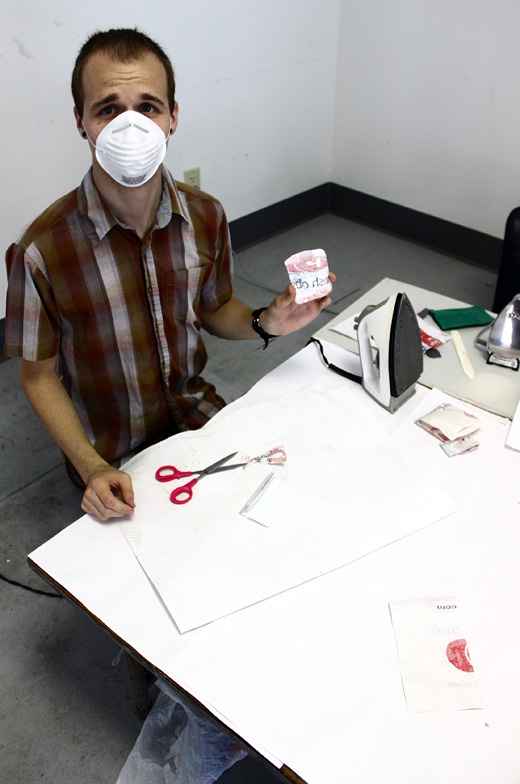 Josh shows off his mastered process of assembling a planter. These are the ideal size for using magnets, while the larger ones will likely require some other hanging technique.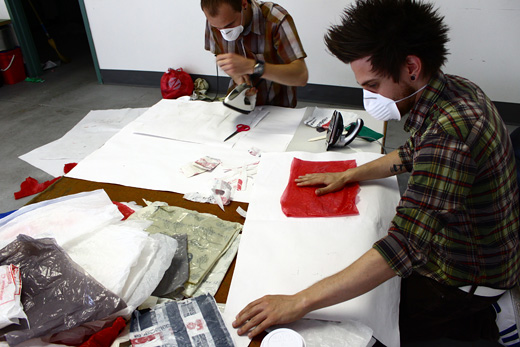 The various plastics need different levels of heat, while Josh had figured out what A&P bags needed, I struggled to get something to work on a Zellers bag.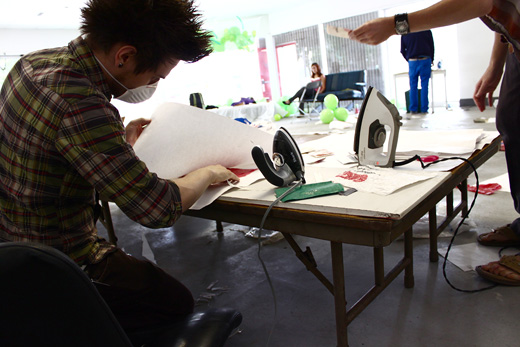 When ironing the bag between two layers of paper, it's best to continually check to ensure that the bag is fusing, but also to double check that the bag isn't melting.
Eventually I found a good mix of pressure and movement that seemed to fuse the bag.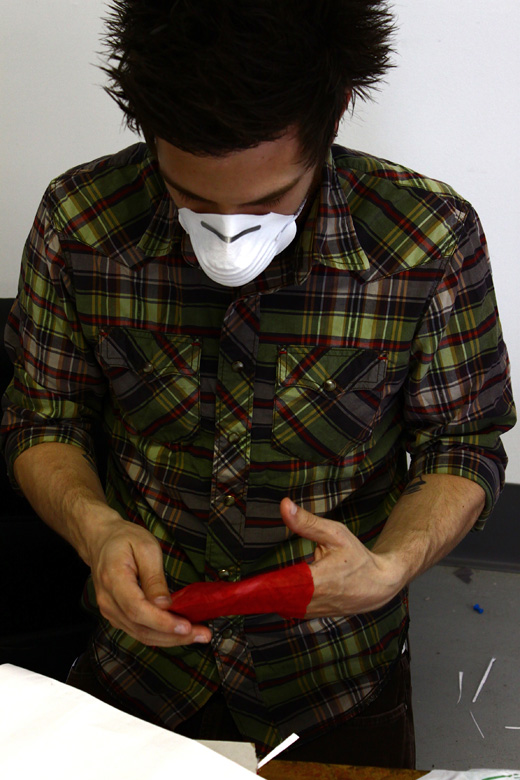 My planters weren't as well put together as what everyone else was doing, but hopefully they're still useable.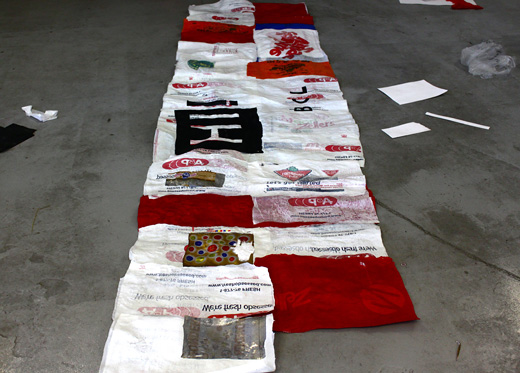 The growing banner that Steven worked on all day.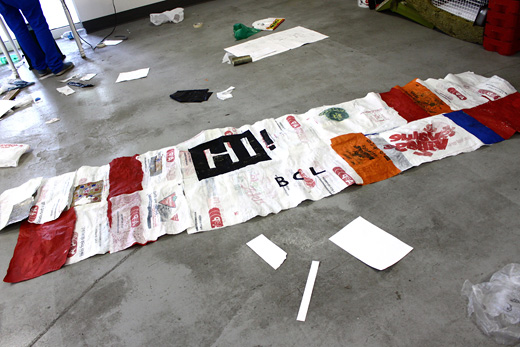 This will eventually be the back, but the "HI!" and "BCL" are two examples of how we'll end up writing on the banner.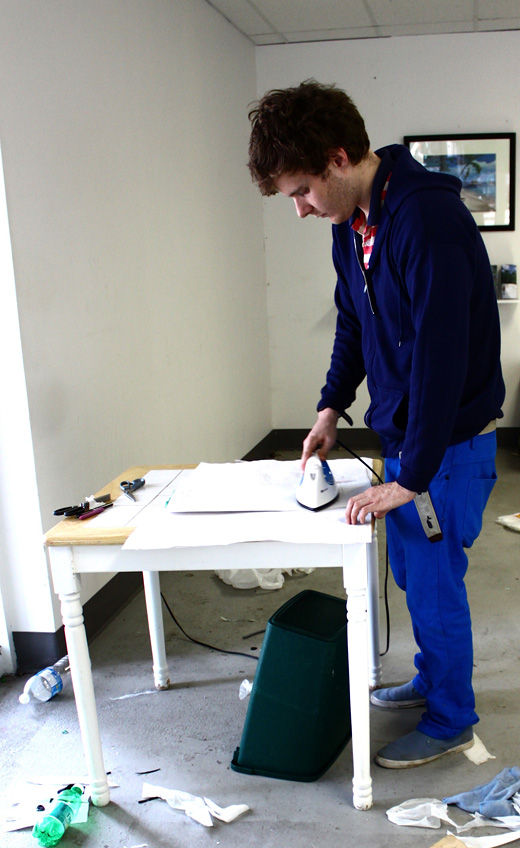 Steven worked in columns, layering 3 or 4 bags, fusing them together and slowing building up sections that would be later attached to the rest of the banner.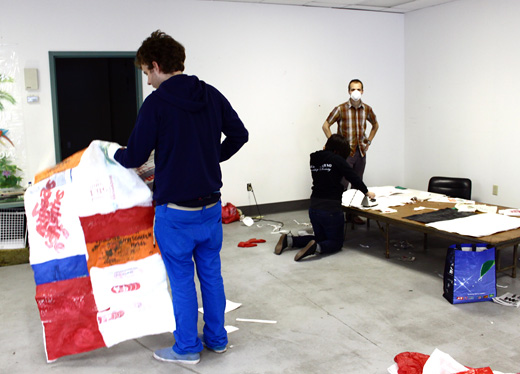 Managing this banner is becoming increasingly unwieldy.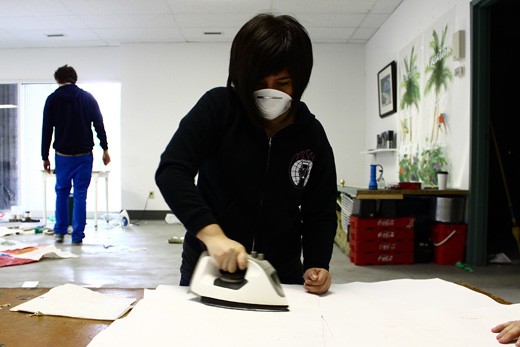 Cristina took over ironing for a while, again, the larger iron with more heat makes the process a lot easier.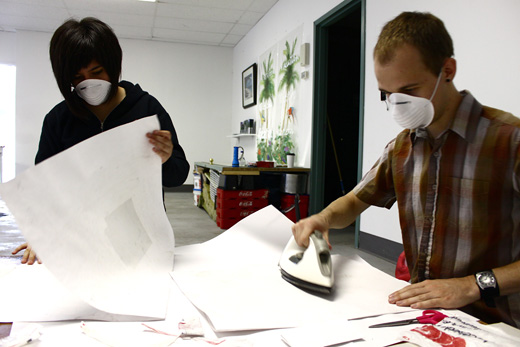 Cristina and Josh have a good process going.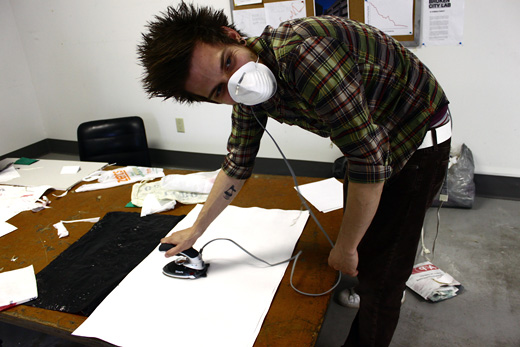 I moved on to fusing large black garbage bags, which we'll use for the text.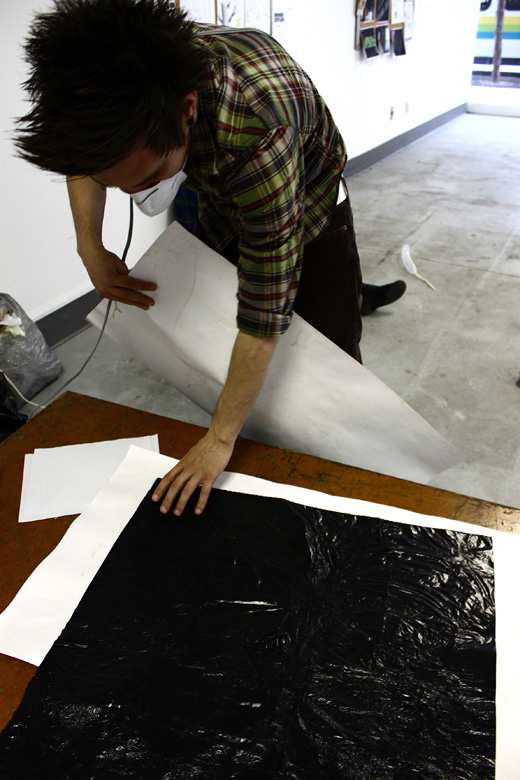 The garbage bags are fused just once to give them enough rigidity to cut from.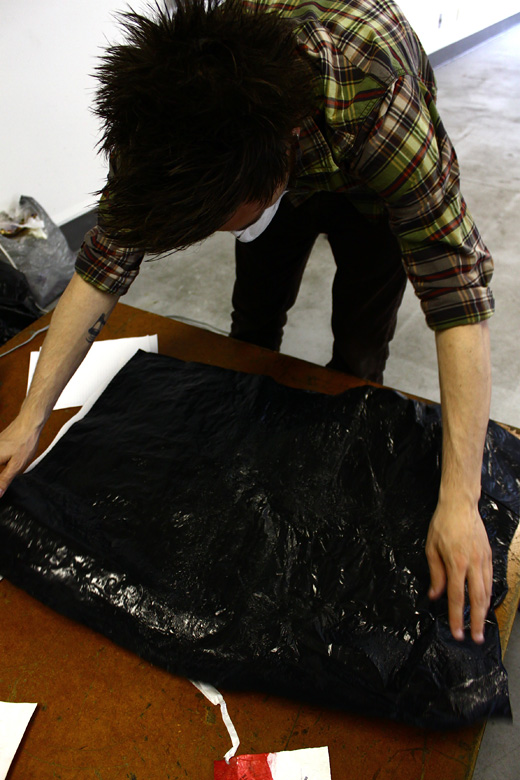 Ideally, a larger iron set a bit below max heat would do this quickly.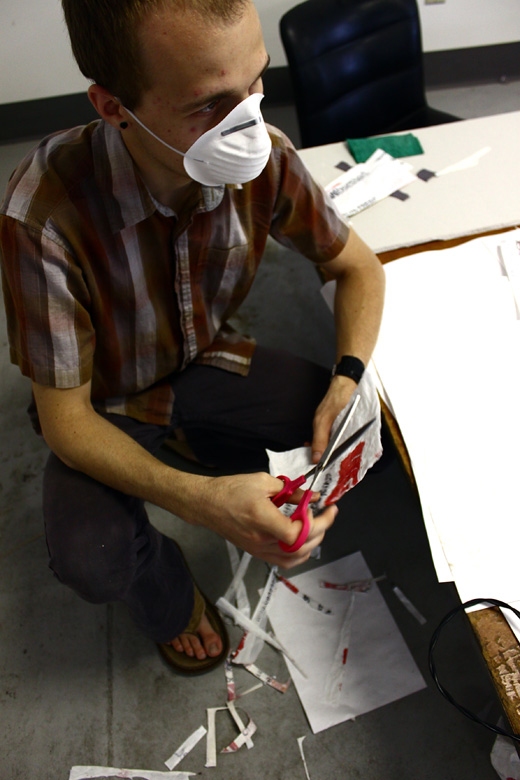 Josh was rounding the edges of his planters, but the scraps below can be used for patches or for creating more loosely assembled planters.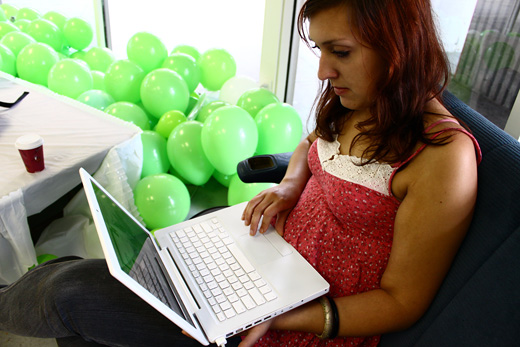 Michelle finished up the label, as we started to wind down for the day.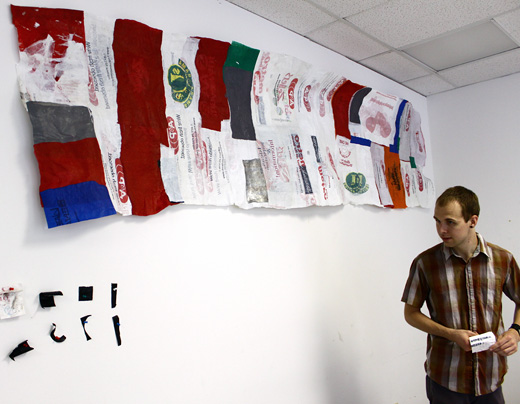 Josh with the banner hanging above. We'll be continuing with these projects over the next week or so, but we're also starting to plan for the fall, with our anticipated new home.