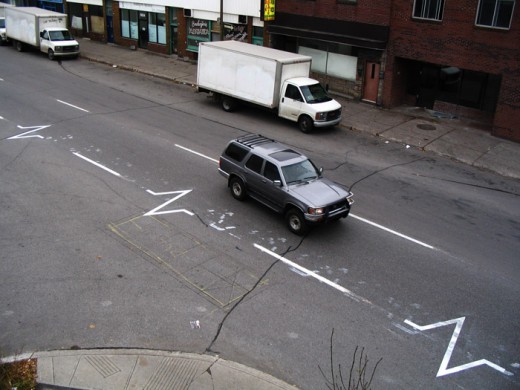 Life Support System by Roadsworth
Reading about a show up at Atelier Punkt, featuring work by Roadsworth, I was interested in the gestures that transform an infrastructure that doesn't always get the attention it deserves.
Working with road paint, the street artist, Roadsworth, plays with the existing roadway communication to transform straight lines into heartbeats, street crossings into candles and fire crackers, and pedestrian crosswalks into gifts.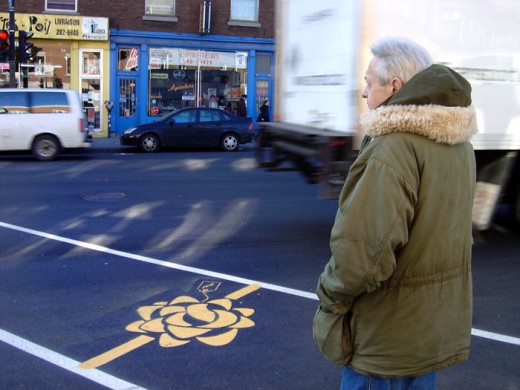 Gift Wrapped by Roadsworth
From Roadsworth's site:
Roadsworth began painting the streets of Montreal in the fall of 2001. Initially motivated by a desire for more bike paths in the city and a questioning of "car culture" in general, he continued to develop a language around street markings and other elements of the urban landscape using a primarily stencil based technique. In the fall of 2004, Roadsworth was arrested for his nocturnal activities and charged with 53 counts of mischief. Despite the threat of heavy fines and a criminal record he received a relatively lenient sentence which he attributes in part to the public support he received subsequent to his arrest. Since that time, Roadsworth has received various commissions for his work and continues to be active in both visual art and music.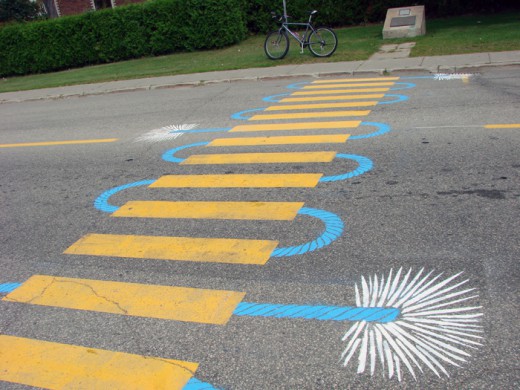 Firecrackers by Roadsworth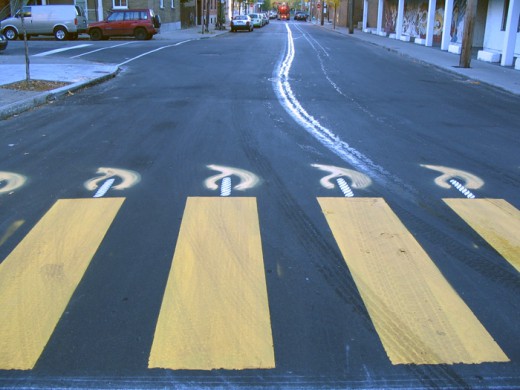 Wishful Thinking by Roadsworth
Maybe this could have been added to my Making a Playful City post, but there's something about the act of working with this ubiquity that makes Roadsworth's works interesting. As well, the fact that the artist has worked in Montreal for the last decade, provides  some interesting context in understanding a practice unfolding in connection to one place for so long, and indeed coming out of a basic interest in civic improvement / customization — this all started by painting bicycle lane symbols in places Roadsworth thought there should be bicycle lanes.
Also, Roadsworth's statement is certainly worth a read, where the artist's arrest and prosecution are detailed.
via Akimblog.