Dispatchwork by Jan Vormann
What would it take to make a city more playful? Everyone has had an experience at one time or another of encountering something strange, out of the ordinary, a seemingly serendipitous moment in a space that in turn transforms your experience and understanding of that location.
Urban interventions often aim to do just that — to shift one's experience of a city street or infrastructure to offer a new perspective, a proposed alternate use, or to reveal complexities and power structures that are often embedded in everyday life. Interventions make a city more playful by suggesting a sense possibility, by hinting at the potential to experience place in a different way than we normally do. And really, we're interested in those little hints, those suggestions of possibility for changing the things in front of you in an immediate way.
So, below, I've collected just a small handful of images of intervention work, or work that could translate to a more public space to great effect, in hopes that these things might spur some more activity here at home, though there certainly has been things happening.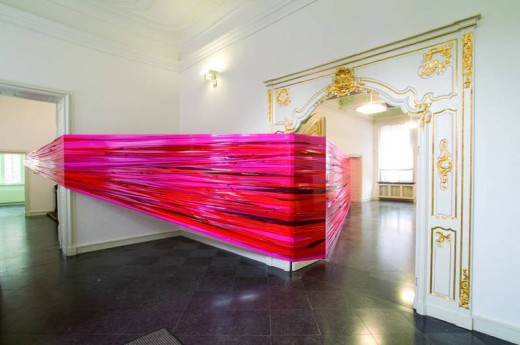 'Rotemartha' is a recent site specific installation by german artist martin pfeifle which was installaed in the former imperial abbey of aachen-kornelimünster. The installation consists of a series of long tinted film strips in six different shades of red. the strips are tied together to create a supper long band that stretches throughout one entire floor of the abbey. The band runs through doorways circling the center of the floor, while still allowing visitors to move around it.
Imagine something like this wrapping around buildings or above streets like banners?
via designboom.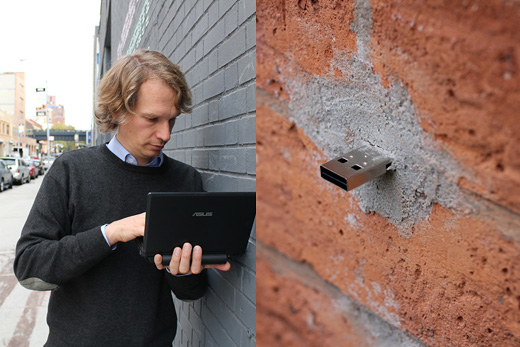 'Dead Drops' is an anonymous, offline, peer to peer file-sharing network in public space. I am 'injecting' USB flash drives into walls, buildings and curbs accessable to anybody in public space. You are invited to go to these places (so far 5 in NYC) to drop or find files on a dead drop. Plug your laptop to a wall, house or pole to share your files and date. Each dead drop contains a readme.txt file explaining the project. 'Dead Drops' is still in progress, to be continued here and in more cities. Full documentation, movie, map and 'How to make your own dead drop' manual coming soon! Stay tuned.
Projects that somehow embed technology and behaviour normally tied exclusively to the Internet into everyday life and infrastructures are always great.
via Eyebeam & Pop-Up City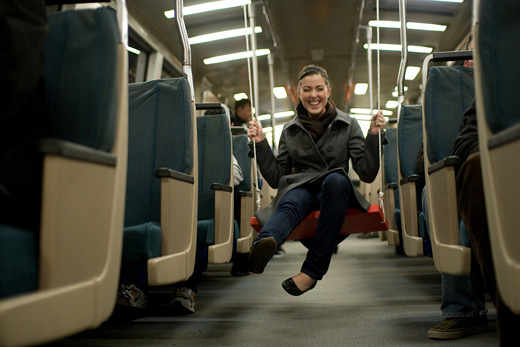 And finally, a swing in a subway in San Fransisco — there's been a lot of different iterations of these kinds of projects, swings hanging from different infrastructure, but rather than looking at this simple gesture as being infinitely repeatable, it's useful to consider what it does to the space in which it appears. It can be overwhelming to consider how often and how well interventionist projects have been pulled off, but when we start thinking about these as a set of mediums, rather than project ideas in and of themselves, we can start to consider the context in which they take place — a point that's ultimately more important.
For more on art and urban interventions, pick up this book — Urban Interventions: Personal Projects in Public Space. We picked it up late this summer, it's been a constant point of reference and inspiration.