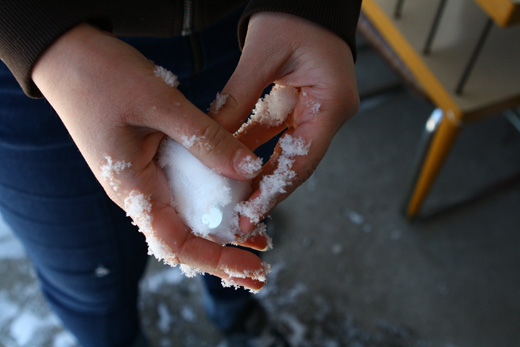 Meeting twice in a week is awesome. I can't say that enough. So much time makes us way more productive and makes it a lot easier to be OK with not having everyone there all the time.
First on the list, doing some really, really quick tests of the potential of embedding LEDs in ice or snow. We know, it'll probably kill the battery and potentially the LEDs themselves, but we have some ideas that might make that worthwhile.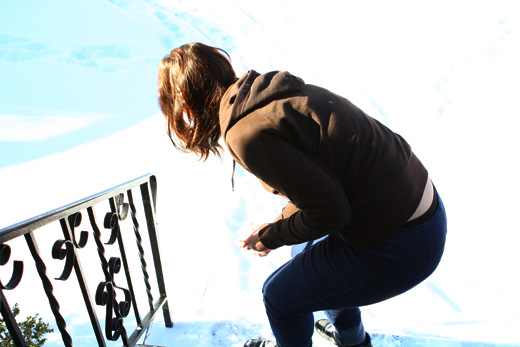 I actually remembered to bring some leftover LEDs and batteries from the MAKE THINGS HAPPEN sign, and Michelle immediately went out and made a snowball to put the LEDs into.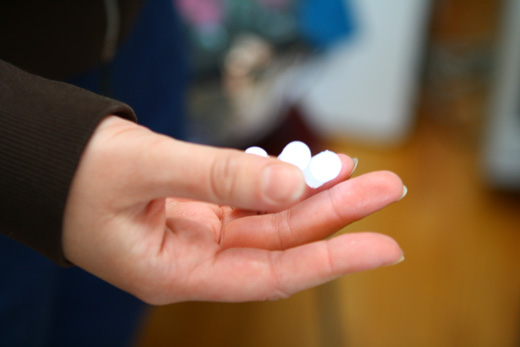 The LEDs survived being momentarily embedded in snow, so it passed the first test.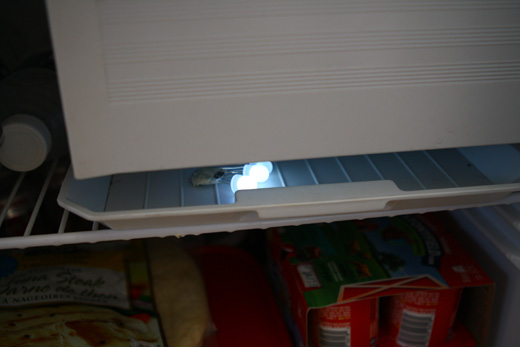 The next test will have these in the freezer, and I'm sure by the time we look at them again, the batteries will be dead.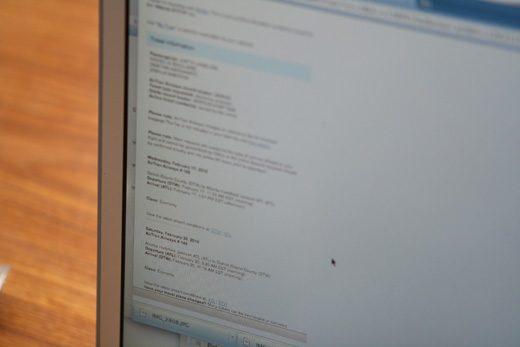 Other things… we're heading south in February to get inspired at CreateHere!!!!!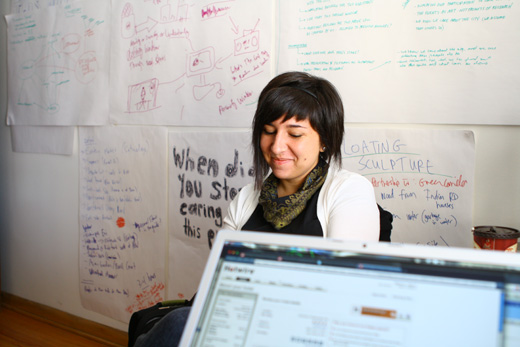 Cristina brought coffee — yes!!!!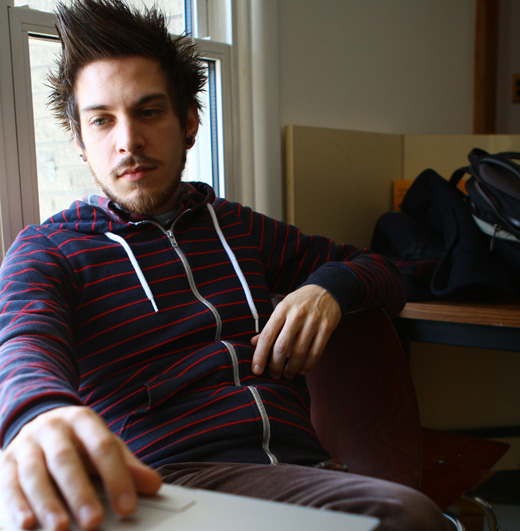 Going over our agenda and getting things done. Top of the list is the proposal for Open Engagement.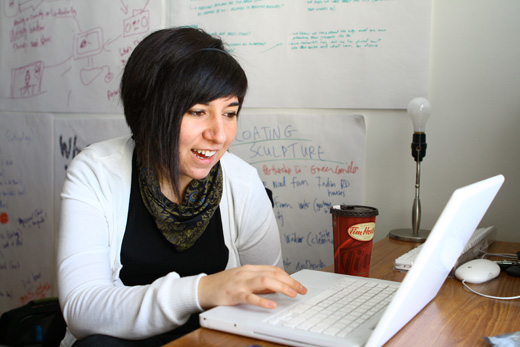 Cristina went over what she and Rosina came up with on Friday … and also looked up pictures of Portland, it's beautiful.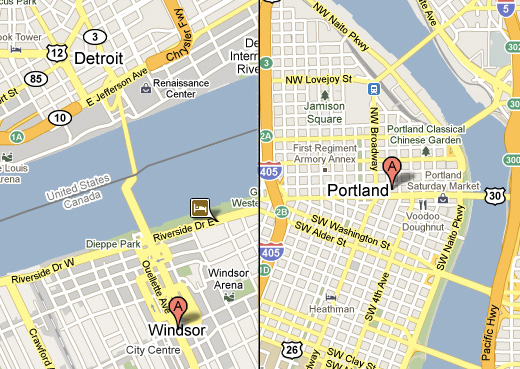 Windsor and Detroit aren't much further apart than the two sides of Portland … would be interesting to compare "neighbourhoods."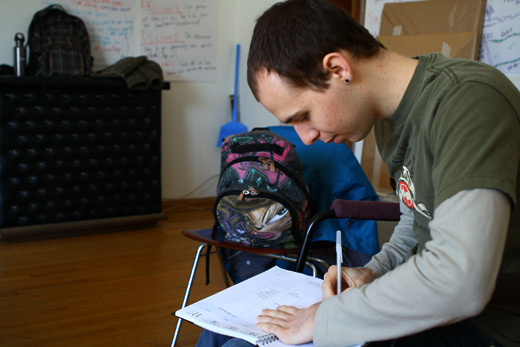 Josh making a to-do list … he's so organized, it's ridiculous.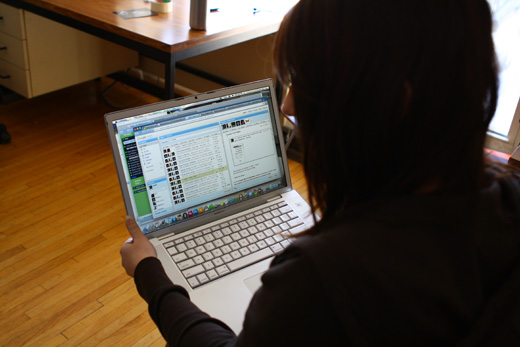 Michelle checking the Wave, looking at some info on the upcoming exhibition at Propeller Centre for the Visual Arts, Public Realm, which we're participating in (more details soon).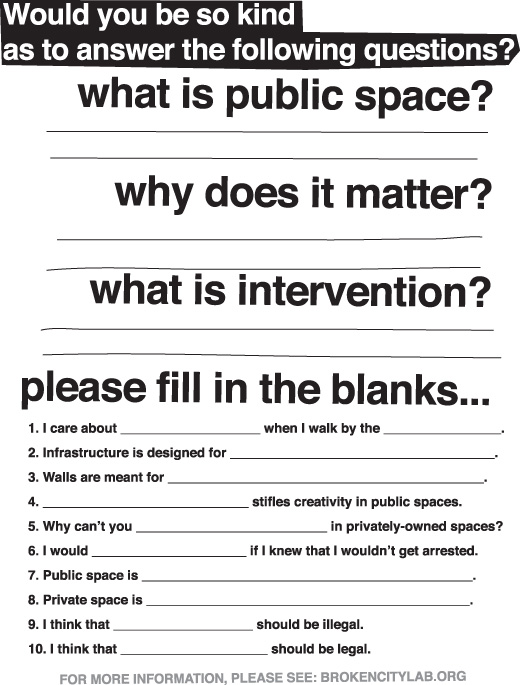 For that exhibition, we're asking people for their ideas on public space, private space, urban experiences, infrastructure, etc. I'll make this into a form very soon, or if you're so inclined, you could fill in the blanks in the comments below.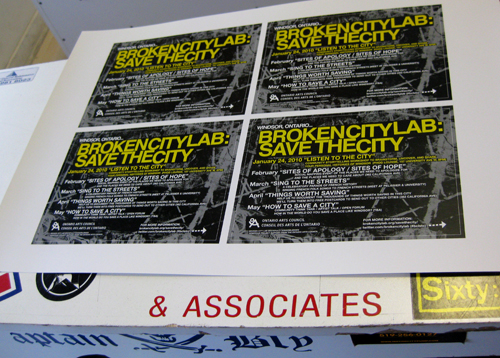 So, I forgot to take even one Save the City postcard home, so here are some shots of the proofs that Josh took yesterday.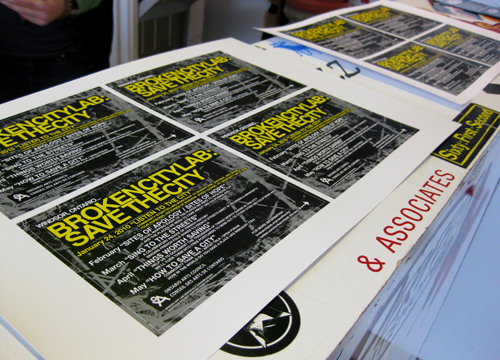 They look great, we're happy, now it's time to send them out into the world!!! If you see one, pick it up, we'll be printing a new postcard for each event over the coming months.