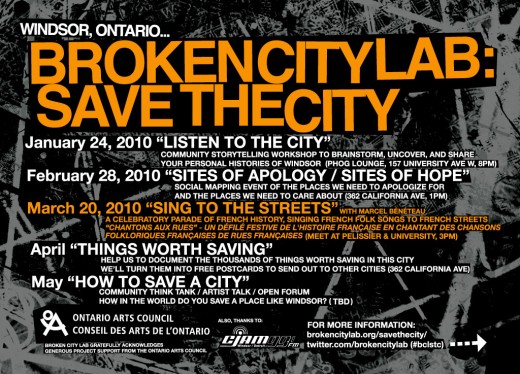 The details: Saturday, March 20th at 3pm, meet at the corner of University and Pelissier.
As part of the Broken City Lab: Save the City project, and to better understand the city and its rich and failed history, Broken City Lab researchers will invite the community to learn the Francophone history of Windsor through a collective performance and storytelling of traditional French Folk Songs native to the Detroit River region on Saturday, March 20th at 3pm.
Led by Dr Marcel Beneteau, a professor in the Department of Folklore and Ethnology at the University of Sudbury, participants will meet at University Avenue and Pelissier Street to take part in a walking oral history tour and performance, which will stop at the streets along Riverside Drive named after Windsor's French settlers such as Goyeau, Langlois, Marentette, Louis, Parent and Pierre.
The retelling of the brief oral history at each street will be followed by a collective open performance of the French Folk song led by the local Francophone musician. Video and audio documentation of the performances will subsequently be made available on the Broken City Lab / Save the City website.
Broken City Lab: Save the City is generously supported by the Ontario Arts Council.