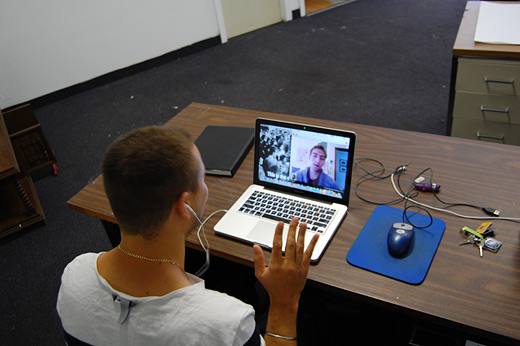 Another day went by quickly here on the 400 block of Pelissier. I met another member of the Department of Unusual Certainties through Skype, The Breakroom celebrated its last day, Leesa painted some chalkboard paint on a few walls for her project, we found a blooming cactus in Andrea's space and made some potato stamps with Jefferson.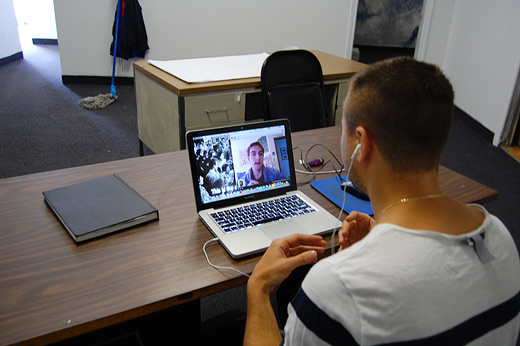 Brendan Cormier was introduced to me by Chris Pandolfi very early this morning as they shared a Skype call to discuss the Department of Unusual Certainties project. It was very strange to take pictures of this, as I could see myself through the screen in a kind of double mirror. This was the first time Brendan had officially met someone over Skype, so it was a lot of fun.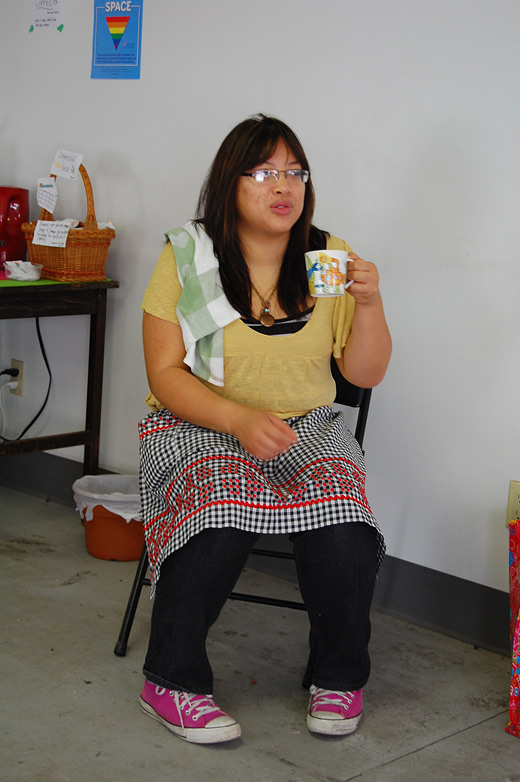 The Breakroom ended today. Jolie became a mother hen to all the SRSI participants over the course of the week, her muffins sustained us all in the morning and her hearty soup and sandwiches were awesome for lunch.  We are all very sad to see the end of this residency. We are going to have nowhere to hang out.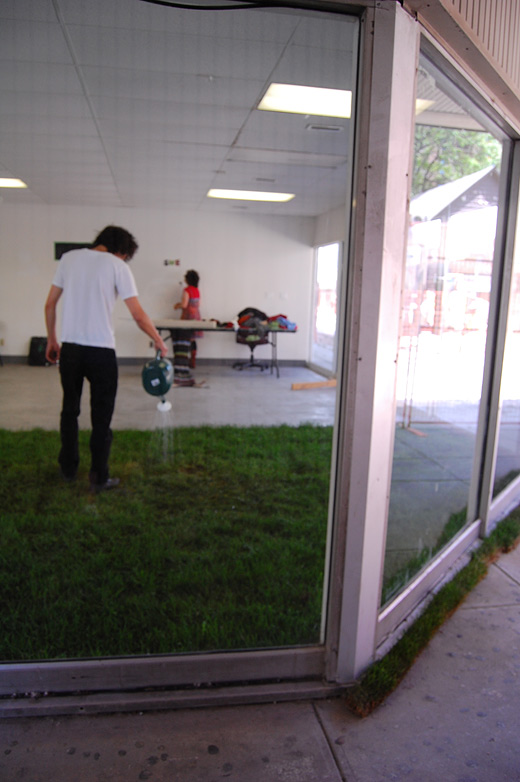 Eric returned again to water his sod and check in on everything else going on.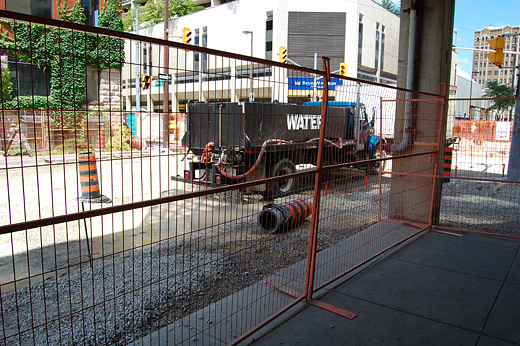 As he was watering the sod, there was a truck outside watering the road. There were puddles out there for most of the day. The construction workers used water followed by a heavy roller to pack down the gravel in the street.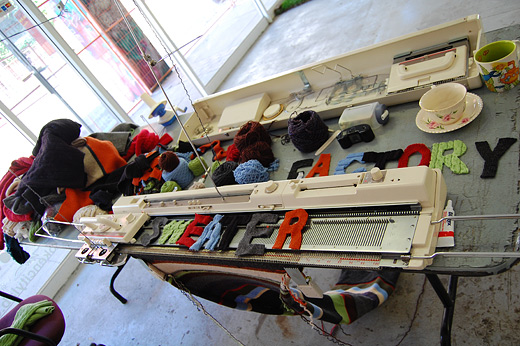 Jodi did some knitting today and also made a sign for the wall space behind her work station using parts of the old sweaters she is recycling.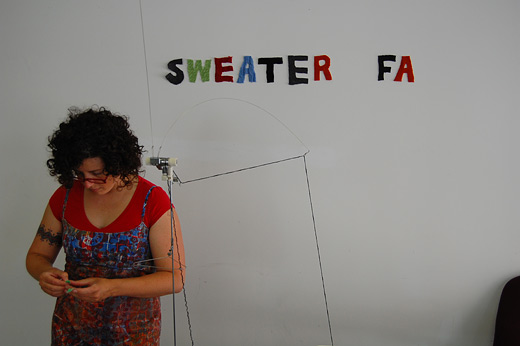 Hopefully the sign will draw more people in from the outside by activating the white wall behind her and sparking their interest.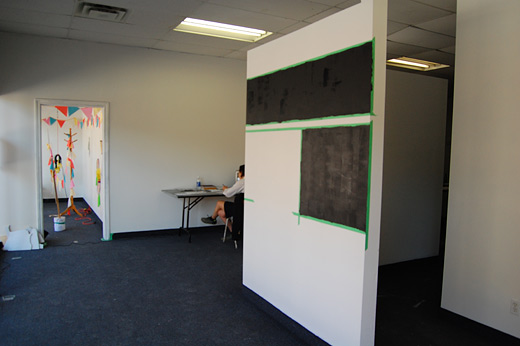 Leesa Bringas started painting sections of chalkboard onto the walls. I'm interested to see what this turns into!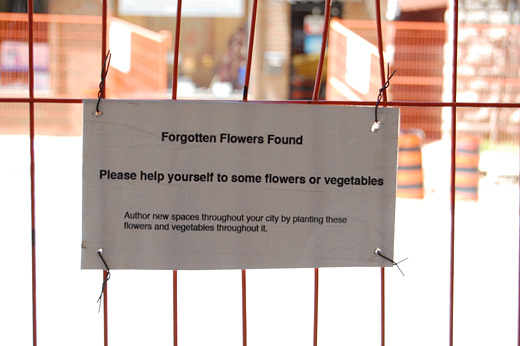 Andrea has a few flats of free flowers and veggies on the sidewalk in front of 410. This sign above them is inviting the pedestrians to take some plants home with them to enjoy. This is the first item to be permanently placed on the construction barracade, hopefully there will be more to come.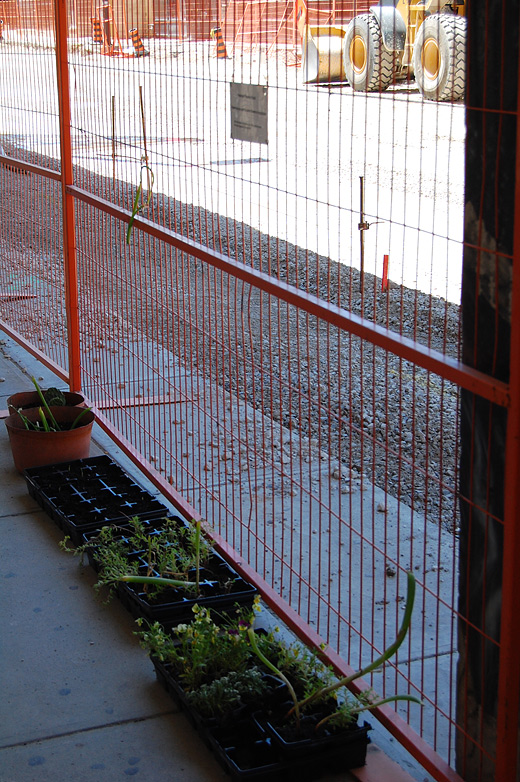 The plants in these flats were all salvaged from the backyards of abandoned houses. It would be interesting to trace where they end up after they are taken.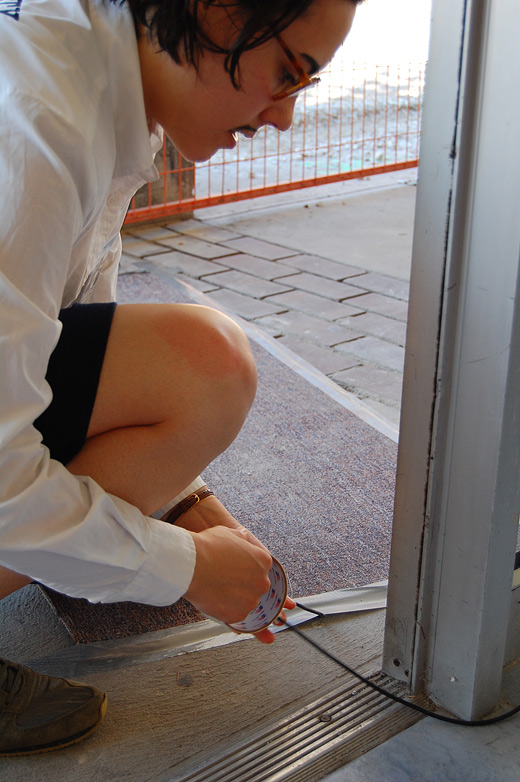 Norman Eberstein doubled as security / maintenance while doing some minor repairs on our surveillance system.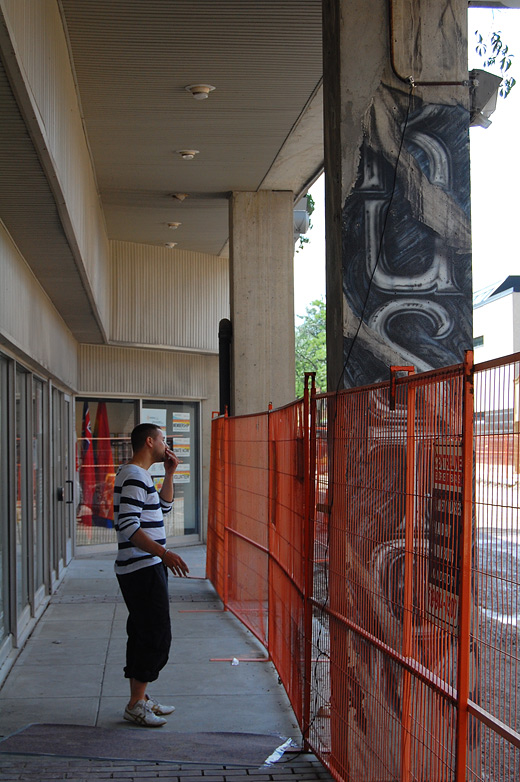 Can you spot Norman's Camera in this shot?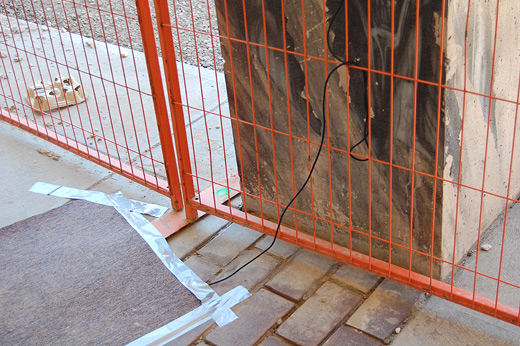 Norman covered the wire with a carpet to prevent tripping, but was later told by a city worker that it was a fire hazard.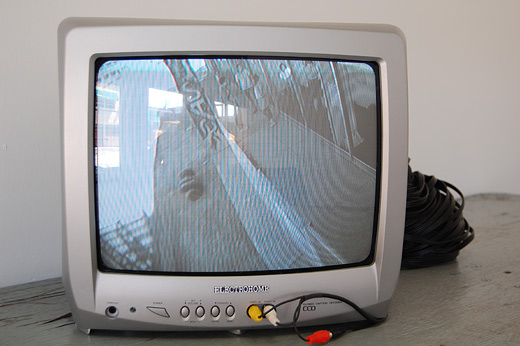 Here's the view on the security camera today. Here you can see Jefferson, Andrea and Daragh (who returned to us today) checking out a flowering cactus.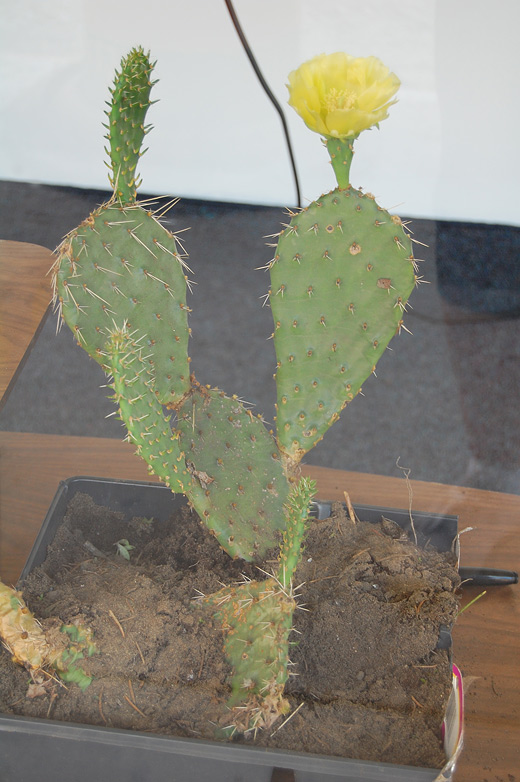 This cactus in Andrea's window display must have bloomed within the time frame of an hour and a half, as it wasn't there when Jefferson came in at 8am, but was in bloom by 9:30am.
Norman likes taking coffee breaks, I hope he doesn't get fired! If anything got stolen or vandalized on duty, he'd be in trouble.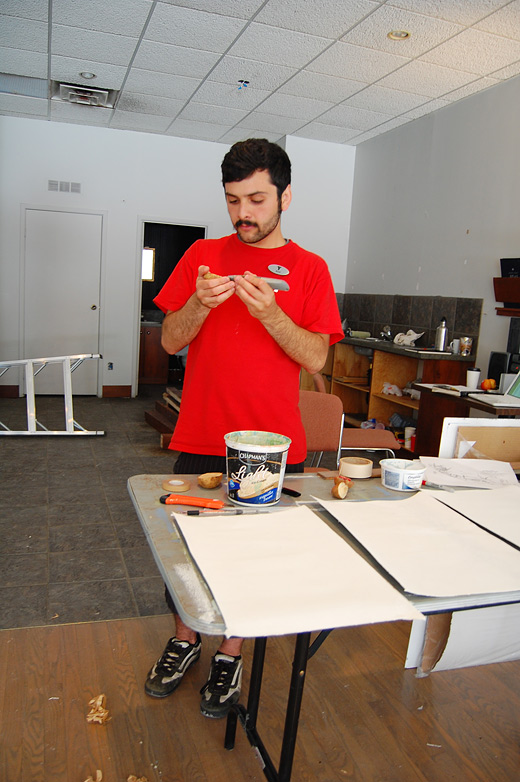 Kiril Lazarevski stopped by on his lunch break from the YMCA. He spent time carving a potato stamp for The People's Museum. The map is getting filled up more every day. Community participation is crucial to this project, so please come in to 424 Pelissier and contribute your local stories and memories to the map!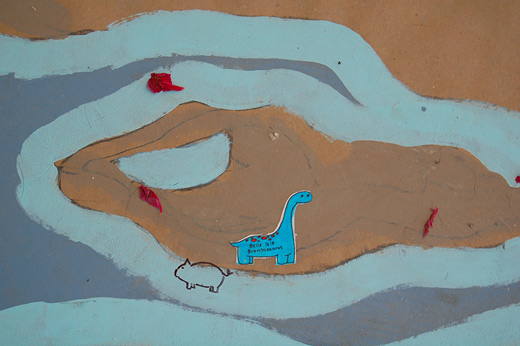 Here's a dinosaur and a pig on Belle Isle. This project reminds me of BCL's Rewriting Windsor event.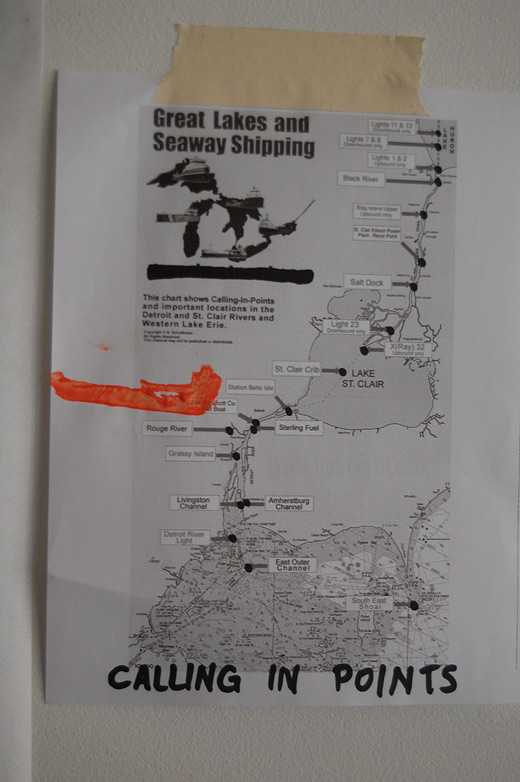 Jefferson is also charting transportation routes coming in and out of the city. Here is a map of the calling in points for freighters along the Detroit River. Each point will be stamped by the freighter potato stamp.
Tomorrow is Friday which means SRSI extended hours open house until 8:30 PM. KERO will be joining us, installing his visual project as well as DJing for the evening. Come out and have a good time!
This project is generously supported by the City of Windsor: Cultural Affairs Office, Arts Council Windsor & Region, Windsor Pride, and the Ontario Arts Council.