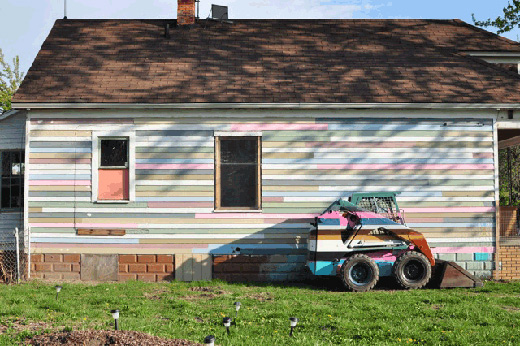 I've written about Power House over in Detroit before. Mitch Cope and Gina Reichert of Design99 started this Hamtramck-based neighbourhood project a couple of years ago now. Able to take advantage of the radically declining real estate market, they bought up a house for $100 and have since been working in the neighbourhood on small and large scale projects that tackle the potential of art affecting change.
They've since been featured in exhibitions at the DIA's project space and at MOCAD, but the really interesting stuff is, of course, happening on the ground. Juxtapoz assisted Cope and Reichert in buying more foreclosed homes to be used as project spaces, Power House is now Power House Productions and a formal 501(c)(3) Non-Profit, and they're thinking about doing things like creating a Neighborhood Bike Shop and Skate Parks and Bike Courses.
Model D's latest article on Power House Productions frames the work well:
They've been organizing block clubs with their neighbors where they're tackling everyday concerns like garbage pickup and snow removal — not ruminating on notions of gentrification and art theory. They are knee deep in the notion and practice that art can fuel community development — and not necessarily just the community that typically "consumes" art.
So, art as social practice? Certainly, yes. This work will undoubtedly become a touchstone for writing around social practice, publicly-engaged practices, and contemporary art at the end of first decade of the 2000s. However, even framing the discussion around art is perhaps doing the project (and neighbourhood) an injustice. These artists are taking on the role (or is it responsibility) of being community leaders in the neighbourhood — artists as community leaders. Not artists performing the role of a community leader, not artists creating an exhibition on community leaders, not merely facilitating workshops on what it means to be a community leader, but really stepping into a role that raises a lot of questions and maybe, just maybe, does some real good.
And there are questions, of course. One has to wonder about what's at stake when a real neighbourhood becomes an art project (and we have to look no further than the Heidelberg Project to see some of these implications), and one also has to keep a suspicious eye open around issues of gentrification, or the parachute effect of public art practices,  or even just the moral and ethical dilemma of spurring a kind of development in a place that didn't necessarily ask for it.
For the moment though, I think we need to step outside of those issues and look at the project with some fresh curiosity. Perhaps aside from the 17-year-long Project Row Houses, there isn't a readily available model to understand this kind of art practice, and I'm ready to start wondering about what a model of artists as community leaders/activators/instigators with a long-term investment can do to change a place. And of course I'm curious — that's pretty much what I hope we're doing here.
via Model D Media