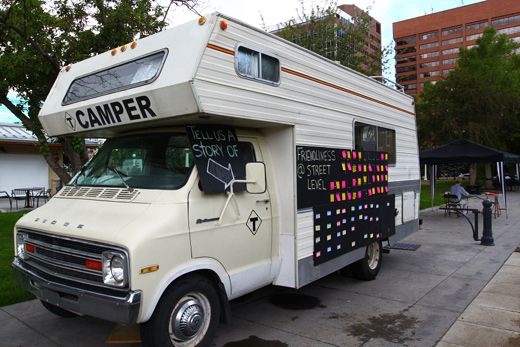 Wednesday morning we set up for our last day of Urban Discovery with Truck Contemporary Art's CAMPER, this time stationed in Central Memorial Park. The theme for the day was "Finding Urban Sophistication and Warm Western Hospitality."
What we wished to explore was the notion that Calgarians are on average a kinder population. We also were curious if there were any trends in the areas that these kind acts occur. Josh, Todd, Randy, and I handled on the day's activities, while Justin took a break after a marathon work session on our upcoming publication (which we'll be posting soon).
Before and after a visit from CBC Radio's Karen Moxley, we cleaned off and re-used our blackboards from Day 4 with a new goal in mind: to find distinct examples of friendliness at street level. Although the park had far fewer pedestrians than Stephen Avenue, we were still able to get useful feedback from Calgarians, while at the same time allowing them to take a break from their busy day to recall previous acts of kindness.
Continue reading "ATTC Calgary Day 6: Mapping Calgarian Kindness"