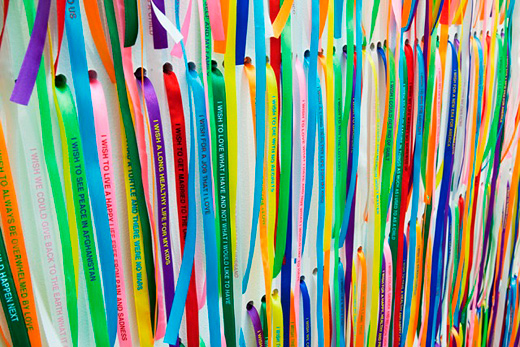 From the Artforum review of Rivane Neuenschwander's mid-career survey, including Eu desejo o seu desejo (I Wish Your Wish) by Michael Wilson:
I WISH LIFE WAS EASY; I WISH FOR INNER PEACE; I WISH FOR A HOLIDAY ON THE BEACH. The last of these pleas–all samplings from Rivane Neuenschwander's participatory installation Eu desejo o seu desejo (I Wish Your Wish)–seemed not only the most achievable ambition but also the most timely, as guests arriving late to the Brazilian artist's Tuesday night opening at the New Museum looked distinctly soggy after a summer storm. The mottos were printed on ribbons arranged around the walls of the lobby, and viewers were invited to take and wear one in exchange for suggestions of their own.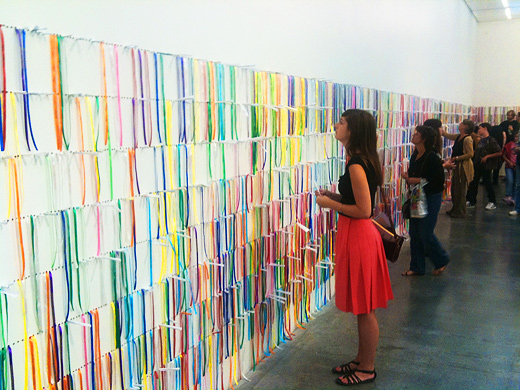 From an interview on ArtBlog with New Museum's Curatorial Associate Benjamin Godsill, "Ribbons printed with wishes from visitors at previous exhibitions hang on the wall.  You take the ribbon, tie it on your wrist, and then replace it with a wish of your own.  The wish comes true when the ribbon wears off your wrist.  So by participating in this you are helping someone else's wish to come true." From the NYTimes review, "It's modeled on a tradition from the Church of Nosso Senhor do Bonfim in Bahia, Brazil: worshipers tie brightly colored silk ribbons to their wrists and wear them until they fall off, at which point their wishes are granted."
Vaguely reminds me of the I Wish This Was project that Josh talked about a little while ago, though I enjoy that these wishes expand beyond the immediacy of the space (but it would be interesting to see this installed somewhere on an exterior wall). I saw the coverage for this show over the summer and really wished I had been able to see it… conceptualism, reciprocal art, participatory exchange, etc. A simple idea with an explosion of scale, it's something we might keep in mind.