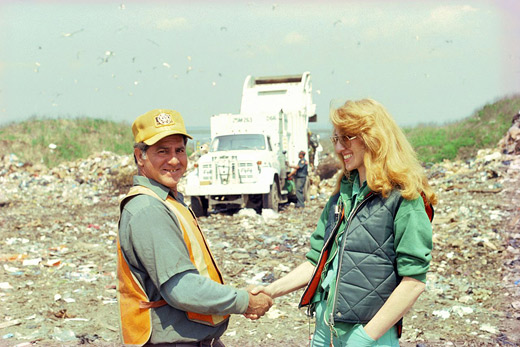 The incredible weather has me getting excited for the summer, and in the process, thinking back to our past couple of summers, and imaging the summer ahead. I recalled the city workers strike back in 2009 and it reminded me of the work of Mierle Laderman Ukeles, and I thought it was long past due that I post about her work.
From the description at the Ronald Feldman Gallery, Ukeles spent eleven months from mid-1979 to 1980 creating Touch Sanitation, a public performance art work. She crisscrossed New York City ten times to reach all fifty-nine sanitation districts to face, shake hands with and thank every sanitation worker for "keeping New York City alive."
And as noted over at the Green Museum, Touch Sanitation was Ukeles' first project as the city's new artist-in-residence […] Ukeles traveled sections of New York City to shake the hands of over 8500 sanitation employees or "sanmen" during a year-long performance. She documented her activities on a map, meticulously recording her conversations with the workers.
At the conclusion of the performance she was made Honorary Deputy Commissioner of Sanitation and also Honorary Teamster Member of Local 831, United Sanitationmen's Association, and I believe she's been an artist in residence there ever since.
Also worth checking out — her Manifesto for Maintenance Art 1969. After child-birth in 1968, Ukeles became a mother/maintenance worker and fell out of the picture of the avant-garde. In a rage, she wrote the Manifesto for Maintenance Art 1969, applied equally to the home, all kinds of service work, the urban environment, and the sustenance of the earth itself. She viewed the Manifesto as "a world vision and a call for revolution for the workers of survival who could, if organized, reshape the world."
This is the kind of work that makes me want to make more art.
Happy Friday.