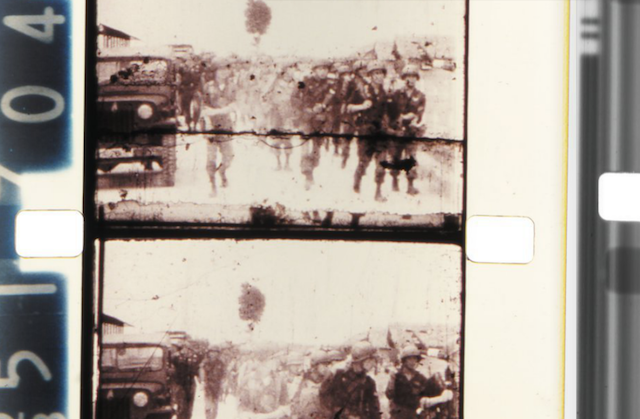 Image: Film Still by Saul Levine
19th Annual Media City Film Festival (2013)
This Tuesday, May 21st, our friends at Media City will be kicking off the 19th Annual Media City Film Festival with an opening night at the Museum of Contemporary Art Detroit (MOCAD). Then, on Wednesday, May 22nd, there will be an opening reception at the Capitol Theatre & Arts Centre in Windsor. This year, Media City will be screening more than 60 new artist's films from 20 countries, presented in 10 programs over 5 days. Dozens of filmmakers and cinema professionals will be in attendance from across Canada and the USA as well as England, France, Palestine, Ecuador, Argentina, South Korea and more.
On Friday, May 24th, Broken City Lab's own Hiba Abdallah will be presenting Program 5 at the Capitol Theatre & Arts Centre at 9:30pm.
Tuesday, May 21st, 8pm – Opening Night at the Museum of Contemporary Art Detroit (MOCAD) (4454 Woodward Avenue, Detroit)
Live performance by legendary free music orchestra CCMC, featuring distinguished Canadian artists Michael Snow (Companion of the Order of Canada), John Oswald and Al Mattes, and Detroit's own avant-noise trio Wolf Eyes (on the cover of Wire magazine this month!). Also that night: launch party for the vinyl re-release of CCMC Volume Three, a recording lost for 35 years, now reissued by Media City and MOCAD in a limited edition of 500 LPs.
Wednesday, May 22nd  to Saturday, May 25th – Film Screenings at the Capitol Theatre (121 University West, Windsor)
The best of new artist's film from around the globe, screened in two or three programs nightly. Highlights include a retrospective screening celebrating the career of US filmmaker Saul Levine, spanning forty years, the Canadian premiere of Stemple Pass, the new film by James Benning, plus new films by Kevin J. Everson, Basma Alsharif, Sergei Loznitsa, David Gatten, Friedl vom Gröller, and many more.
Wednesday, May 22nd, 6:00 pm – Opening Party in Windsor at the Capitol Theatre
The opening party will include a special announcement from Windsor-West MPP Teresa Piruzza and Shannon Prince of the Ontario Trillium Foundation.
Get on the Bus! Sponsored by the Detroit Bus Company, Media City offers a FREE shuttle service for US patrons each night of the festival, with pick-up and return locations in Detroit (MOCAD) and Ann Arbor. Schedules and Reservations through the festival website. Ride the one and only cross-border film shuttle in the world! 
Below is a link to the online catalogue which has more in-depth information about this year's festival:
Media City Film Festival – Online Catalogue
Media Contacts: Jeremy Rigsby / Oona Mosna, Program Directors
Direct: (519) 973-9368 or mediacity@houseoftoast.ca
Hope to see you there!