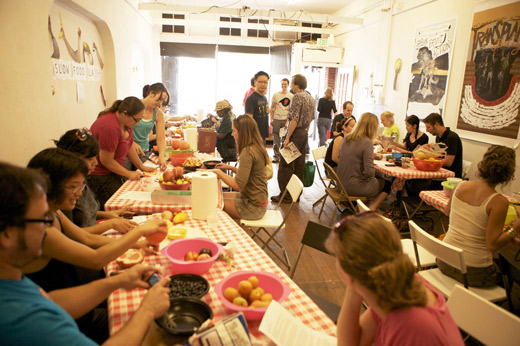 Fallen Fruit Collective formed six years ago through a project by artists David Burns, Matias Viegener, and Austin Young for the Journal of Aesthetics and Protest (ps. you should read it).
Using fruit as their lens, Fallen Fruit investigates urban space, ideas of neighborhood and new forms of located citizenship and community. A number of their projects look at the social, political, and ecological issues surrounding local food, public food, and land use, though it all began with the process of mapping local fruit trees in LA.
From their site…
"Over time our interests have expanded from mapping public fruit to include Public Fruit Jams in which we invite the citizens to bring homegrown or public fruit and join in communal jam-making; Nocturnal Fruit Forages, nighttime neighborhood fruit tours; Community Fruit Tree Plantings on the margins of private property and in community gardens; Public Fruit Park proposals in Hollywood, Los Feliz and downtown LA; and Neighborhood Infusions, taking the fruit found on one street and infusing it in alcohol to capture the spirit of the place."
I really enjoy the social side of Fallen Fruit's work. This communal jam-making being perhaps the most interesting, as it involves a kind of process that highlights interaction and time. As well, their consideration of the legalities and local community practices seem to be very balanced with the rather "nice" focus on fruit at the centre of their questions — a tactic in which I strongly believe. How much more productive of a conversation can you have about these issues when you're (somewhat subversively) framing it around fruit?
[via Art 21]