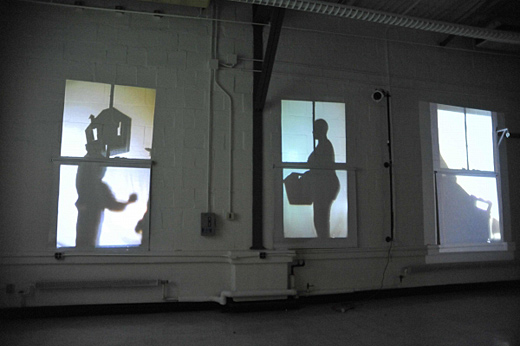 72 Hours is an audiovisual intervention comprised of a series of video projections evoking the personal histories of neighborhood residents, which will be seen through the building's windows, and one unit will be opened to the public for a walk-through sound installation that evokes lives of former owners. You can see some of the projections above, as installed in a gallery.
The houses in question, clustered together in the space of a city block, are owned by Deutsche Bank and other international banks. During the Block Rebellion, demands will be made to immediately cease all no-fault post-foreclosure evictions and begin negotiations to sell back the vacant units at real value.
According to the artist, John Hulsey, "the projections serve as injunctions, insertions into contested areas of the city. Transforming private neighborhoods into public arenas for debate, the projections may create spaces in which dialogue can be breached."
It's an interesting project, makes me wonder about the possibilities for Grace Hospital — certainly, a different set of issues, but at the very least, this is an interesting example of highlighting contentious spaces.
[via Groundswell Collective]