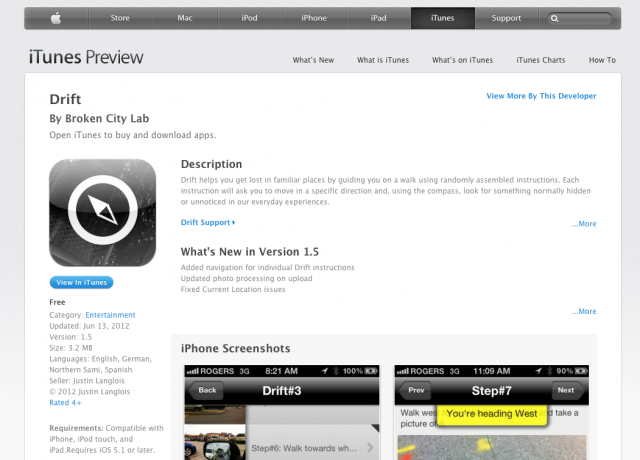 Great news! Drift v1.5 is available now on the App Store.
There are some really useful changes, including a better way to navigate from step to step in your Drift, some light tidying up upon registration, longer sessions to keep you logged in, and some fixes and adjustments to the photo upload process. All of that means that it's easier to use and the documentation from your Drifts should look great!
The other major change is that Drift now requires iOS 5.1 or later.
And, if you haven't already checked it out … if you mark your photos public, they'll now appear in our sidebar with the instruction and a link to Google Maps with the location of where you took the photo, and of course credited to your name.
Drift helps you get lost in familiar places by guiding you on a walk using randomly assembled instructions. Each instruction will ask you to move in a specific direction and, using the compass, look for something normally hidden or unnoticed in our everyday experiences.
This project was generously supported by the Ontario Arts Council Media Arts Grant for Emerging Artists.