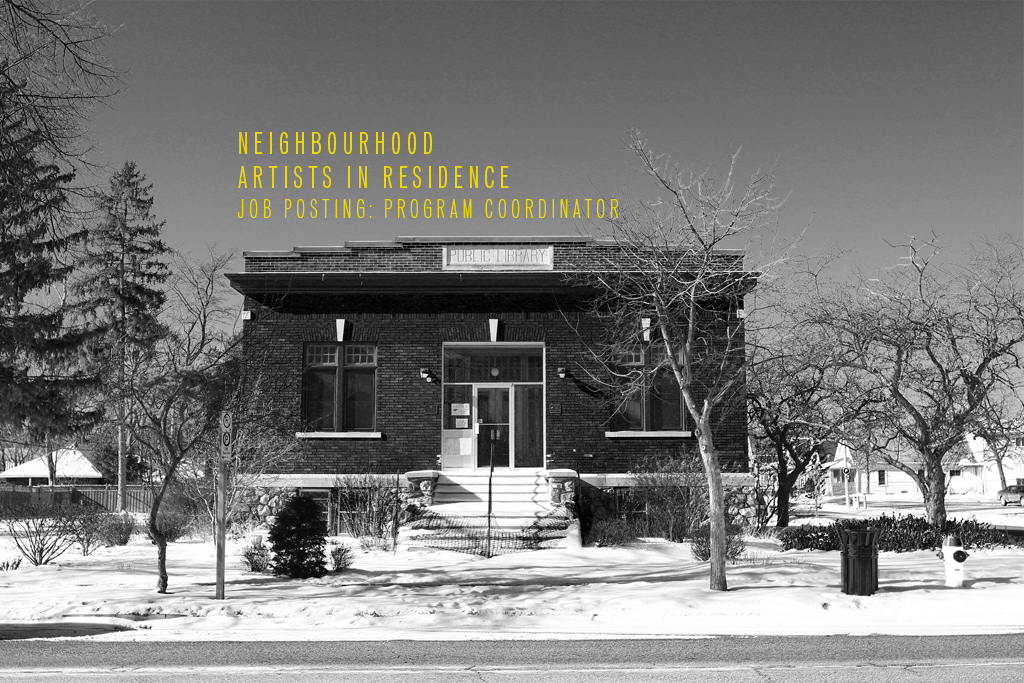 We'll have a lot more news (and a call for submissions) on this new neighbourhood artist-in-residence program soon, but in the meantime, there's a job posting for a position to help make this happen. It's a part-time position to support what is sure to be an amazingly fun project, and the bonus is, you'll get to hang out with us! More info below…
---
Arts Council Windsor and Region (ACWR) is seeking a Part-Time Program Coordinator (Neighbourhood Artists in Residence)
DEADLINE: JANUARY 22 2013 via email applications@acwr.net
GENERAL JOB DESCRIPTION
Under the supervision of the ACWR Executive Director, the Program Coordinator is responsible through a two year contract to develop, manage and facilitate a 12 month Artist in Residence program located throughout Windsor & Essex County which will bring contemporary art to the community in non-traditional spaces in non-traditional ways.
PROGRAM DESCRIPTION
Artist-in-Residence programs exist to invite artists, performers, musicians, curators, and all manner of creative people for a time and space away from their usual environment. Art residencies emphasize the importance of meaningful and multi-layered cultural exchange and immersion into another culture or place. The Windsor Essex Artist in Residence program will locate 10 chosen artists from across Canada and beyond into neighborhood community spaces throughout Windsor and Essex County. These community hubs will provide a productive "home base" for the artists and a compelling injection of culture into the surrounding neighborhood. Beyond artists working in the community spaces, they will also engage with the community stakeholders and user groups to animate, explore and inspire the specific stories, curiosities, challenges and triumphs of the local community. The program will span two years, with six months preparation, 12 months of residences, and six months of wrap up and reporting. A final exhibition and symposium will be held after the residencies are completed. An online publication will be created documenting the program.
This program is a collaborative partnership between the Arts Council – Windsor & Region, Broken City Lab and The City of Windsor ("the Collaborative").
More information here: http://acwr.net/news/acwr-seeks-part-time-program-coordinator/
This program and position is made possible through the generous financial support from the Ontario Trillium Foundation.