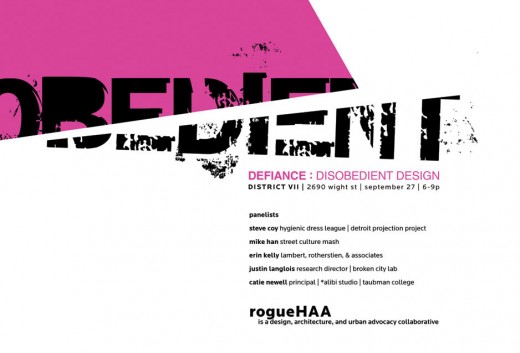 Next week, I'll be heading over to Detroit to join a panel discussion hosted by rogueHAA entitled, Defiance: Obedient Design. They've been doing a lot of great programming over the last year or so, and here's some more information:
As part of the Detroit Design Festival presented by the Detroit Creative Corridor Center, rogueHAA is pleased to announce the third event in its 2011/2012 series: PROVOCATIONS: Challenging Detroit's Design Discourse. This bi-monthly lecture series began in June and will continue through the end of 2012.  Each panel discussion will invite local, regional, and national figures to discuss what makes Detroit provocative.  Set in a variety of under-utilized, contested, and historically charged spaces throughout our city, each event seeks to challenge the participants through candid discourse and direct engagement of the built environment.  It is the aim of each panel discussion to explore new urban strategies that promote social equity and advocacy.  We believe good design (and good design discourse) is a proactive and critical act, toeing the line between conflict and resolution.  While each event exists for only a moment, the entire series will provide a lasting catalogue of constructive dialogue, informing Detroit's shared creative consciousness.
Event 03 DEFIANCE : Disobedient Design.
I'm quite excited to participate, if you're in the neighbourhood, check it out on Tuesday, September 27th from 6-9pm, 2690 Wight Street.