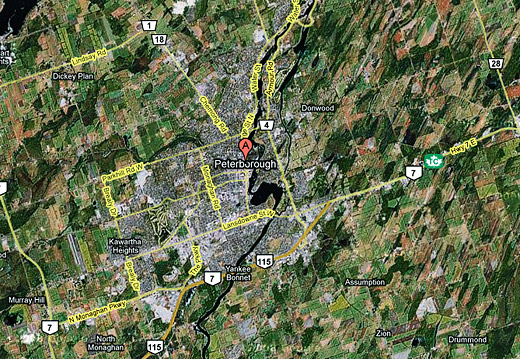 Broken City Lab is heading up to Peterborough, Ontario for all of next week (October 12 – 17, 2009) for an extended field trip to collaborate with Artspace for a series of community and inter-city research initiatives, workshops, and interventions to understand the city of Peterborough, its infrastructures, and its communities.
We'll be blogging extensively on our activities and experiences, running our research hub / studio out of Artspace's main gallery. We'll be following this nightly schedule, while also exploring, documenting, creating, and planning each day:
October 13, 14, 15, 16: "Open Office Hours" Ongoing Open Office Hours / Public Meetings / Workshops daily at 4-5:30pm
October 13: "Extended Field Trip: An Introduction to Our Social Practice" Opening Artist Talk / Overview of Research Plans for Peterborough at 7pm
October 14: "Get Lost: An Algorithmic Adventure with Strangers" Exploring the City and Getting to Know Neighbourhoods on Foot at 5pm
October 15: "Open Forum: On the City of Peterborough" Townhall Meeting / Community Discussion on the city of Peterborough at 7pm
October 16: "Home Work from an Extended Field Trip: Comparing notes on what to do with the city in 96 hours" Closing Performance / Activity at 7pm
If you're in Peterborough or the area, here's the address for Artspace: 3/378 Aylmer St. N. Peterborough, Ontario.