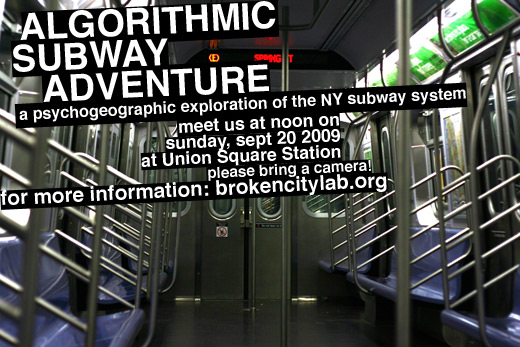 Back in July, Broken City Lab sent out a proposal to Conflux City 2009, which is a subset of the New York City festival for contemporary psychogeography, Conflux Festival. In August we found out that we were not only accepted into the festival, but we are also one of the featured projects of the program!
For the Conflux City 2009 program, we will be conducting psychogeographical urban research on the experiences of everyday life on the subways in New York through the activation of New York field agents. We will enlist the participation of numerous New Yorkers and visitors to the city to travel the subways and interact with their surroundings using a computer-generated algorithm that we create. This highly concentrated activity of paying attention to and disrupting the everyday on the New York subways will allow us to examine urban interactions in a well-functioning city.
In detail, participants are asked to bring their digital cameras to the walk. If they do not own a digital camera, the participants are still able to participate in the walk because we will be separating the field agents into groups, assuring there is at least one camera per section. We will provide the participants with a list of 25 randomly assembled steps in algorithmic form, and they will have a 2-hour timeslot with which to complete each of the 25 steps. We ask any one who is interested in our Algorithmic Subway Adventure to meet us at noon on Sunday, September 20th, 2009 at Union Square Station.
Photographs from the Algorithmic Subway Adventures will allow us to visually review what it means to participate in personal and community engagement in a city that we imagine being the epitome of social urban functionality. Our interest in New York as a site of this research is situated in the city's distinct difference to our city, where the scale of urban adventure and research is not only incredibly larger, but also occurring within an entirely different context, one that is critical for us to understand in our ongoing research.