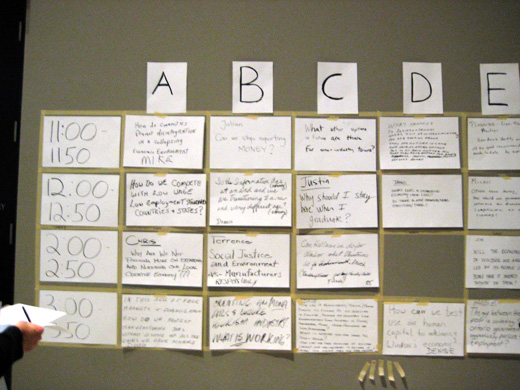 I spent the day at AgendaCamp, which is part of The Agenda's series on the manufacturing economy. The idea was to get a bunch of people in the community together and create discussions around the manufacturing economy, the city, and the future of both. From there, the discussions were summarized, photographed, twiettered, video(ed), and uploaded to a wiki, where hopefully the discussion continues. 
The question I asked in my session was, "Why should I stay in Windsor after I graduate?" I was hoping to provoke not only discussion, but some real things that could happen in this city to encourage me and people like me to stick around after graduation. This is a question I really want to ask the city council and mayor, but that's another project down the road. A lot of people were receptive to what I briefly described at BCL's activities and I think we made some new connections with like-minded people in the community.
Tomorrow night there will be a live broadcast of The Agenda in its regular roundtable discussion format, and I've been asked to reiterate my question on live television.