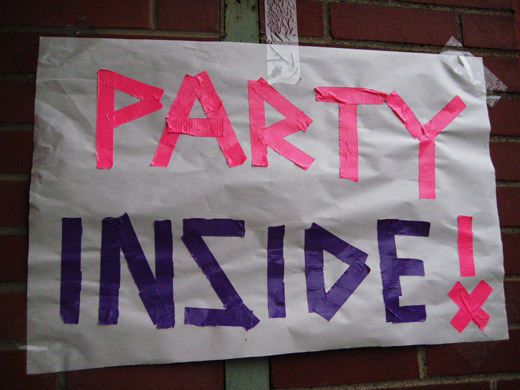 Although the Dance Party was technically supposed to be a Parking Lot Party, the rain forecast and the subsequent move inside the gallery didn't stop the awesomeness from happening!!! We have to extend a huge thank you to the following people and places: the School of Visual Arts for letting us throw down, Sandeep Soor, Jason Child, Justin James, Matt Herdman, Stephen Surlin, Cristina Naccarato for the Super Nintendo cable, the Blatherwicks for the mint leaves, Bob Soulliere at Cardinal Music (519-966-6400) for the audio equipment, Meaghan for helping with tea, and Chelsea for Christmas lights/dancing up a storm! 
Incredibly fun night overall, and hopefully just the first of many dance-related events in the future.
The LeBel Gallery…
Danielle and Carolina string Christmas lights and start getting the video games setup.
Josh hangs the sign!
Michelle writes in tape.
Our tea…sign.
Our Super Nintendo was giving us some difficulties early on, Carolina prepares to reason with it.
Details…
Setting up the audio gear.
Dance Party begins!
The dance circle start to form.
Mariokart.
Tuff and Blight.
The whole night behind the table, Danielle and Meaghan served up the tea (I think Josh drank 2 Litres on his own)…
Really, really good music all night.
Thank you to everyone who came out and danced and played video games and drank our tea!!! We'll announce our next event soon!