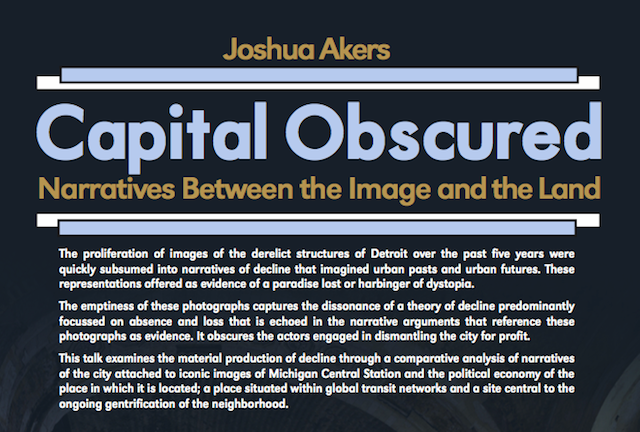 Friday, November 22nd – 1 pm: Walking Tour of Indian Road. Meet @ Lebel Building, North Doors across from McDonalds. We will proceed north for our walking tour of Indian Road and then along Wyandotte to main campus CEI building.
Friday, November 22nd – 2:30-4pm: Lecture by Joshua Akers – Room 2101 Ed Lumley Centre for Engineering Innovation, University of Windsor (corner of Wyandotte Street West and California Street)
Our friends over at the University of Windsor are hosting a walking tour and lecture with University of Michigan's Joshua Akers. Akers has used the Ambassador Bridge as subject matter and has also focused on crises in Buffalo and New Orleans. Join him on Friday, November 22nd in Windsor for a day of discussion and an illustrative tour of Indian Road.
The talk examines the material production of decline through a comparative analysis of narratives of the city attached to iconic images of Michigan Central Station and the political economy of the place in which it is located; a place situated within global transit networks and a site central to the ongoing gentrification of the neighbourhood.
---
Joshua Akers is an Assistant Professor of Geography and Urban and Regional Studies at the University of Michigan-Dearborn. His work is focused on the market-based production of decline and the crisis dependency in neoliberalism. Recent work has focused on responses to crisis in Detroit, Buffalo and New Orleans.
This event is supported by IN/TERMINUS, an organization which brings together researchers and artists committed to exploring the boundaries between media, arts, science, technologies, and the built environment.