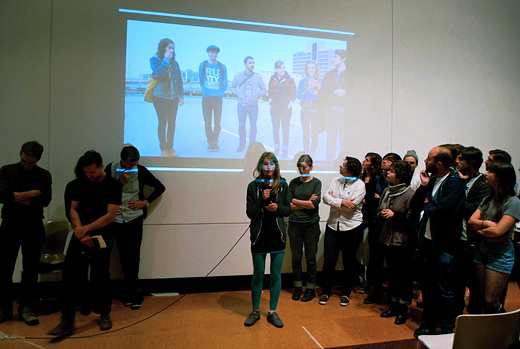 Above, Homework Artists-in-Residence presenting their work, Photo by Eduardo Aquino
It's a week later than we had hoped to be making this kind of wrap-up post, but we also know this is just the beginning of a larger conversation that will span far beyond this space.
Homework: Infrastructures & Collaboration in Social Practices hosted over 120 artists, writers, community activators, curators, thinkers, and doers from big and small places across North America (and, incredibly, at least one person from overseas). From the first day of the residency to the last day of the conference, the schedule was beyond jam-packed, but the things we discussed, together, made the two-day conference an incredibly rewarding experience for us. We are exceptionally happy with how Homework turned out and we can't thank you enough for attending and supporting it.
There's still more ahead though — the publication will be assembled over the coming months, and if you're still looking to contribute, you should get in touch. There's also been some questions about another edition of Homework, and we're considering it. We'd love to see these kinds of conversations given a bit more time and space to unfold.
As happy as we are with how things went, we know there's definitely room for improvement. If you have any feedback for us on your experience of the conference, it'd be great to hear from you. Please consider filling out this response form: https://docs.google.com/spreadsheet/viewform?formkey=dEpMczJtVTVtZEhoNWgyeUp4SWZyNVE6MQ
We're also working on cataloguing all the video documentation and we'll be working to make these video archives available as soon as we can, stay tuned. And, if you have any documentation of the residency or conference, please pass it along.
And finally, we'd like to extend our most sincerest thanks to everyone who participated and attended Homework, including our conference panelists and our incredible keynotes! Thank you!