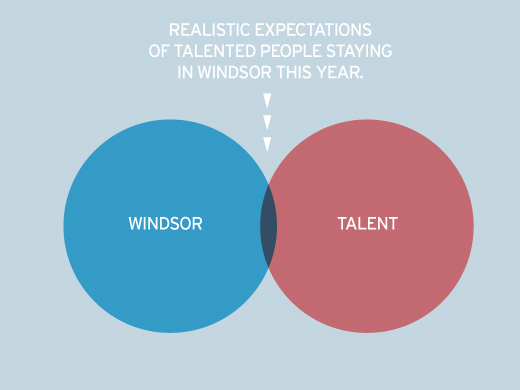 Read Tom Lucier's recent blog post. He spells out nearly everything he does in this city, for free. He draws on examples of other talented people in this city who continue to try to stick it out for who knows what reasons. He makes a compelling case for having to give up some of these things he does as labours of love.
It was upsetting and it was terrifying.
That there remains any talented creative people in this city (and I suppose I'm being slightly narrow in my definition, thinking of artists, musicians, actors, writers) is kind of incredible. As much as I believe in this city, I really don't believe we are giving enough people enough reasons to stay.
So, I have to suggest some ridiculous and likely impossible ways to get people to stay, because that's what we do — we look at problems, invent solutions, and then sometimes we even try to act on those solutions.
We need to establish a social innovation fund. This will supply micro-grants (up to $2500) for people who want to do something creative and amazing here in Windsor.
We need to identify and make accessible studio spaces that can be shared, are safe, up to code, and very reasonably priced. This will create a place for people to work out of should we be lucky enough to entice them to stay.
We need to figure out how to convince the huge number of people who graduate and leave every year to stay just a little while longer. This will give us ample opportunity to get those talented people invested enough in this place to want to stay.
We need to figure out how to convince more people to pay more money to retain the talent we have in this city, or we probably need to figure out how to find value in what we already do. This will provide a base level of income to keep people like Tom writing and reporting instead of having to do something like take up a paper route.
We need to put Windsor on the map, the world map, as a place in which to do more than just pass through. This will enable all of the above things to happen, and happen sooner rather than later.
We needed to do this yesterday. Realistically though, it's already too late.