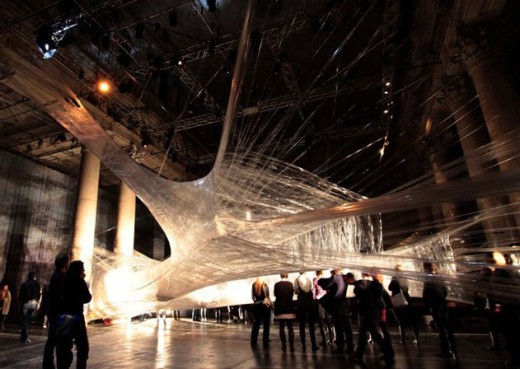 Ever wonder what 530 rolls of self-adhesive tape would look like if you used it to create a spiderweb? It would probably look much like Numen/For Use's Tape Installation in Odeon, Vienna. While I always appreciate projects that are so ambitious and visually stunning, I'm growing wary of excessive waste. Clear packing tape is, for the most part, not recyclable (due to its adhesive) and using 530 rolls for a temporary project is a bit tough for me to grasp.
While I don't mean to sound like a worrier, I'm just concerned about projects that are so overwhelming to the viewer that he or she can't stop for a minute to think about the implications of production. We (BCL) have used plastic products in some of our projects in the past, but questions about waste were usually addressed. The most I can hope for is that artists keep asking these important questions when they decide to take refined materials and transform them.
There are a couple of images of this massive installation after the jump.