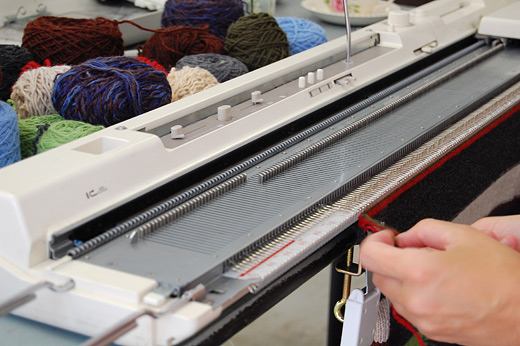 We had a very productive day over here on Pelissier Street. Chris Pandolfi joined Simon Rabynuik to form the Department of Unusual Certainties and began setting up shop in 410. Jodi Green's knitting machine was in motion for most of the day, and Andrea Carvalho arranged a game of Badminton on Eric Cheung's interior sod.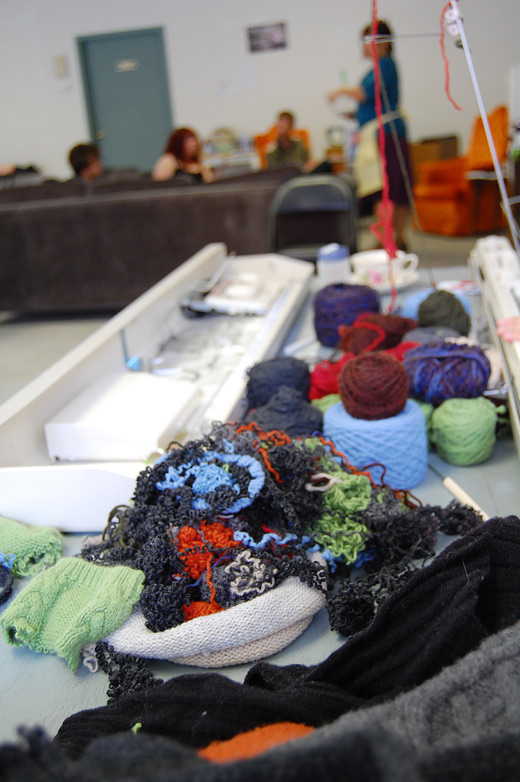 Since the beginning of the residency, 406 has been the hub of the action. This is mainly due to The Breakroom, which has its last day tomorrow. It will be interesting to see if this storefront remains the gathering spot after The Breakroom is gone.
Jodi was working away all day, unraveling sweaters and making new material on her knitting machine.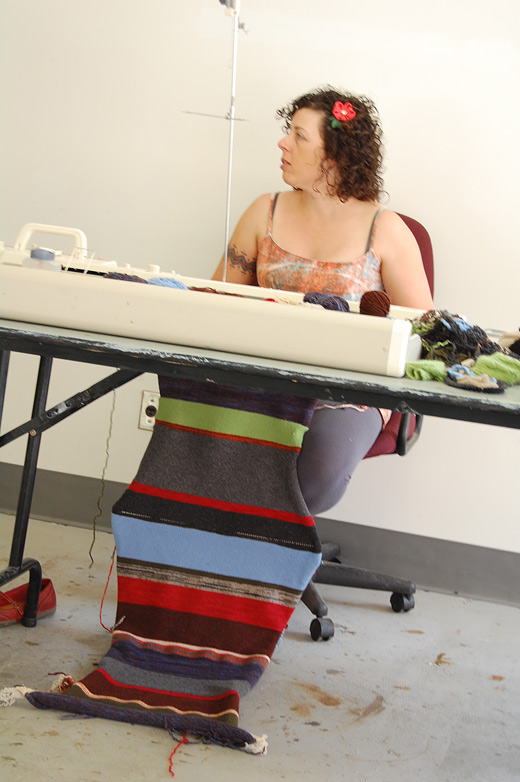 She got a lot done today, 1000 rows in total at the end of the day!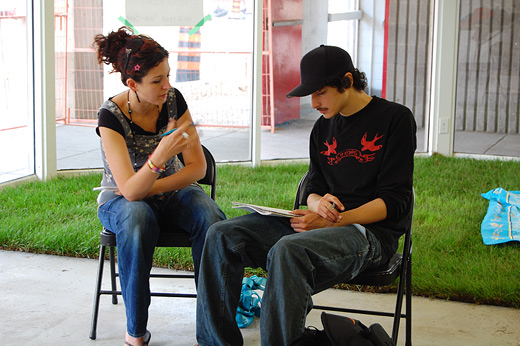 As I was visiting over in 406, Murad Erzinclioglu and DeeDee of Dilly Daisy Clothing decided to use the store as a meeting space. They were planning a fashion show at The Loop.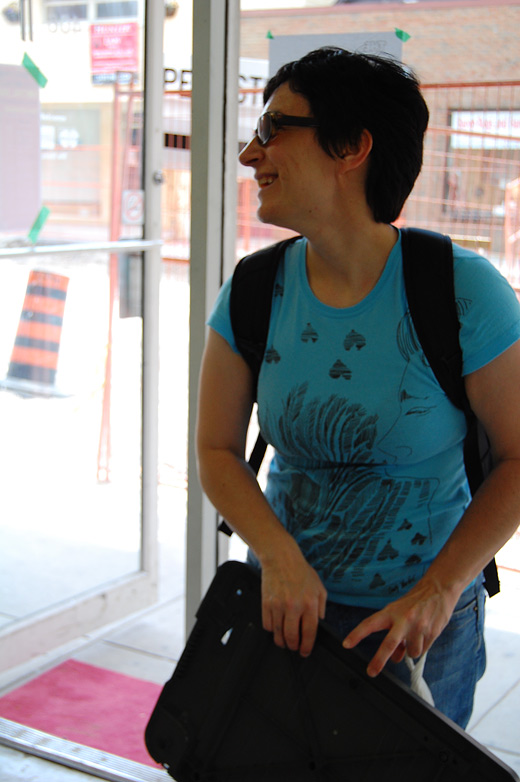 Leesa Bringas came in to start working on her piece. She showed up wearing one of my old shirts that I had included in The Swap Shop, a Levi's Andy Warhol tee. In return, I took a very soft brown cardigan.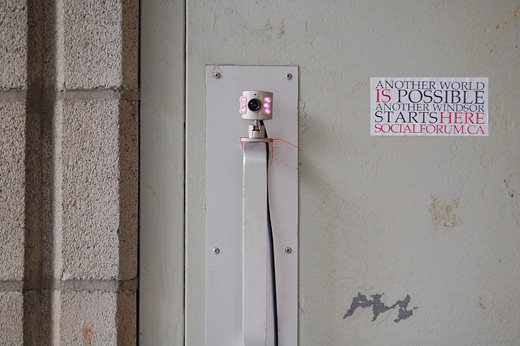 Our security guard Norman Eberstein was patrolling today. His security camera was set up on a door facing the stairwell just outside 406 on Park Street.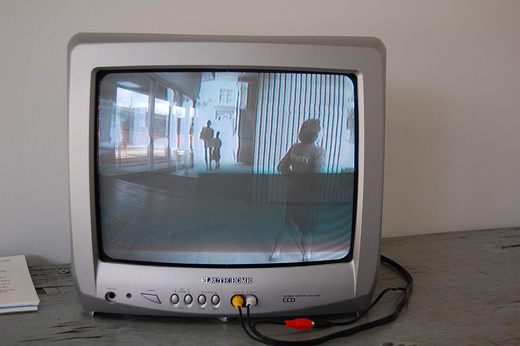 You could see inside of 406, which I thought was super-interesting. This type of self-surveillance could be incorporated into Sara French's project further down the line.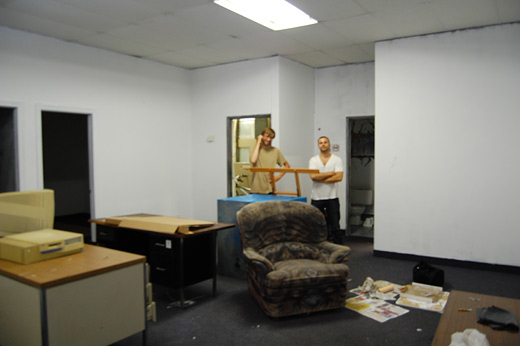 The Department of Unusual Certainties started their residency today. Simon and Chris took over the back lobby of 410. They had some rearranging and a bit of cleaning up to do, but they started off the day completely eager.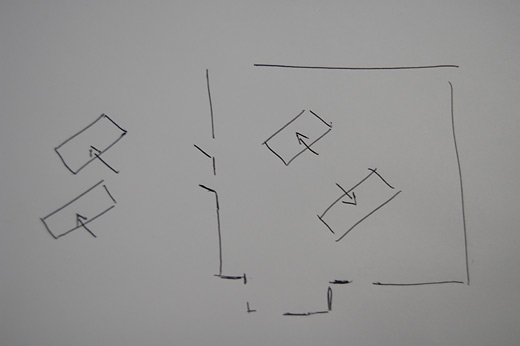 The placement of the two desks in the space was crucial. This diagram by Simon shows two variations on desk placement.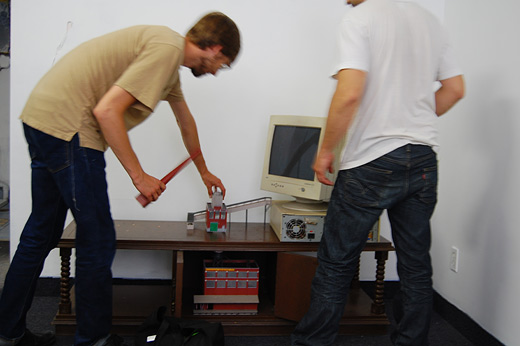 They used this old computer that was left in the space before we had entered it as part of the beginning of an installation.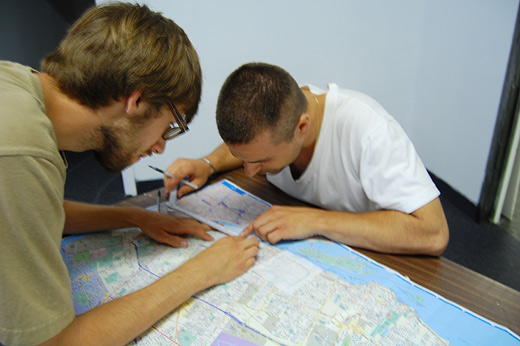 Research began with a map of Windsor, some toilet paper and a couple of pens.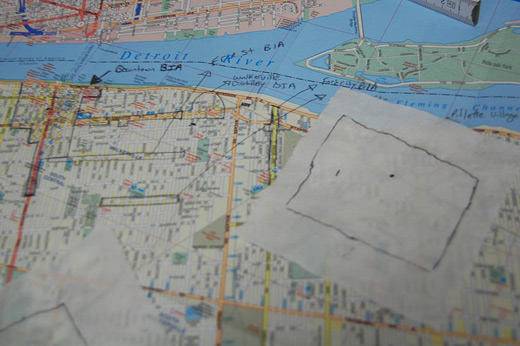 They are trying to figure out the best geographic location to conduct research, mapping different regions based on businesses.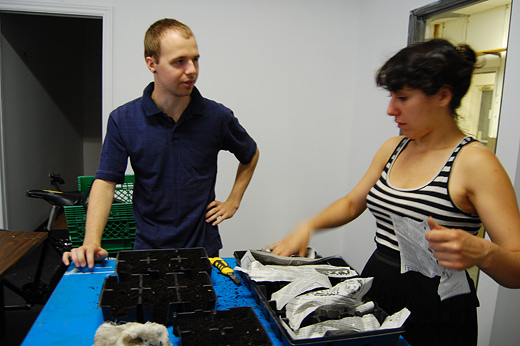 Josh came through to finish up the last of the painting. It's finally all done! He also gave a helping hand to Andrea, who was doing some work with her planters today.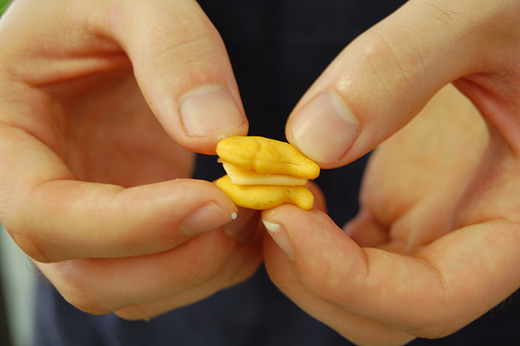 Josh made a fishie and cheese sandwich at lunch in The Breakroom, it was adorable.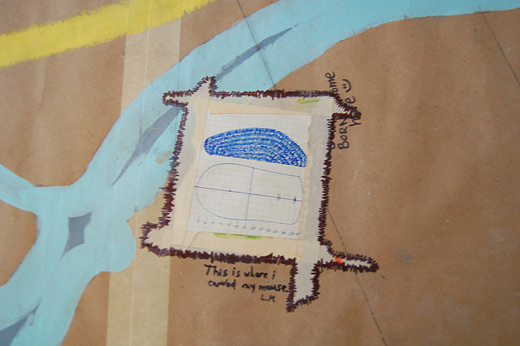 Over at The People's museum, Jefferson's map is beginning to fill up with the community's contributions of memories.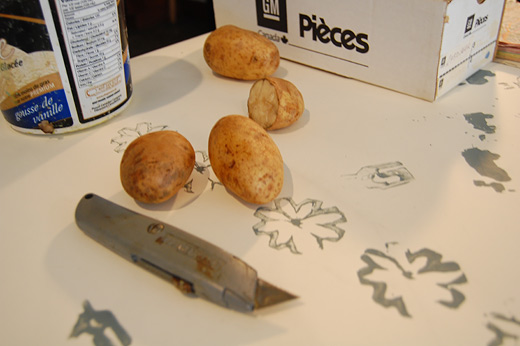 People are invited to come in and make potato stamps that will be used to chart out individual experiences.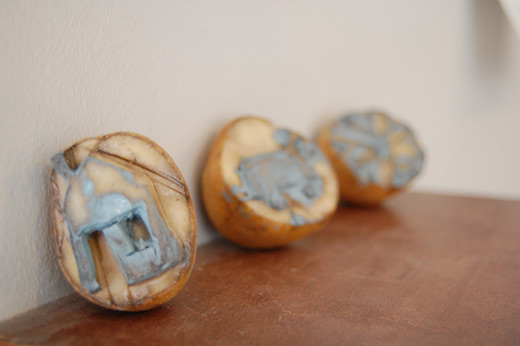 Here are some stamps that were already made, a house, a car crash and a rose.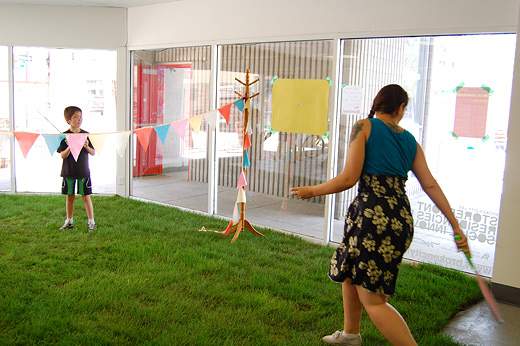 At 3pm, Andrea Carvalho was planning on having a badminton game on the roof of the parking garage above the stores. Due to the wind, the game was moved inside onto Eric Cheung's sod project. It was so much fun to activate the grass inside of 406! If you'd like to play a game, we will be doing it again tomorrow!
This project is generously supported by the City of Windsor: Cultural Affairs Office, Arts Council Windsor & Region, Windsor Pride, and the Ontario Arts Council.