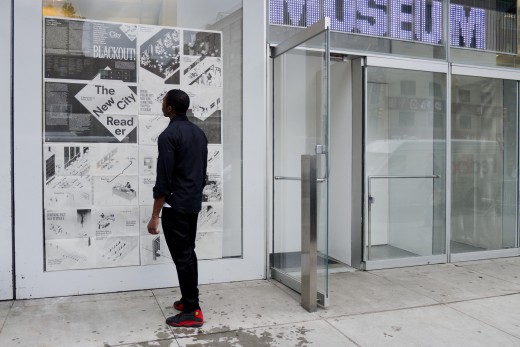 "Read All About It", "Hot Off The Presses", these are not the stereotypical calls of a long-gone era of children calling on street corners, they are headlines about the recent rise in popularity of print media.
In an article by Alissa Walker for Good.is, entitled There's a Newspaper Being Made, Right Now, in a Museum, she discusses the publication that's creating this particular buzz — New City Reader, which is also a part of the exhibit The Last Newspaper, held at the New Museum.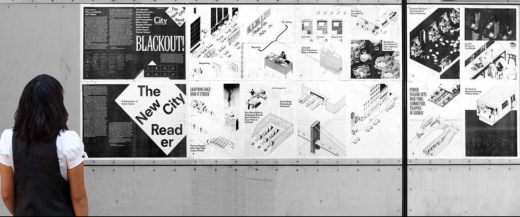 "The New Museum will present "The Last Newspaper," a major exhibition inspired by the ways artists approach the news and respond to the stories and images that command the headlines. The exhibition will animate the Museum with signature artworks and a constant flow of information-gathering and processing undertaken by organizations and artist groups that have been invited to inhabit offices within the museum's galleries…For visitors, "The Last Newspaper" will be a unique site of dialogue, participation, and critical thinking, posing new possibilities for a contemporary art museum experience." –Alissa Walker
The "departments" that are participating in the exhibit are: the Center for Urban Pedagogy; StoryCorps; Latitudes; The Slought Foundation; INABA, Columbia University's C-Lab; Joseph Grima and Kazys Varnlis/Netlab; and Angel Nevarez and Valerie Tevere. There will also be  featured guests that include "The New York Times Feminist Reading Groups, a project by Liz Linden and Jen Kennedy dedicated to examining that day's issue of the newspaper."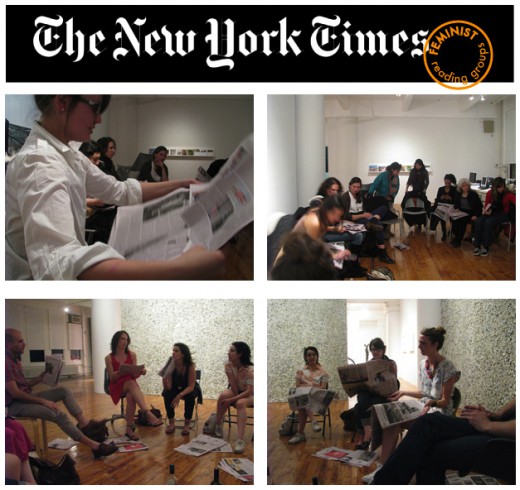 In another article by Alissa Walker entitled Read All About It: Newsprint Still Delivers, the newspaper industry is re-evaluated and re-imagined.
"Newspapers as an industry may be in decline, but the newspaper as a form is being seized with delight by new generation of designers. In 2008, the "post-digital" collective Really Interesting Group tickled the blogosphere by collecting online stories and images and publishing them as Things Our Friends Have Written on the Internet 2008. It wasn't a statement about the languishing newspaper industry, in fact, it was quite the opposite. "Blogs aren't killing journalism," says co-creator Ben Terrett. "That's just a false comparison, like saying radio's killing comedy. Blogs, like newspapers, are a tool, a channel, a medium. They have advantages and disadvantages. We wanted to see whether you could combine blogs and newspapers in a way that would get the most benefit from both of them." And in keeping with that spirit, he says he must politely decline when people ask for a copy as a PDF." –Alissa Walker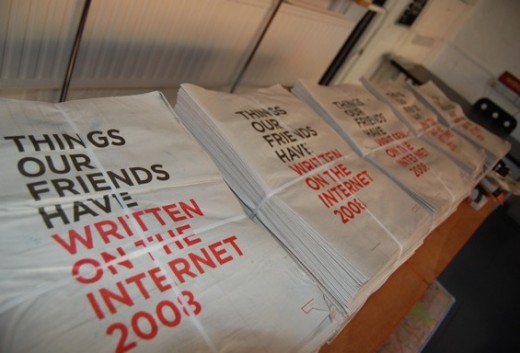 The rise of print media may be an important factor in future projects by Broken City Lab. With the right connections and contributions, a newspaper might be a very viable way for BCL to spread their stories, research, maps, ideas, photos design projects and more.
This may be especially true in collaboration with a gallery, artist run centre or featured as an aspect of another SRSI: Storefront Residencies for Social Innovation. Another element to the pathos of print media is the act of reading in groups, similar to The New York Times Feminist Reading Groups.
The newspaper inspires a kind of kinship amongst its readers, possibly form looking over at your neighbour and knowing they are reading the same thing you are. This can lead to the meeting of groups to get together to read, discuss and critically engage the paper.