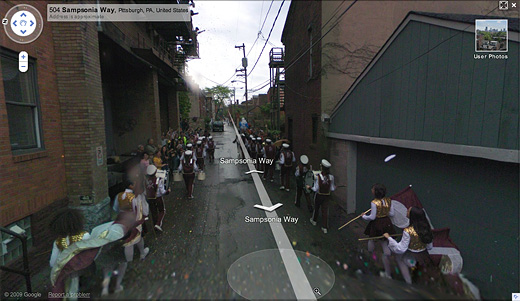 Google's Street View service is making the rounds across Canada. There's no schedule that I've been able to find yet, but they are coming to Windsor.
Anyone have any ideas about when Google is coming to town?
And maybe as a follow up, anyone have any ideas?
There's already a short history of artists working alongside Google's team. In 2008, artists Robin Hewlett and Ben Kinsley invited the Google Inc. Street View team and residents of Pittsburgh's Northside to collaborate on a series of tableaux (pictured above), but to not at least think about doing something would certainly be a waste. How often do you think this could possibly happen?
I wonder if a well-placed, but legible, banner might be worth investigating?
[via CBC]