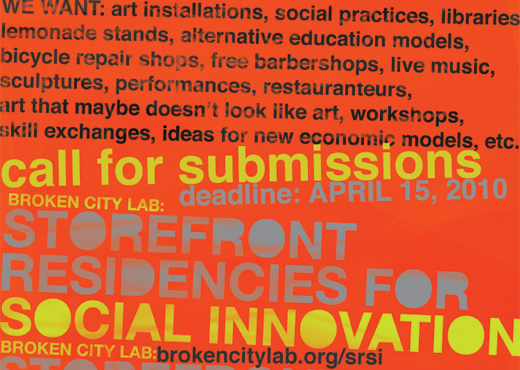 The Storefront Residencies for Social Innovation invites the radical re-imagining of the possibilities for economic stimulus and process-driven practice, situating those very possibilities in the heart of Windsor in vacant storefronts.
Facilitated by Broken City Lab, the Storefront Residencies for Social Innovation will call on artists, writers, designers, entrepreneurs, not-for-profits, hobby shops, restauranteurs, librarians, musicians, architects, archivists, and other interested parties to occupy a space in downtown Windsor for up to one month in June and July 2010.
The residencies will attempt to intervene with the everyday realities of skyrocketing vacancy rates, failing economic strategies, and a population of people who are continually losing hope for their city.
Details: We will provide a space for you to use, some very modest fees and resources to pull off your project, and a lot of enthusiasm. While we are open to proposals from anyone, preference will be given to Ontario-based persons. If you're an artist working in a socially-engaged practice, we'd be especially interested to hear from you. Any questions: info@brokencitylab.org.
Deadline: April 15, 2010
The residencies will take place here in Windsor, Ontario in June and July 2010.
Please use the form below to make your proposal.
P.S. You don't need to write a 20-page proposal, but give us the details that are most pertinent. It would be really helpful to know how long you'd like to use the space, what your activity or project will look like, how you think it's innovative, and why you think it could do some good in our fair city.
—
Submissions are now closed.
—
This project is generously supported by the Ontario Arts Council.