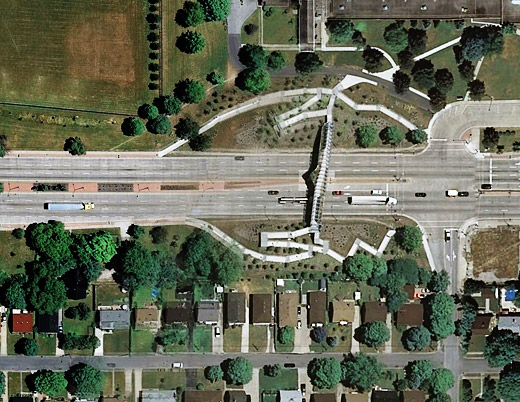 TODAY in Windsor, there's an incredible amount of activity happening. The Green Corridor will host a talk / workshop from Ontario Arts Council and Canada Council grant officers, two artist performances, and one huge outdoor event to bring culture to the NAFTA freeway.
Lee Rodney will launch her Border Bookmobile—a Windsor-made 1993 Plymouth Voyager stocked with a collection of artist books, theoretical texts, maps, and ephemera about the urban history of the Windsor-Detroit region and other border cities around the world.
Jennifer Willet will conduct ongoing laboratory research and hold a bio-art workshop with the general public in the presentation of her work InsideOut: Laboratory Ecologies. This piece explores the laboratory removed from its sterilized artificial setting and placed in an outside world full of environmental organisms and ecologies.
The Green Corridor along with composer Brent Lee, visual artist Sigi Torinus, Assumption High School musicians, What Seas What Shores, CJAM 91.5fm, and others will create a one-hour performance of music and visuals that interact with the passing traffic on Huron Church Road near the Pedestrian Overpass. Drivers can tune-in to the performance in near-realtime and contribute to the Drive-Thru Symphony by honking their horns, or revving their engines, or generally making noise. Broken City Lab will also be contributing through a number of projects by us as individuals.
Here's the schedule:
1:00 – 2:30 – Canada Council and Ontario Arts Council / Integrated Arts Programs Information Session / Room 115 LeBel Building, University of Windsor
3:00 – 6:00 – Border Bookmobile, Lee Rodney / InsideOut: Labratory Ecologies, Jennifer Willet
8:00 – 9:30 – Drive thru Sympony Performance / Nature Bridge Pedestrian Overpass / Huron Church Rd. at Millen St.
This is going to be an amazing event, dare I say, history-making. You need to be there.