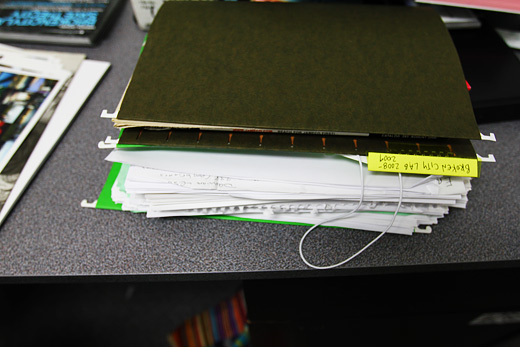 Here it is, or at least, here's part of the physical archive, the scannable stuff anyways, from 2008-2009. It's been hanging out in my filing cabinet for a long time, but finally with the help of Miranda Fay during her off-hours, it's been gradually scanned in page by page.
Archives are crucial for taking stock, for remembering, for understanding a history. Given the pace with which we work, it's rare to find the time to actually reflect on what we've done. Usually, this happens, in a way, when compiling images for an artist talk or presentation, but inevitably, even that process is limited by what was created by a digital source already.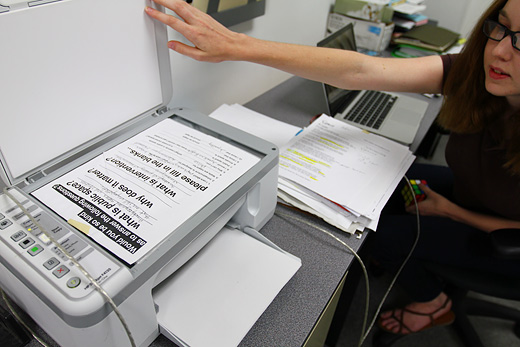 331 scans from about a year and a half of work, early stencils, poster designs, and lots of hand-written notes. I can't wait to find the time to look at all of it. And now Miranda has started on the 2010 archive. It's so awesome to know that there's now another copy (even if it just a digital scan) of these things.
We seem to always talk about compiling this archive into something legible, now that it's digital, maybe we'll be that much more convinced to attempt that process … but I doubt it. The fallout from Save the City and SRSI alone are still on our plates, to go even further back than that seems daunting to say the least.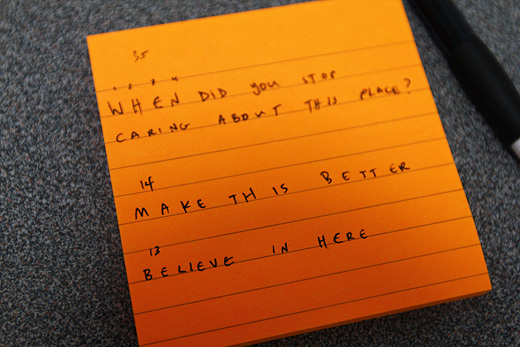 Meanwhile, we're planning to meet Wednesday night, and I'm really looking forward to this. It will be one of the first times that we'll have all been together for a while and not have to talk about some aspect of admin-type stuff. Though inevitably, that will be in the mix too. Above, I'm thinking on a post-it note.