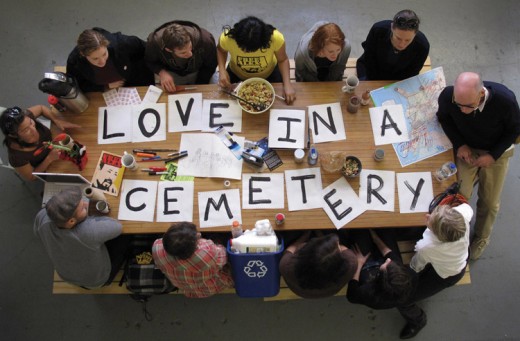 If you haven't already signed up for the Art&Education email list, do it now. Also, make sure you tick off at least the E-Flux list too. It's nearly always a joy to get these in my inbox, always making me wish I had more time to read, to apply, to attend these exhibitions and schools and conferences that I see advertised on these lists.
Love in a Cemetery is just the most recent interesting thing to come from these lists, with the title taken from a quote by Allan Kaprow that goes like this, "Life in a museum is like making love in a cemetery." With L.A.-based visual artist Andrea Bowers and curator Robert Sain, students from the Otis College of Art and Design and community organizations from throughout L.A. are participating in this exploration of aesthetics, pedagogy, and cultural politics.
Ok, sounds pretty good, definitely something that we'd generally be interested in, but here's the really good part…
The project features a unique take on art as examination, as investigation into the future of cultural organizations, including art schools and community-based activist groups in the same learning circle as the better known museums of L.A.
And…
Sain considers the opportunity and obligation for arts organizations to be socially responsible and responsive in an age of diminished resources and uncertainty.
By the way, this is all part of the new residency model that 18th Street is attempting to generate, with this year's cycle called Status Report: The Creative Economy.
18th Street itself has recently shifted from running a standard gallery program to an entirely different model for using the space — making it active by curating artists involved in process-based work continually. It's still art, it's still curated art, but it's committing to thinking about what art can do or what art can be today.
It's exciting to read this stuff. You should be excited. It's exciting because this is part of what we try to do and it's nice to know that other people like doing this as well.
[via Art&Education]