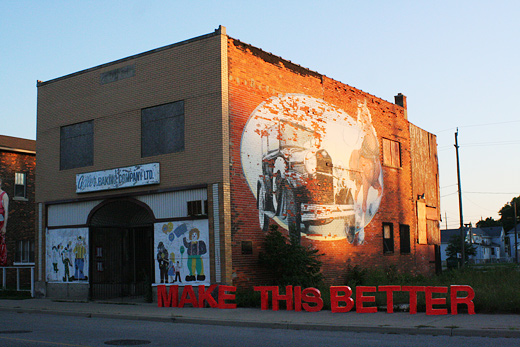 Here is some good news:
Amidst the biased newspaper articles and the rumoured reputations, Drouillard Road is actually in an okay place.
A year or two ago, I was irked by a few things I had read in a familiar news source, depicting residents as downtrodden and troublesome, crimes and drug deals treated as the norm. But I knew better than to believe one reporter's opinion and assume that Drouillard Road was a place with no hope.
Earlier this year, Michelle and I visited Stephen Lynn, who helps run the Ford City Neighbourhood Renewal. Housed within the Gino A. Marcus complex, the organization focuses on maintaining a strong, well-knit community through various events and endeavours like dinners, movie nights, art parties, and fireworks nights. Meetings are even held twice a month for residents to have a say about possible improvements within the neighbourhood. Funding for the Neighbourhood Renewal is made possible by the United Way and the East Windsor Cogeneration Centre, and although time is limited, the group has managed to cover a lot of ground since inception in 2010.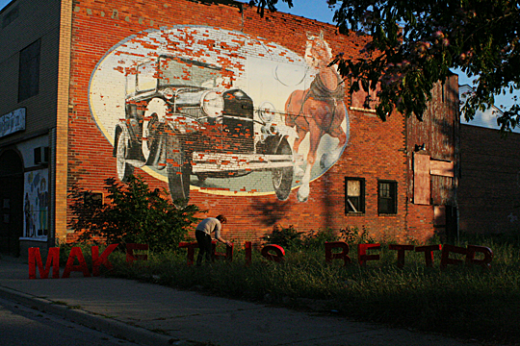 Among the mentioned projects stands the Ford City Community Garden, across from the old Adler's Bakery. After months of planning and collecting through the efforts of residents and volunteers alike, plants are already forming! From my short time spent there, I saw first hand the impact it's made as a community builder, bringing residents together to foster and share something.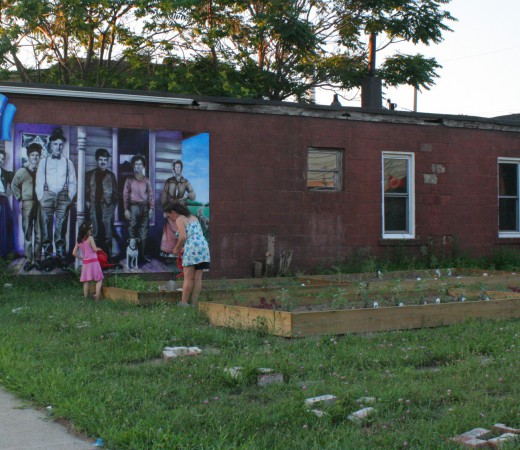 I am not denying the struggles that Drouillard Road, (or, as I will from now on affectionately refer to it as Ford City) has endured. Much like a certain city across the pond, it boomed with success rather quickly and depleted within the same century. Staggering negative changes inevitably turns any area upside down.
Aside from work being done to strengthen the community, there needs to be a change in which the city perceives and talks about it, a break in the stereotype of this 'dishonest neighbourhood'. Nothing can be transformed without a positive outlook.
I've been fortunate to have met Ken Taylor, a former Windsorite (and now editor of XLR8R Magazine) who had taken a few members of BCL to Drouillard Road one rainy evening for some photo ops. Through email, he shared with me a few vivid recollections of the neighbourhood he remembers growing up:
"I think what was always most interesting to me about Drouillard Road was the mythology surrounding it. Having grown up in Lasalle, and not spending a lot of time near Drouillard as a kid, we just heard a ton of stories about negative things that would go down there—usually apocryphal, secondhand tales, of course. I feel like even driving down the street on the way to play soccer at Ford Test Track as a kid, I got a sense that the neighbourhood was a lot different than mine, and it was intriguing and a little bit scary, too, but again, almost purely because people around me claimed that everyone that lived near Central was on welfare, or just generally not living a very clean, honest, or hardworking life. Most of the stories revolved around bikers, drugs, prostitution, and blind pigs, and I always had this perplexed feeling, like, "Can that really be happening just a few miles away?"
"A few years later, in university, my friends and I made a film that involved a car being stolen and then lit on fire. We were looking for an area that would mimic a derelict strip in Buffalo, NY, and I immediately wanted to use Drouillard as the backdrop, which turned out great (again, exploiting it for its photographic appeal, and not being particularly sensitive to the social implications.) Spending full days on the street really got us interacting with the neighbourhood—mostly curious folks who'd wander by, ask what we were doing, and then say something like, "Why would you ever want to film here?" I also specifically remember wanting to shoot from upstairs in one of the buildings, and talking to the people at New Song Church (which I think had just recently opened at the time), who were super-helpful and supportive, allowing us access from their upstairs to shoot the scenes happening on the street below."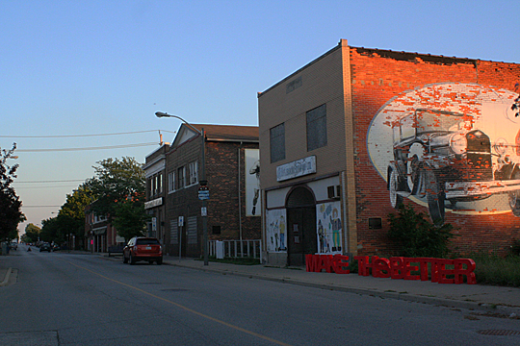 Through the help of participation of community-building organizations and residents themselves, this is a place that is getting better.