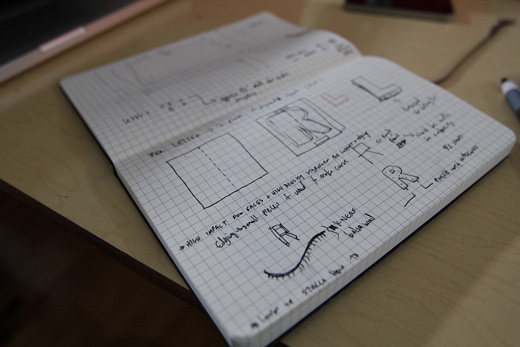 We met earlier this week for the last time before the new year. We had a really busy year, but there's even more ahead in 2011. We spent the evening trying to plan for a number of upcoming projects, including our recently funded How to Forget the Border Completely, and a project for CAFKA, and another proposal for a project next fall.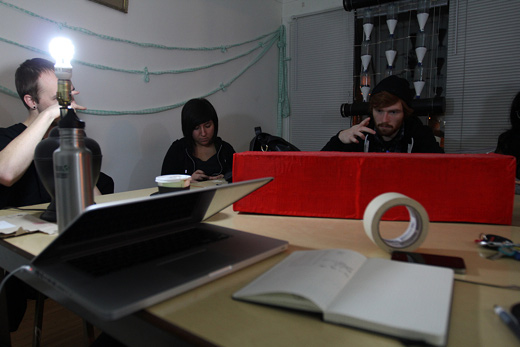 Danielle was studying for her final law exams and Michelle was prepping to leave for Toronto to spend some time editing with Daragh, but Cristina was back from Toronto, and Josh, Rosina, Hiba, and Kevin were all around the table.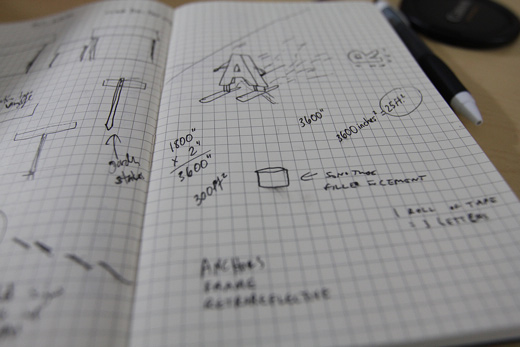 At the top of the to-do list was sorting out our plan for our project at CAFKA, which will consist of some very large letters installed at the waterfeature in front of City Hall in Kitchener.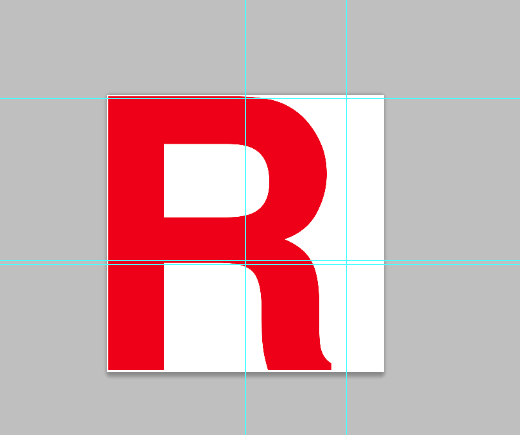 Essentially, we're trying to figure out how best to create letters that are approximately 8′ tall. Starting with a base of plywood, the dimensions of Helvetica bold will insist that we use two pieces of plywood per face per letter.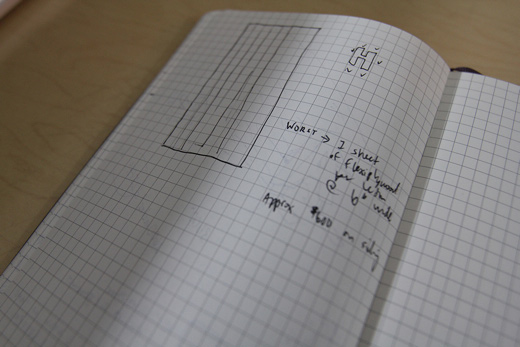 As the letters will be 3D objects, we also needed to figure out how best to do the extrusion / edging of the letters, which we're imagining doing with flexible plywood. Admittedly, math is not the strength of everyone around the table, but we ended up with some fair estimates thanks to Josh, Kevin, and Hiba.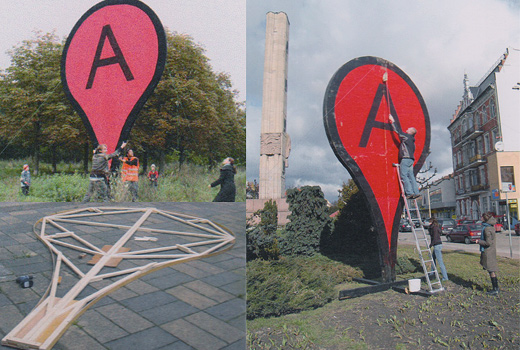 Above is a scan from the Urban Interventions: Personal Projects in Public Spaces, showing some of the construction of a large-scale Google Maps pin … maybe this will be a good reference point for us. It's larger than what we're imagining, but getting that idea of the frame and the slightly 3D sense of that pin.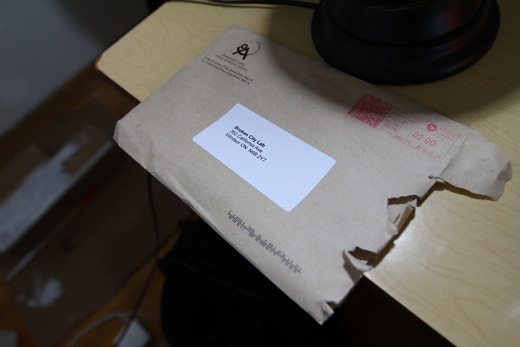 Also on the agenda, some discussion about how we'll be unfolding our HFBC (How to Forget the Border Completely) project, generously funded by the OAC!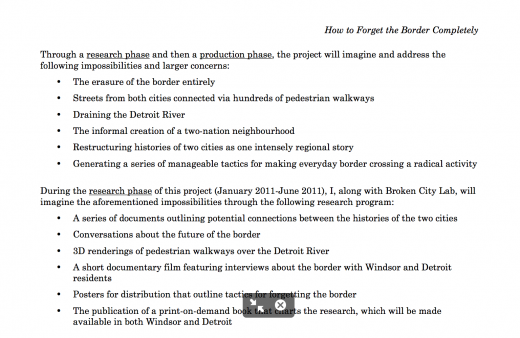 Here's a quick screenshot of some of the things we're imagining doing with the project, basically, we just want to really explore the idea of Windsor and Detroit being able to be experience as one big community.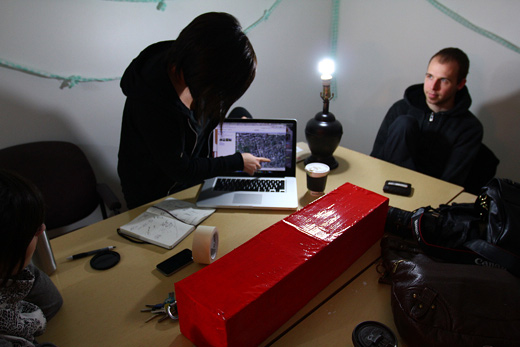 And finally, we spent some time putting together the basics of a proposal for Nuit Blanche.
Cristina pointed out a potential area for the project, being proposed through the Open Call section of Nuit Blanche's application process.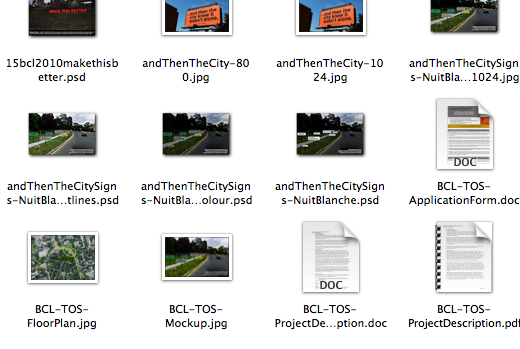 A Finder folder collecting reference materials…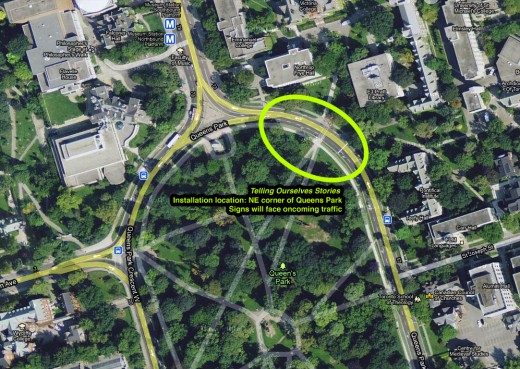 Pointing out where we'd like to locate the work on the northeast corner of Queen's Park.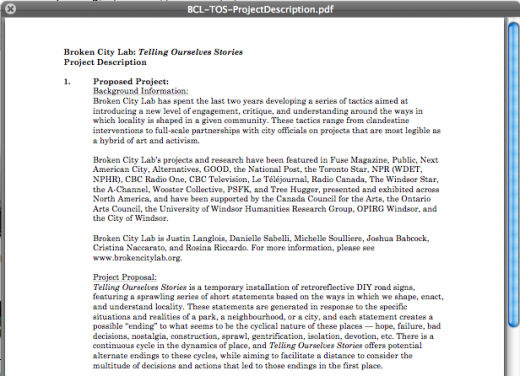 And, a screenshot of part of the proposal. We're not holding our breath — we know there's going to be a huge number of really, really strong proposals, but it's always fun to put these ideas together, whether they materialize or not.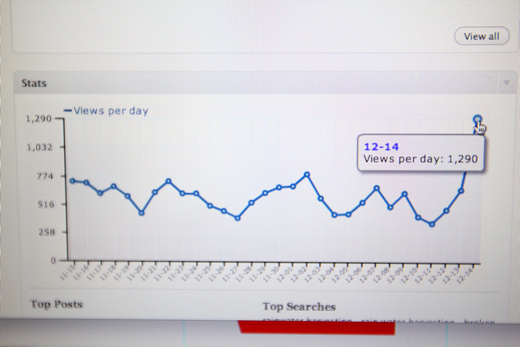 And finally, a short celebration of the spike in traffic thanks to the post on Wooster Collective of the launch of our Make This Better project. We topped out at 1700 views, woo!