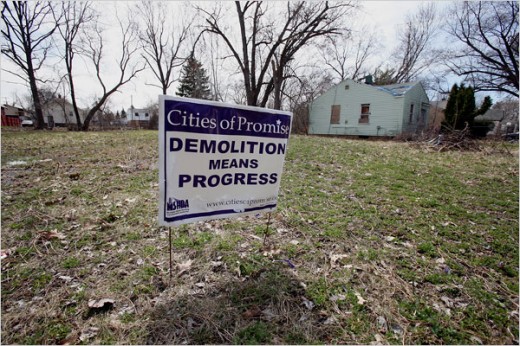 An article on Flint, Michigan in the New York Times earlier this week discussed the proposal for the intensifying and speeding up of the city's decline—and it might be genius. Don't wait for houses to become abandoned before they get demolished, instead pull down entire neighbourhoods and move the population. Concentrate everyone remaining in the city to a few key areas, and build that density.
In short, planned shrinkage.
I don't think Windsor is quite this bad; though this could very well be coming down the pipes sooner than we expect. The fallout of the current economic realities is slowly being realized across the city, but if you really want to imagine Windsor in 10 years if we don't make some radical change, just go for a drive down Indian Road (or anywhere in the West end, really).
So, if you were offered a similar place to where you live now, but in a denser area, would you take it?