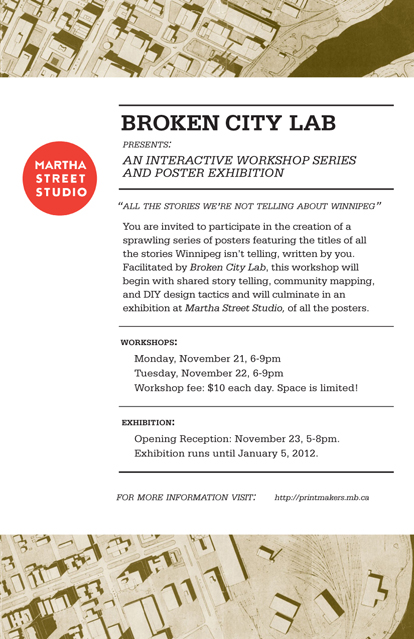 Next week, Justin, Michelle and Josh will be stationed at Martha Street Studio in Winnipeg to do a quick residency involving workshops, walks, and a lot of on-the-ground research leading up to an exhibition.
In Winnipeg? Check out the Martha Street Studio facebook page for more event information!
Here's the details:
Martha Street Studio houses an exhibition gallery open to the public 5 days a week from 10–5pm. Martha Street Studio also has an inventory of artists' work for sale and an archive of work produced at the studio since 1988.
"All the Stories We're Not Telling About Winnipeg"
We know a city from the stories we tell about the city. But, we can also know something about a city from the stories we don't tell about it. Winnipeg is no different. Some of these stories we tell are about celebrating everything the community has to offer, while others are about all of the things that make the city a difficult place to love. However, there are still other stories that fall somewhere between the two, based on the personal narratives we all chart as we live, work, play, and move throughout the city. These stories of our everyday experiences are the ones that we don't hear enough about.
You are invited to participate in the creation of a sprawling series of posters featuring the titles of all the stories Winnipeg isn't telling, written by you. Facilitated by Broken City Lab, this workshop will begin with shared story telling, community mapping, and DIY design tactics and culminate in an exhibition at Martha Street Studio, of all the posters.
———————————————————————-
WORKSHOP INFORMATION:
Monday, November 21st, 6-9pm
Tuesday, November 22nd, 6-9pm
Each workshop costs $10.
Sign up now, space is limited!
———————————————————————-
EXHIBITION INFORMATION:
"All the Stories We're Not Telling About Winnipeg"
Broken City Lab Exhibition at Martha Street Studio
Opening November 23rd 5-8pm
Exhibition runs November 24th-January 5th
———————————————————————-
And, we'll definitely be trying to blog as much as we can about the trip! More soon.