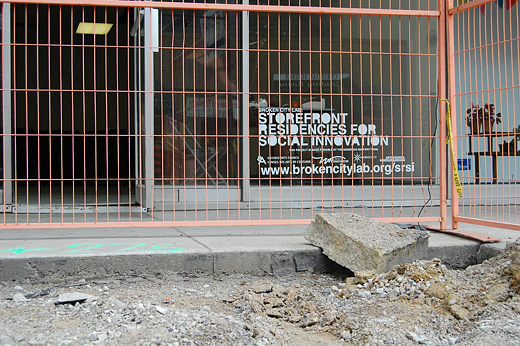 The start of the week brought two new residents to the Storefronts: Sara Jane French and Jodi Green. There was some crazy changes in the exterior landscape due to construction today as well.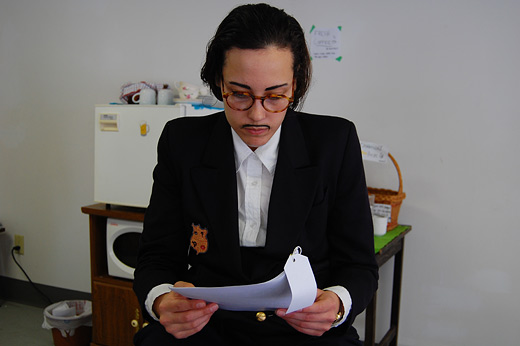 Sara was only present at the start and end of the day. For the bulk of it we were joined by Norman Eberstein, who spent some time looking over the Welcome Package that BCL made of participants.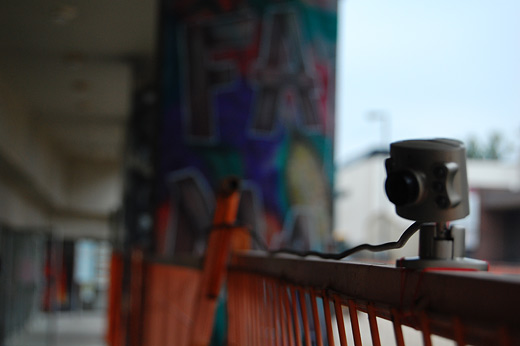 Norman's security camera was perched on the orange fence that separates the construction from the sidewalk. With 100ft of cable, this camera will be travelling around the block to different locations for the next four weeks.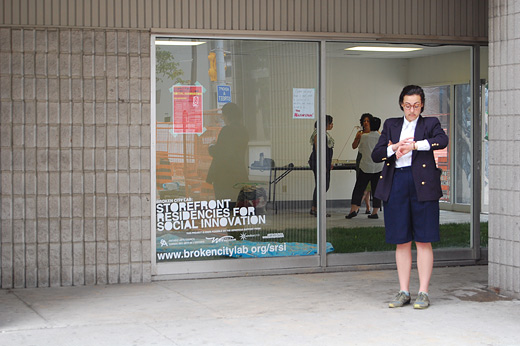 Mr. Eberstein patrolled the area all day, sitting at his desk in 410 as well as walking around the perimeter to make sure everything was under control.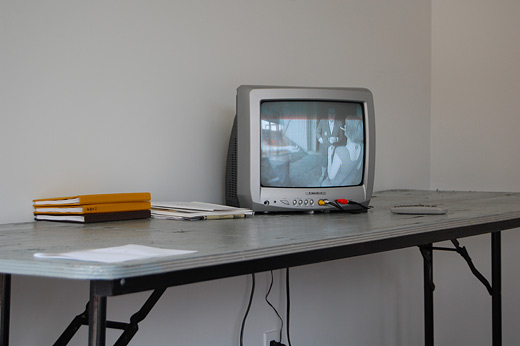 The live feed from the security camera comes through to this television at Norman's desk. The feed is not being recorded so any image of a person captured on it is not permanent or saved in any way.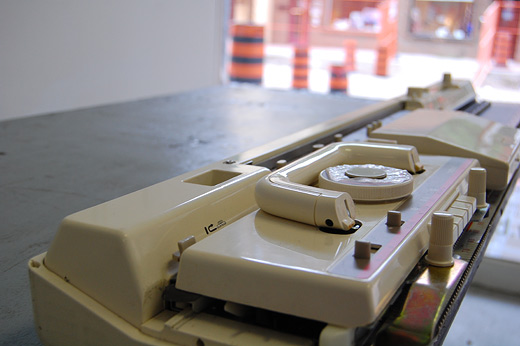 Jodi Green came in at 11am to set up her knitting machine. She has used this type of equipment in the past, but not this specific make and model.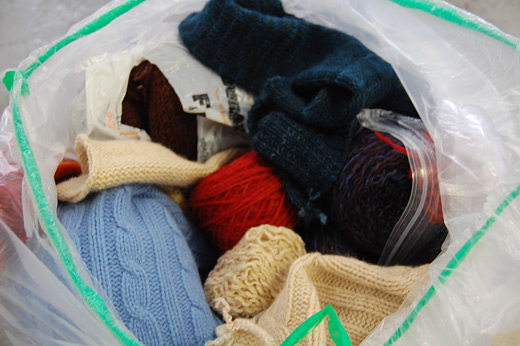 She also brought along a bag of old sweaters that she will be unravelling and making into new knitted garments. I really enjoy the idea of using several individually coloured sweaters to create a garment of various couloured stripes.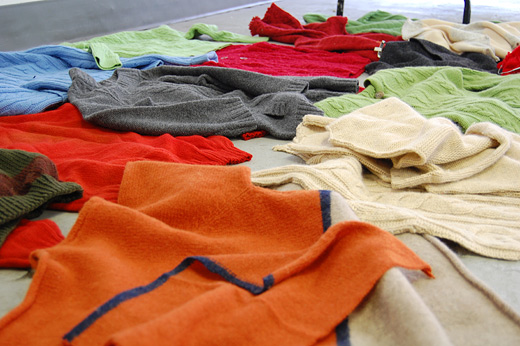 Each sweater needs to be made of wool to be used. If you'd like to donate sweaters to the cause, feel free to stop by! Tomorrow we will also be starting Nicole Grinstead's Swap Shop based on directions she has sent from Montreal. She was unable to come down to join us, but the project will still be realized. Bring in old clothes to swap until Saturday!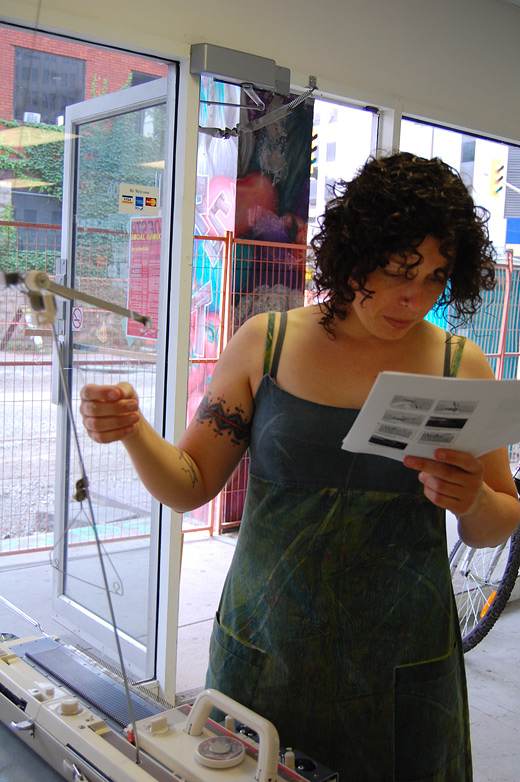 Jodi had some shotty photocopied diagrams to work from while assembling her machine, which took approximately three hours to set up.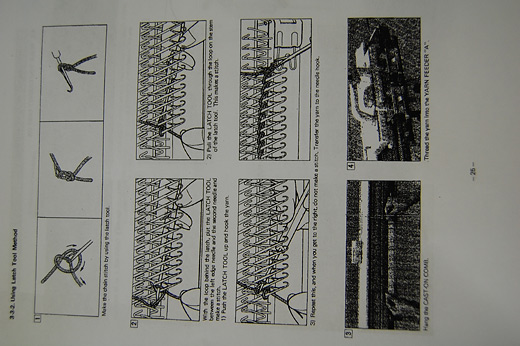 Here are some of the diagrams she was working from. The hand drawn sections were a lot clearer than the photos.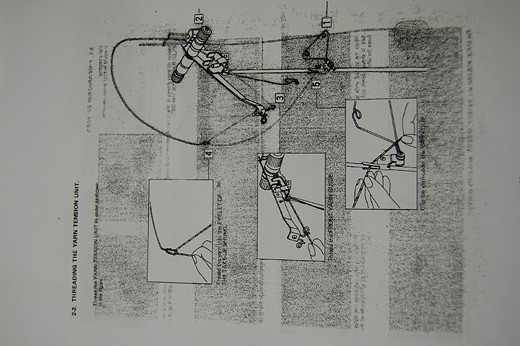 These two were relatively clear compared to some of the other pages. I really wonder who drew these?
The machine had a bunch of small parts in a container. I can't even imagine where they all belong, but the colours reminded me of a watermelon.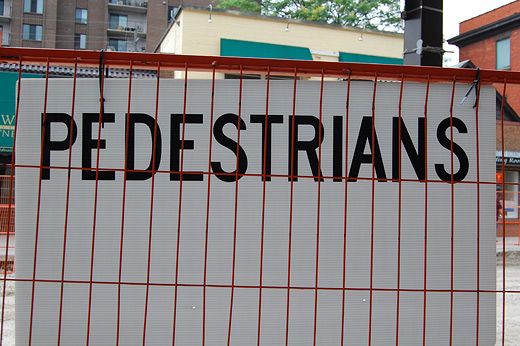 Around mid-day I went over to catch up with Jefferson and Julie over in 424 Pelissier. As I was over there, we saw the sidewalk in front of their store get completely torn up, hindering pedestrian traffic even more than previously.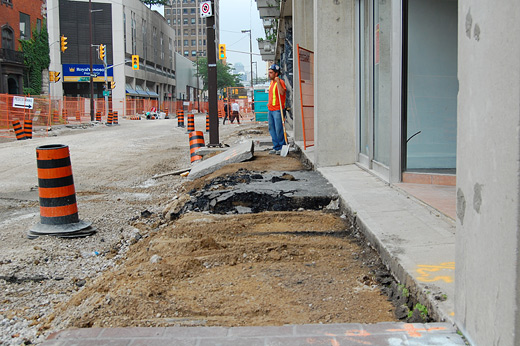 The construction workers are getting more friendly with us everyday, it seems. Today they started to wave, smile and pose for some shots. Here you can see what the front of 424 looks like. Jefferson was told by the workers that they would be pouring concrete for new sidewalks tomorrow.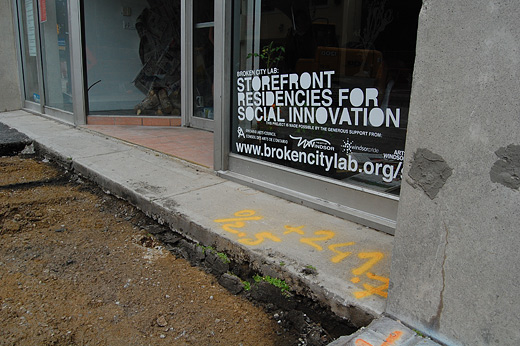 There's not much room to get by here right now, so hopefully the sidewalks will be filled in as soon as possible. Julie and Jeff may have to enter their store from the back for a bit depending on the concrete situation. We'll see how this plays out tomorrow as we are also joined by Leesa Bringas!