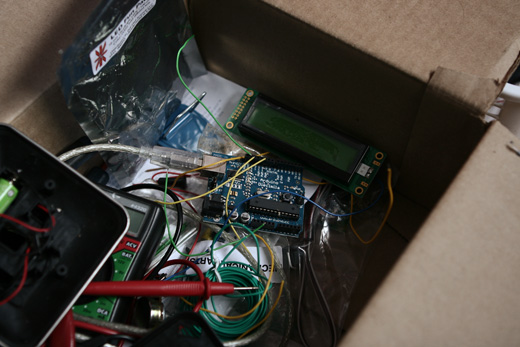 As part of a Canada Council for the Arts Inter-Arts Research and Creation grant I received, I will be documenting my work on the project through here, as I anticipate it will cross over into other projects we work on and came out of past projects we've completed.
This project comes out of Broken City Lab's previous work on Text In-Transit, where I'm hoping to open up a continuing flow of those kinds of texts in relation to a public space like a bus, or bus stops, or the downtown terminal. It's likely that we'll be working with Transit Windsor again on this project as it moves along. The project will connect this kind of publicly-engaged work I've done with BCL with some of my digital work I've done in the past.
The project is going to involve a lot of experimenting with Arduino-controlled LCD screens, and efforts towards capturing sms text messages, twitter updates, and emails and pushing them all into an LCD display. This will be the foundation of the project anyways.
I'm assuming this is going to involve a combination of interfacing Arduino with Max or Processing and using Perl or maybe PHP to do the text processing (depending on how involved it is), though it may end up taking another route altogether, but that's what this time is for. I'll be spending the next few months working through these aspects of the project, while also building towards an approximation of a public installation. I'll spill more details as time goes on, and I'll be documenting my progress, as I'll undoubtedly need notes of my own, and why not keep them on here?
For now, I'll be working through some basic tutorials, and eventually heading up to InterAcces for some of their workshops.
I would like to thank the Canada Council for the Arts for their generous support in this project. I'll be acknowledging their support with their logo on each post that I write while documenting this project.