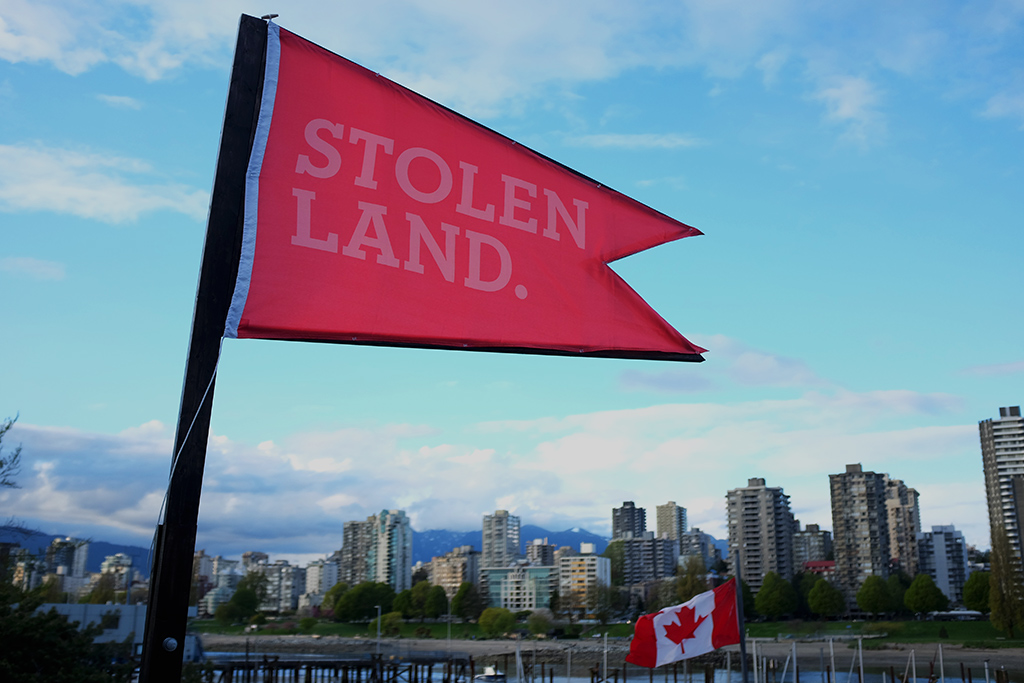 Can you believe it's already almost the end of April? We've been working out in Vancouver on a new project since January and it's been an amazing experience, we've met so many incredible new friends, we've got to dig into our work face to face again, and we've got to make a bunch of new work! And so, as we wind down our residency at the Contemporary Art Gallery's Field House Studio, we have two events to announce, both of which we'd love to see you at…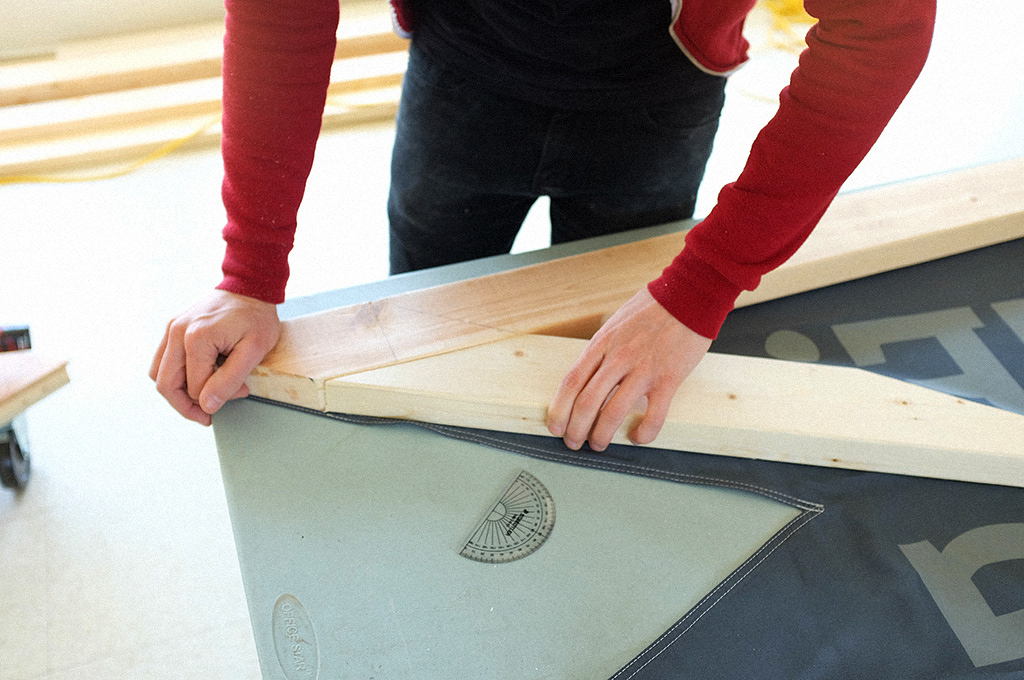 We'll be unveiling the flags we've been working on…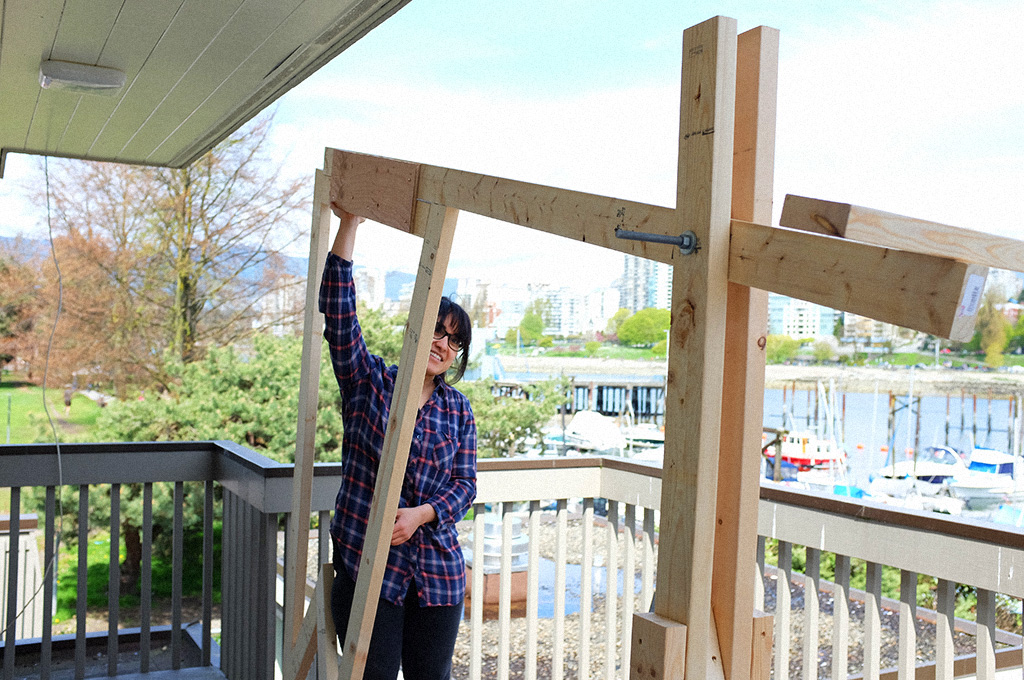 …and our mobile flag beacon, which we'll parade around (if the weather holds)!
Two Events…
Flagged for Review Launch and Open Studio
Tuesday, April 22, 7-8.30pm
Marking the end of our residency, we'll open the doors to the Field House for an open studio gathering, as well as the launch of Flagged for Review. Look for these bright and beautiful flags to be temporarily installed in and around the building.
Social Practice Pot Luck
Saturday, April 26, 7-9pm
To celebrate Broken City Lab's Field House residency we are hosting a pot luck and conversation regarding social practice with special guest artist and Founder/Director of the Art and Social Practice MFA program at Portland State University, Harrell Fletcher. Fletcher is visiting Vancouver as a part of the Working as an Artist workshop series at Purple Thistle. He will be giving an artist talk there on Friday April 25, 7:30pm and leading a workshop the following day, Saturday April 26, 1-4pm, with local artist Carmen Papalia. www.purplethistle.ca
Bring a snack and join in on the conversation.
The Field House Studio Residency Program is generously supported by the Vancouver Park Board and the City of Vancouver.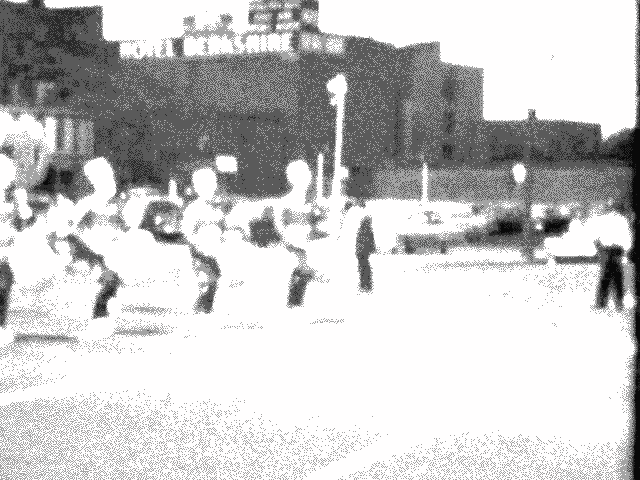 We know that a city is more than just buildings, roads, political decisions, pools, telephone poles, and parks. We know that it's all of the little things that make this city great, or better yet, it's all the little things that so many people we know do for us, knowingly or not, every day that make this city great. We think it's long overdue that we help celebrate those people and we hope you'll help us.
We want to have a big awards ceremony…really big actually. So, we'll make the awards and host the party, all you have to do is find someone to nominate and show up to help us celebrate.
Here's how it will work: You make a nomination below, we'll mail you two invitations (one for you and one for the person you nominate), and then you both show up for our awards party on Thursday, May 8th, 2014 at 6:00PM.
**Don't forget: The nominator is responsible for bringing the nominee to collect their award.
---
Submissions are now closed. Thank you to everyone who made a nomination for The Best of Awards! We'll be in touch soon and see you on Thursday, May 8th at 6pm (CIVIC Space – 411 Pelissier Street, Windsor)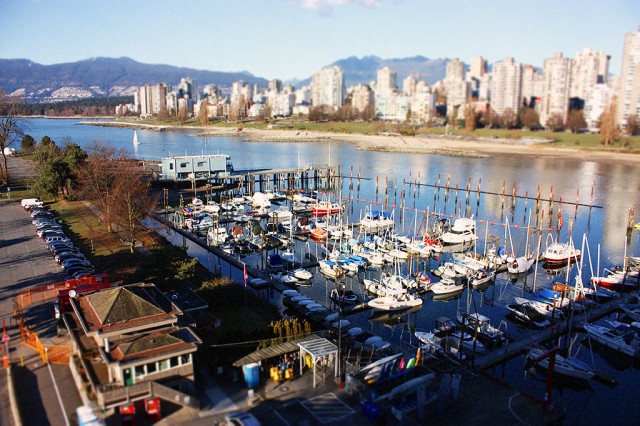 Join me for an artist talk and open discussion this Saturday, February 15th at 2pm at the Field House Studio at Burrard Marina. I'll present a range of past projects and discussion some of the beginning stages of our new project in Vancouver.
Here are the details:
Saturday, February 15, Artist Talk at 2pm, Philosopher's Café from 3pm to 5pm
The Field House Studio at Burrard Marina (1655 Whyte Avenue, Vancouver, BC)
In partnership with SFU Philosophers Café and the Contemporary Art Gallery, Vancouver, Broken City Lab will host an artist talk and discussion at the Burrard Marina Field House Studio.
As part of the Field House Studio Residency with the CAG, members of Broken City Lab will embark on a site-specific research phase towards the realization of a new project that antagonizes, examines and makes visible issues at the intersection of education, public space and civic life. Living together in moments of play, conviviality and learning will form the basis for their investigations; new contingent architectures developing as tactical programming that will circulate in, around and through the Burrard Marina Field House.
The Field House Studio Residency Program is generously supported by the Vancouver Park Board and the City of Vancouver. For more information on Field House programs go to www.contemporaryartgallery.ca
Philosophers' Café is a series of informal public discussions in libraries, cafés and restaurants throughout Metro Vancouver. The cafés, which are open to everyone, have brought dialogue and discussion to thousands of people who are interested in exploring issues from the absurd to the sublime.
Our residency at the Field House runs January to April, 2014. More soon!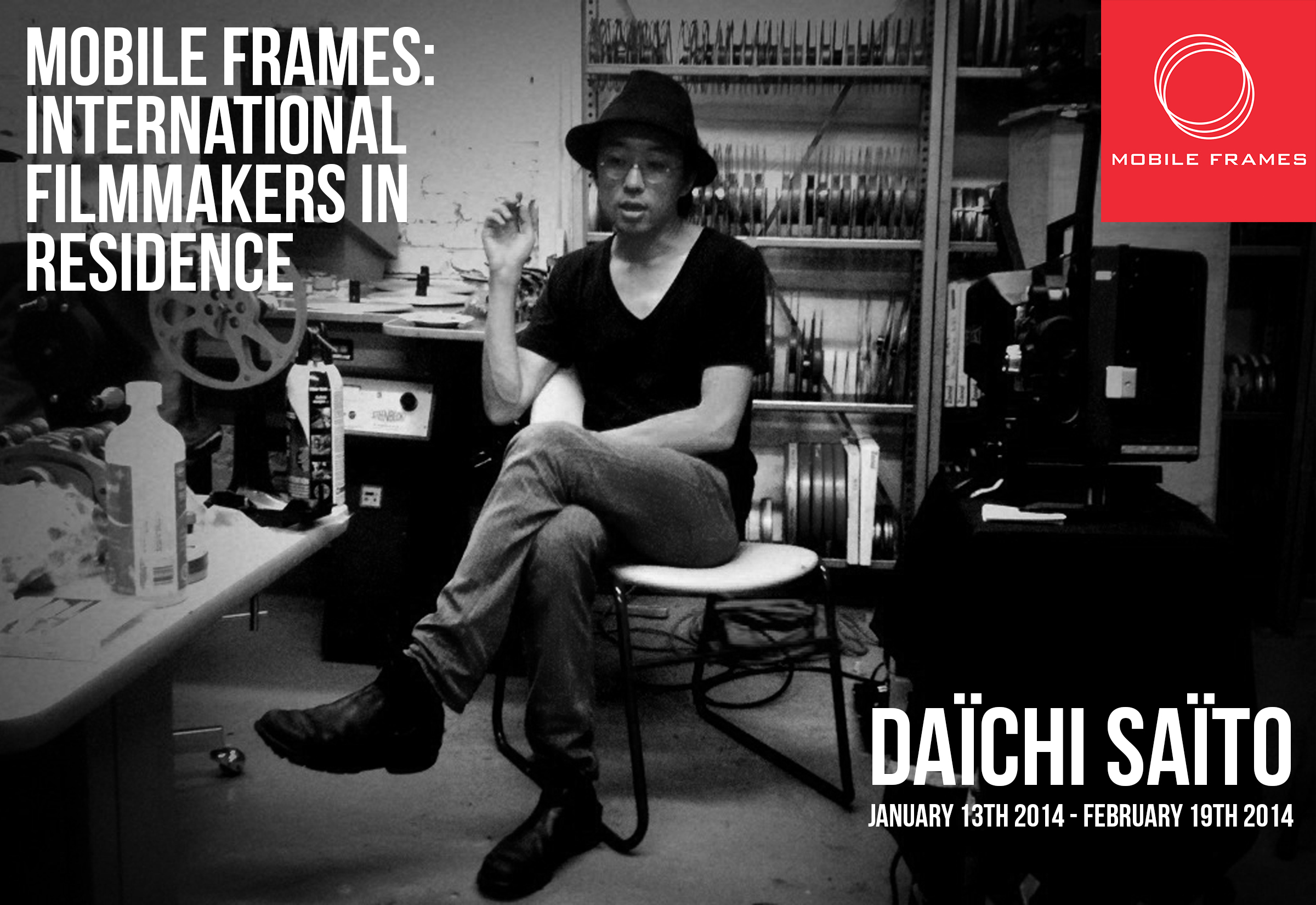 Mobile Frames is pleased to announce our first series of FREE 16mm workshops, conducted by Montréal-based filmmaker in residence Daïchi Saïto, February 13th, 15th and 16th.
The workshops are completely FREE and open to Windsor / Detroit residents. Spaces are limited! Registration is required.
To register, contact: mobileframes@live.com
For more information visit: http://mobileframes.org/
"Introduction to 16mm Filmmaking"
Combining lecture and hands on practice, this workshop surveys the fundamentals of do-it-yourself filmmaking. Aspects of cinematography including light, camera, lens and film stocks, as well as the properties of film and processing chemicals, are covered. Participants will learn to shoot in 16mm with a Bolex Camera, make homemade film processing solutions out of raw chemical ingredients and hand process their own footage using various techniques. This workshop will prepare participants for further explorations of celluloid filmmaking and experimentation with film processing. All materials are provided. No previous experience with 16mm filmmaking is required.
http://mobileframes.org/workshops/
Feb. 13th, 2014 – Introduction to 16mm Filmmaking (Part 1), 1pm – 5pm
Feb. 15th, 2014 – Introduction to 16mm Filmmaking (Part 2), 9am – 6pm
Feb. 16th, 2014 – Introduction to 16mm Filmmaking (Part 3), 1pm – 5pm
Daïchi Saïto is a co-founder of Double Negative, an artist's collective in Montreal dedicated to exhibition and production of experimental cinema. His films have screened at festivals, museums and cinematheques worldwide and are in the permanent collections of the Austrian Film Museum and the Slovenian Cinematheque, and are distributed by Light Cone (Paris), Arsenal (Berlin) and the CFMDC (Toronto). Saïto has taught cinema at NSCAD University in Halifax, Concordia University in Montreal and the Escuela Internacional De Cine in Cuba.
---
The series is presented by Media City Film Festival, together with Broken City Lab, Common Ground Art Gallery and Momentum Film & Video Collective and is made possible through the generous support of the Ontario Trillium Foundation. Media City Film Festival acknowledges the support of the Ontario Arts Council and the Canada Council for the Arts.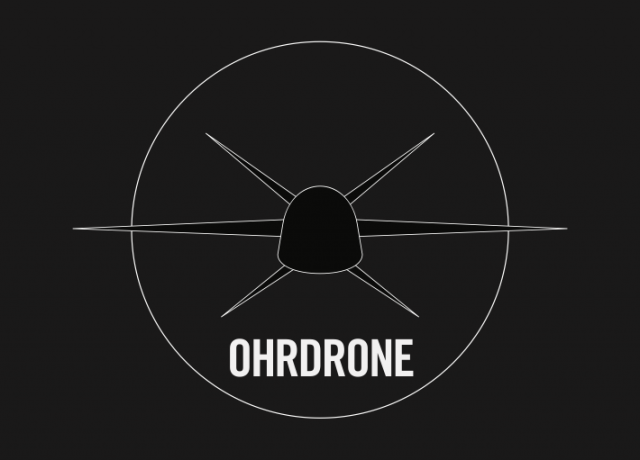 OHRDRONE (Oliver Blank & Toby Heys) – Drone Chamber 2
February 1st, 2014 – CIVIC Space (411 Pelissier Street, Windsor, Ontario) – Exhibition Runs until February 28th (Schedule Below)
A drone in sonic terms is the least memorable type of music produced and yet in terms of duration, it manifests gently over time through subtle variations. The drone in military terms is a technology which surveils, exposes, and punishes the actions of those in a public space. OHRDRONE is a research group founded to examine the proliferation of drones, and our potential for love and compassion for these drones as a disempowering force.
OHRDRONE is coming to Civic Space for the month of February. Beginning on February 1st the space will be converted into a DRONE CHAMBER for use by the community of Windsor, Ontario throughout the month.
On Saturday, February 1st one of the founding members of OHRDRONE will teach attendees how to listen to the DRONE with complete compassion before leading a morning DRONE HEARING. From 2–4pm, he will lead a Sound Walk as a way of establishing a sustainable DRONE practice in your daily life. In the evening a final DRONE HEARING, with instruction and guidance, will be in the DRONE CHAMBER.
---
Schedule of Events | Saturday, February 1st, 2014
MORNING DRONE HEARING | 10.00am – 12.00pm
10.00–10.30am DRONE FORMS
10.30–11.00am DRONE HEARING
11.00–11.30am DRONE READING
11.30–12.00pm TEA & DISCUSSION
AFTERNOON WALK | 2.00pm – 04.00pm
"Building the tools with our own hand"
Join OHRDRONE and learn how to establish your own Drone practice in daily life by learning to Sound Walk. No prior experience necessary.
EVENING DRONE HEARING | 08.00pm – 10.00pm
08.00–08.30pm DRONE FORMS
08.30–09.00pm DRONE HEARING
09.00–09.30pm DRONE READING
09.30–10.00pm TEA & DISCUSSION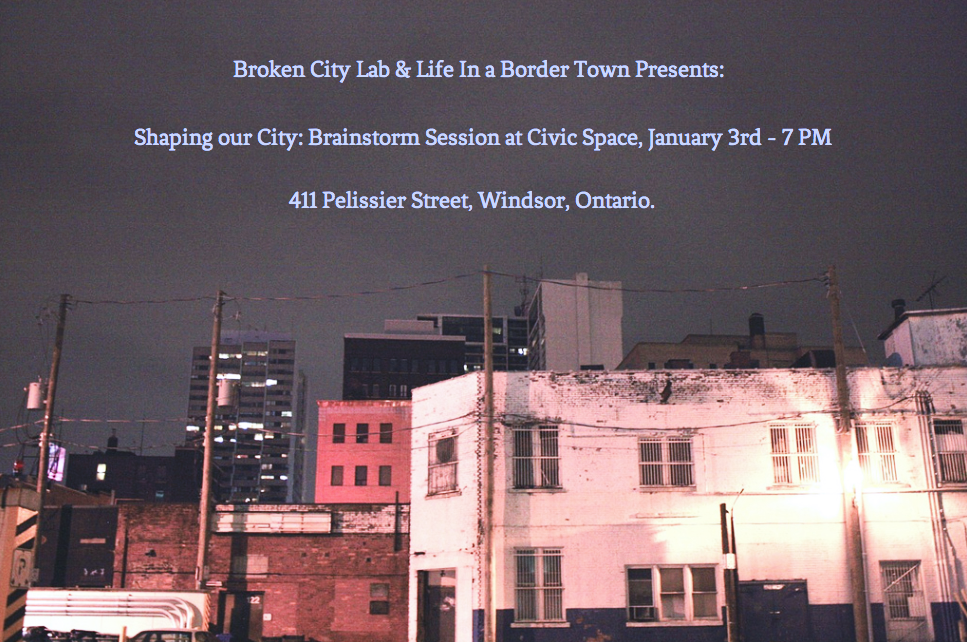 Friday, January 3rd, 2013 at 7pm – CIVIC Space (411 Pelissier Street, Windsor, Ontario)
As static as Windsor might seem at times, it is definitely going through some changes. Our downtown is a lot brighter because of the large screens on the Windsor Star building, the University of Windsor's downtown campus opens next year, the aquatic centre is opening this year, we have a new bridge that may be completed in 2020, the new Penalty Box location is reviving a historical building on University Avenue West, and the old Grace Hospital has been torn down.
In the vein of our previous project, City Counseling (Session #1), we'll be talking through new ideas and changes happening in the city, as a group. The goal of this brainstorm session is to bring people together, learn something new about Windsor, and contribute creative perspectives for shaping this city. I hope you can make it down to Civic Space tomorrow at 7 pm (January 3rd) to contribute to these conversations.
This event is a collaboration with Life In a Border Town.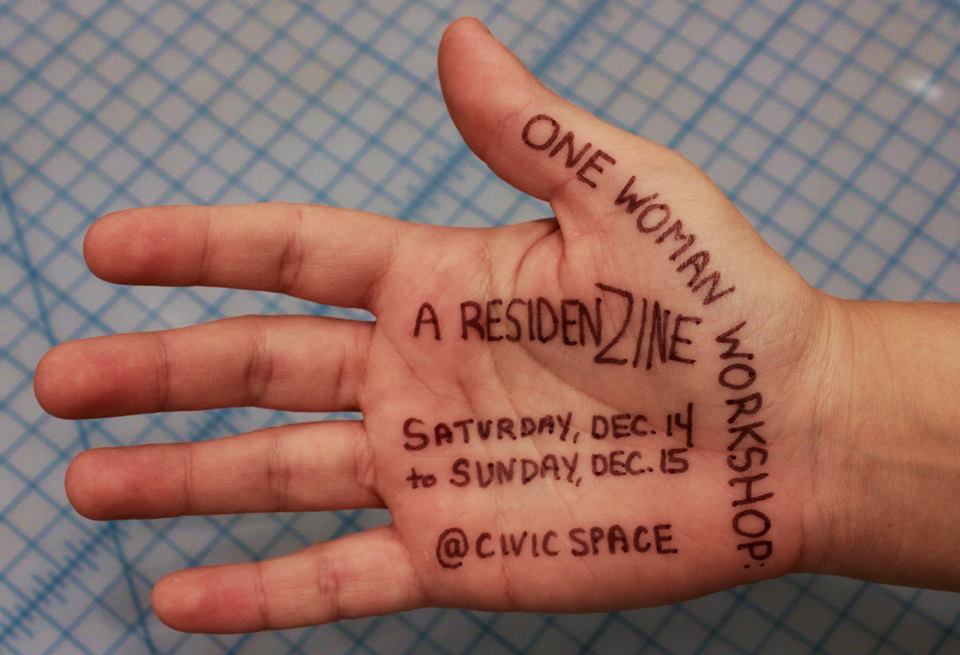 One Woman Workshop: A ResidenZINE by Rosina Riccardo
Saturday, December 14th to Sunday, December 15th, 2013 – CIVIC Space (411 Pelissier Street, Windsor, Ontario)
A zine is a small edition of self-made, self-published bodies of work made up of text, photos, or found content. Since 2010, Rosina Riccardo has been creating and assembling zines of her own, and most recently hosts Zine Workshop Nights at CIVIC Space on a bi-weekly basis (the next date being Wednesday, December 18th at 7pm).
For a new and upcoming two-day (weekend) residency, Rosina will create content from scratch, which will reflect her time spent observing and interacting with the downtown core. Upon completion, a limited run of the zines will be made available to the public at Civic Space. Stay tuned for more info!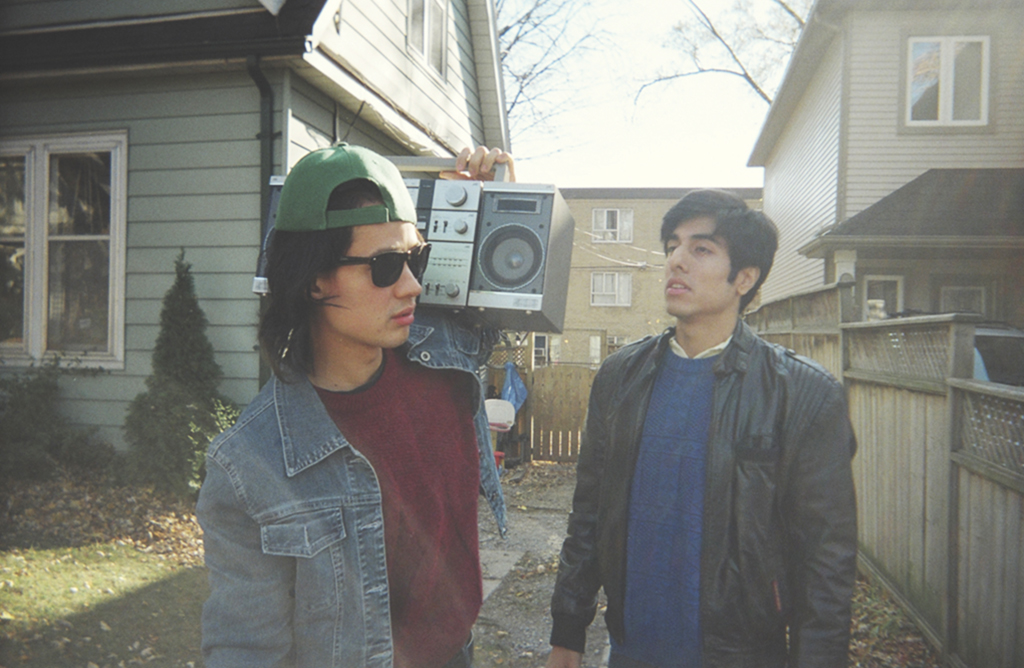 Sphinxxx: The Sound of Windsor by Chris Flanagan
Exhibition on view from December 5th to 30th – Opening Reception on Thursday, December 5th at 7pm – CIVIC Space (411 Pelissier Street, Windsor)
Chris Flanagan has created a site-specific installation work based on Windsor's musical history and hypothetical stories based on the city's relationship with Detroit and waves of migration. He will be presenting this work (artifacts, sound clips, and process documentation) at CIVIC Space and around the city.
Please join us on Thursday, December 5th at 7pm for an opening reception and to explore the artifacts Chris has uncovered. The artist will be present and is looking forward to discussing Windsor / Detroit's musical histories. If you're unable to make it to the opening, the exhibition will be up in CIVIC Space until the end of December.
---
Chris Flanagan is a Toronto-based installation artist. His work is concerned with music, secret societies and fabricated historical narratives. He has exhibited widely in public galleries across Australia and Canada.
For more information, please visit: www.chrisflanaganart.com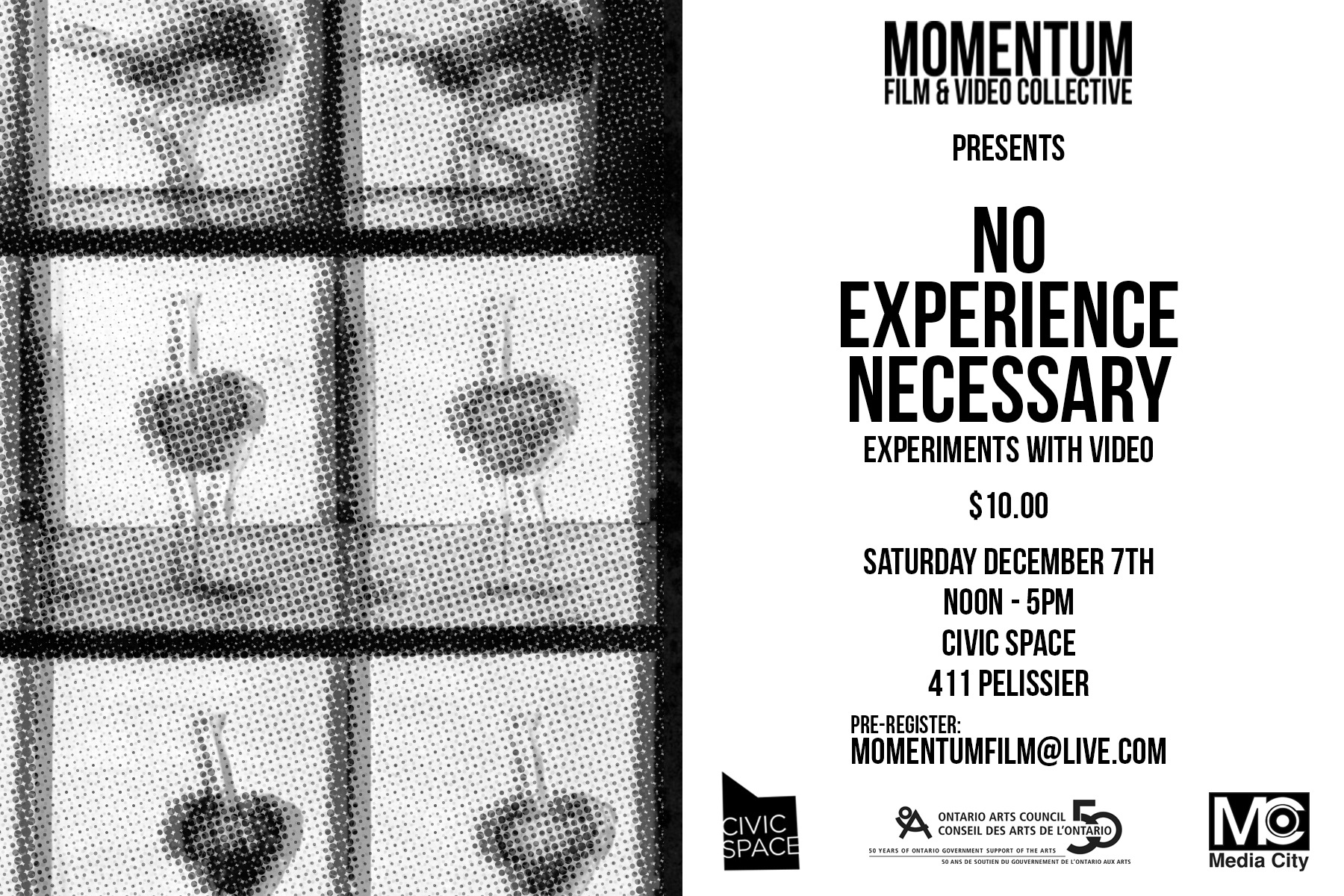 No Experience Necessary – Experiments with Video: Hosted by Momentum Film & Video Collective
Saturday, December 7th from 12-5pm – CIVIC Space (411 Pelissier Street, Windsor)
This workshop, hosted by Windsor's very own Momentum Film & Video Collective and happening at Broken City Lab's CIVIC Space, will explore several historical and contemporary concepts and practices of experimental video through screenings, discussions and a hands on video production and editing project. If you're interested in digital and analog video, this workshop will help you sharpen your skills in visual experimentation and allow you a chance to create with others. We hope to see you there!
Feel free to bring your own camera for shooting & computer for editing.
WORKSHOP OVERVIEW
Presentation / Discussion / Screening
Tech Talk: Digital and Analog Video Capturing / Editing Strategies
Themes / Concepts / Imagery for Experimenting
Shooting & Editing
Present in-workshop Experiments
There is a nominal fee of $10 to attend this workshop. Please pre-register by emailing momentumfilm@live.com.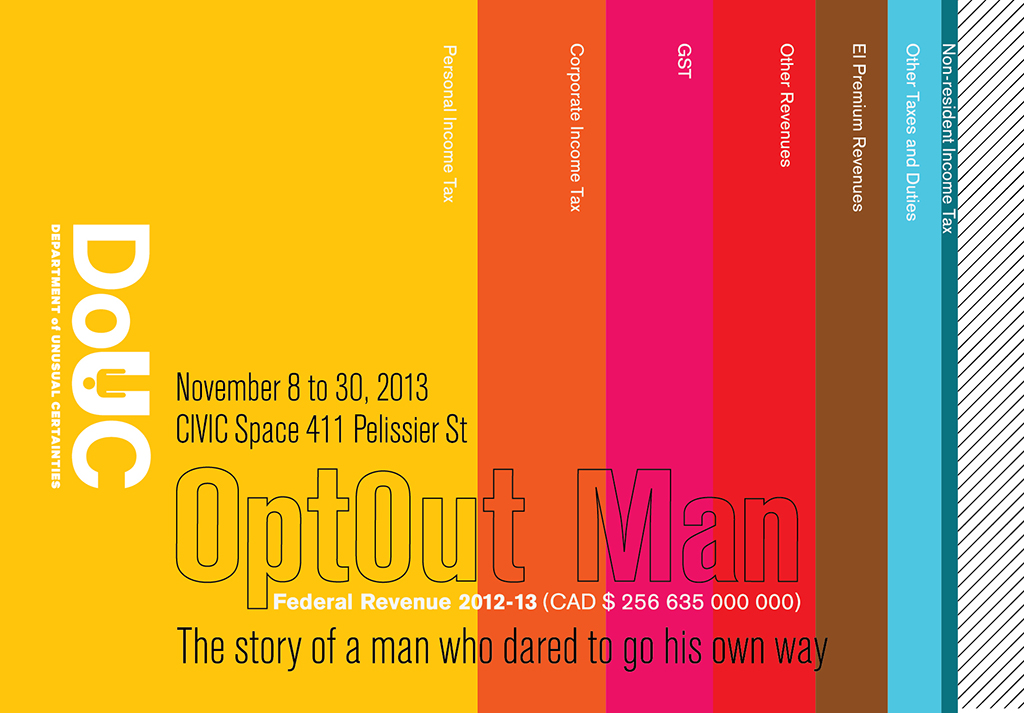 Opt0ut Man: A Department of Unusual Certainties Project
November 8th to 30th – CIVIC Space (411 Pelissier Street, Windsor, Ontario)
Join us November 23rd, between noon to 5pm, to talk taxes!
We're thrilled to announce that our good friends Chris & Simon of Department of Unusual Certainties (they have worked with us here and here and will be part of Neighbourhood Spaces 2014) are back in Windsor putting together Opt0ut Man, the first stage of a project exploring issues around taxation.
Opt0ut Man is everyone – the belief that we give, but do not receive. Our society has been built on the ideal that we are all in this together. Increasingly we stand witness to changing ideas of what building a society means – a strong individual, means a strong country. The old adage that there are only two certain things in life, taxes and death, begs the question of what life do we want?
Opt0ut Man is an exploration of thoughts, opinions, opportunities, facts and consequences responding to the premise "What would happen if an individual had the option of opting out of the tax system?" expressed as a story. Seen for the first time in CIVIC Space, it is the first stage of longer term project.
---
Department of Unusual Certainties // www.DoUC.ca
Founded in 2010, Department of Unusual Certainties integrates the partial perspectives gleaned from its members committed explorations of a range of disciplines towards the creation of a truly Public Art. Over the last 24 months, DoUC has published work in magazines in North American and European. They have also exhibited projects across Canada, as well as at the 2012 Venice Biennale of Architecture and at the Prado Media Lab. They were strategic partner to Migrating Landscapes Organizers, curators of the Canadian Pavilion 2012 Venice Biennale of Architecture; and were the 2011 Innovators in Residence at the Design Exchange, Canada's design museum.