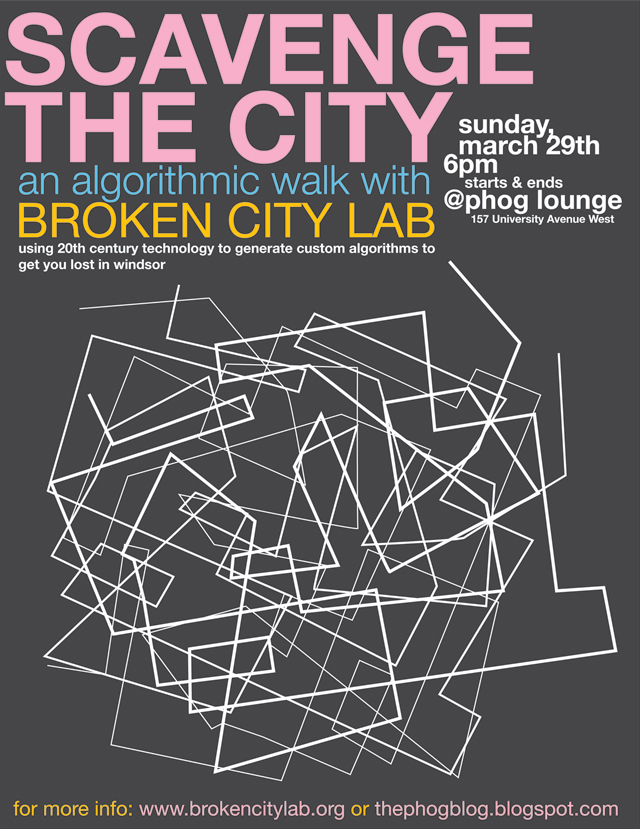 SCAVENGE THE CITY: An Algorithmic Walk with Broken City Lab is happening on Sunday, March 29th at 6pm. Starting at Phog Lounge, we'll be handing out a custom algorithm (a set of instructions), using a fancy computer program that we write, to take you and whomever you want to walk with, around the downtownish area of Windsor to discover, uncover, note, photograph, and invent. 
This isn't a traditional scavenger hunt—we won't be placing anything around the city for you to find—instead, the instructions will ask you to do specific things in less specific places, to try to encourage not just experiencing new places, but experience them in new ways.
The walk should wrap up by 10pm and then back at Phog we'll share stories, videos, photographs, drawings, etc, of our adventures. Whether you've already come out to one of the previous hugely successful walking themed events in Windsor (Big Walk, or the Spacing Walk) or haven't taken a stroll downtown in years, we would love to have you share on this adventure with us!!!