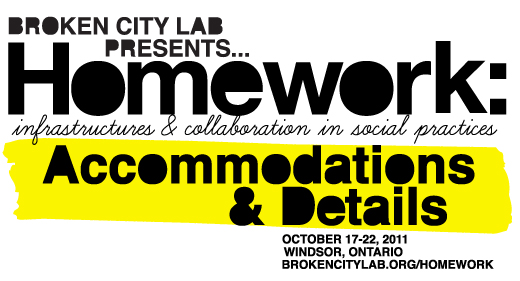 Homework: Infrastructures & Collaboration in Social Practices is just two months away and we'll be announcing a lot of information around the conference schedule and activities in the coming weeks.
First though, we wanted to post some information for those of you traveling from out of town.
Accommodations
Group Rates
We have secured a group rate for anyone attending Homework to stay at one of three hotels in Windsor's downtown core. If you book the room, please note that you would like the Broken City Lab Homework Conference rate. This group rate is only valid until September 19th, 2011.
Hilton Windsor: $115 per room, per night, $11 self parking per car, per night or $21 valet parking per car, per night.
Windsor Riverside Inn (formerly the Radisson): $105 per room, per night, $10 self parking per car, per night.
Travelodge Hotel: $89 per room, per night, $10 self parking per car, per night.
Details on Attending
Schedule & Location:
The conference panel discussion schedule will be detailed in forthcoming posts, but as an overview: Day 1, October 21, will be made up of panel discussions from selected participants, and Day 2, October 22, will be a series of group discussions led by our Keynotes.
The conference will be held on the University of Windsor's main campus for both days of the conference. Once we finalize our space reservation, we will send out another email noting the exact location.
Please check-in between 8:30am and 9:30am on Friday, October 21st. The conference will begin at 10am sharp.
What to Bring:
Information on your project to share with other conference goers, your passport (if you want to travel to Detroit), and a sense of curiosity. Also, feel free to bring cameras, audio, and video recorders to document the conference — we may want to include these on our website and in the pages of our Homework publication.