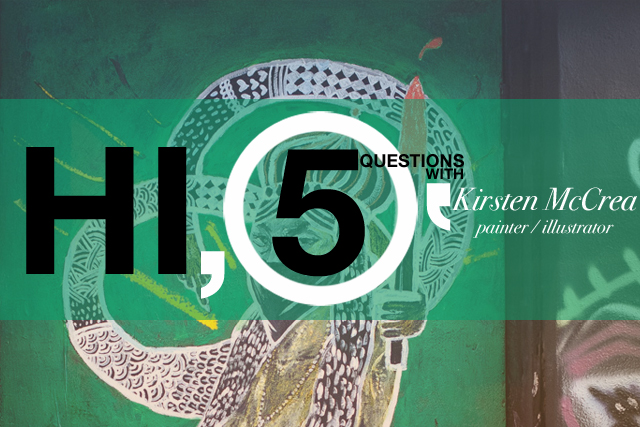 About the Hi, 5 Interview Series
Hi, 5 (5 Questions) is a web-only interview series which presents five questions to artists, activists, and creative thinkers alike.  The project acts as an educational device which allows us to gain insight into the narratives that define successful individuals.  We are interested in the motivations behind ambitious ideas and how these individuals chart personal change in relation to their surroundings.
About Kirsten McCrea
Kirsten McCrea is a Canadian artist whose work explores issues of cultural memory, looking at pop vs. underground culture, the media, and popular mythologies. Known for her bright colours and figurative subject-matter, Kirsten is quickly establishing herself as a prominent emerging Canadian artist. Primarily a painter, she is also the founder and editor of Papirmasse, an affordable art subscription that sends a monthly print to hundreds of people around the world every month.
Her paintings have been exhibited nationally and her work has been reviewed by The Walrus, Chatelaine, and The Montreal Gazette, amongst others. She has illustrated for the Polaris Music Prize & the Under Pressure Graffiti festival, and her patterned drawings can be found on notebooks and apparel in stores across the country. When not working on her own she collaborates with the art collective Cease and the drawing initiative En Masse, whose work was recently shown in the form of a massive installation in the Musée des Beaux Arts in Montreal. QC.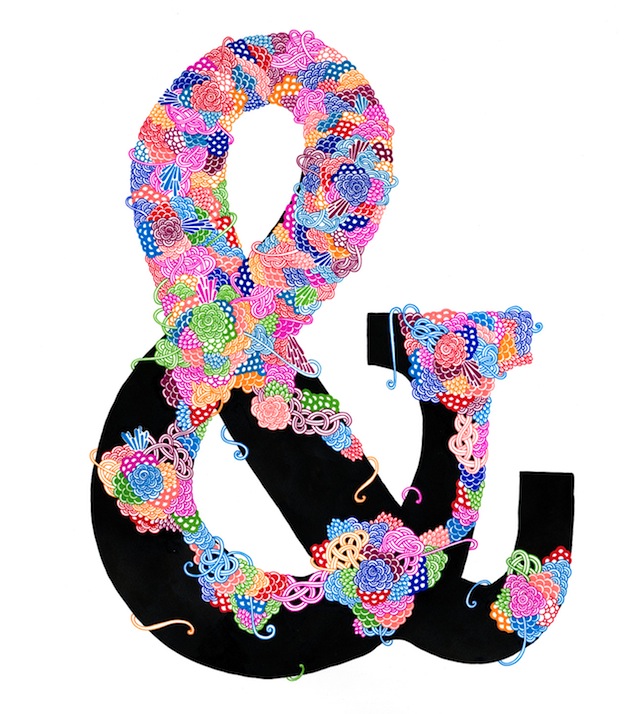 Kirsten McCrea
If you had to describe your current self to a 16-year-old you, what would you say? 
Your parents and everyone you know are going to lie to you and say that nobody can really be an artist as their job. They won't do it out of malice, but out of love and concern for your future. But you know what? They'll all be wrong. You CAN be an artist full-time, and you will be. Also, in two years when you decide to grow dreadlocks – don't. Just don't. It's not going to work out.
Could you describe an evolution in your work or way of thinking?
I feel like I have gone back and forth between conceptualism and aestheticism quite a bit. At one point I was a huge theory nerd, then I got really disenchanted with theory and fell in love with street art, which at its core is populist and just viscerally appealing (or sometimes viscerally enraging, depending on your take. Either way – it's goal is to elicit an emotional reaction). Now I'm cozying up to concept again and am coming to appreciate art with big ideas behind it. But I still love aesthetics, and want to find a way in my practice to make work that is nice to look at but still makes you think. I think that it took a long time to realize that I could do both.
Are there any people who have been instrumental in the development of your way of thinking and viewing the world?
David Choe completely blew my mind wide open when I was 18. I was visiting Montreal (still living in Edmonton at the time, a city that is pretty isolated and not exactly a hotbed of radical anything) and found his book Bruised Fruit in (of all places) an Urban Outfitters. Having grown up in a city that has the highest number of chain stores per capita, I honestly thought that if something was in one bookstore it meant that it was in every single other bookstore. Sad, I know. It turns out that that book was a very limited run (and there were certainly no copies in Edmonton!), but my best friend tracked it down for me and even got him to sign it. Talk about the best birthday present ever! My copy is tattered because I have looked at it so much, and even though I'm not a huge fan of Choe's work anymore (the sexism kills it for me), it was through him that I discovered Juxtapoz and an entire community of artists on the internet who became some of my biggest influences. I had never seen lowbrow before and discovering it was maybe the most exciting feeling of my life. It felt like I had finally found my home.
How do your political beliefs inform or fuel your work as an artist?
I am a very political person. I used to be very involved in activism, but now art takes all of my time (living in Montreal also made me complacent – it's so good there compared to right-wing Alberta). Nonetheless, I think that my political beliefs are always present in my work. I try to really consider when I make an image what unconscious ideas are influencing it and how it will be perceived. Particularly in portraiture, I think that it is very easy for artists to fall into the trap of regurgitating the language of advertising. We see ads literally all day long – how can they not dictate your ideas about how a person should be portrayed and what kind of person should be portrayed?
I am currently working on a follow-up to my 2008 series Hot Topic, which is 60 paintings of feminist icons. In Hot Topic Redux I'll paint another 20. Stay tuned to my website (www.hellokirsten.com) because I'll be launching a site in the next month or so where I take viewer suggestions about which feminist icons should be painted next.
I also run Papirmasse, an affordable art subscription that sends a monthly print to people around the world for only $5 a month. I really think that people should not be shut out of the art world because of income, so I'm doing my part to make art more accessible and help it circulate through the world. People are afraid to have an opinion about art – they think they need an Art History degree to say whether they like something or not! With Papirmasse I always say – it's yours now, it's coming into your home. There's no expert. YOU are the expert. You decide if you like it or not. And at 5 dollars don't be too precious about it. If you like a part of it then cut it up and frame it. Make art work for you. Have a dialogue with it. The conversation doesn't have to be a one-way street.
What do you feel a city should be or do for its inhabitants?
This is an interesting question for me at this time in my life, as I am transitioning from Montreal to Toronto (6 years after leaving my hometown of Edmonton). Toronto seems like a cool place with a really active populace who is interested in improving their city, but I have a sneaking suspicion that in some ways it won't be able to match Montreal. The reason I love Montreal so much (and what enticed me away from Edmonton) is that it is a very actively lived-in city. The population seems to move through and interact with the space in a much more engaged way than, say, Edmonton, where you rarely see anyone out in the street and only see car after car.
This happens because of bike lanes, beautiful public parks, great public transportation, and lots of lots of free shows, festivals, and events. Montreal routinely shuts down entire busy streets for days (or even months!) at a time so that they can become pedestrian walkways. I think that they value the citizen more than cars or commerce. This seems counterintuitive because obviously citizens in a sense *are* cars and commerce. But it shows a different way of thinking about how we interact with our environments, and it shows that basic day-to-day experience is valued more than getting people to and from work fast. Does shutting down St. Catherines street for 4 months every summer make economic sense? Maybe not, in the traditional sense. But it has turned the Village into a thriving neighbourhood, and nothing really beats walking down a street full of people strung with lanterns and bustling energy. Those kinds of moments are what people who visit the city remember about Montreal, and it's what makes me sad to leave it. I think that in North America there is a tendency to value making money as the most important factor in city-based decision-making, and what makes Montreal special is that it values happiness, culture, and human experience more.
I also think that a city should leave art (aka graffiti) up outside. Urban environments aren't supposed to be clean showrooms. Cities are slates for multiple expressions, and street art ads to the feeling of being in a vibrant space that is alive.