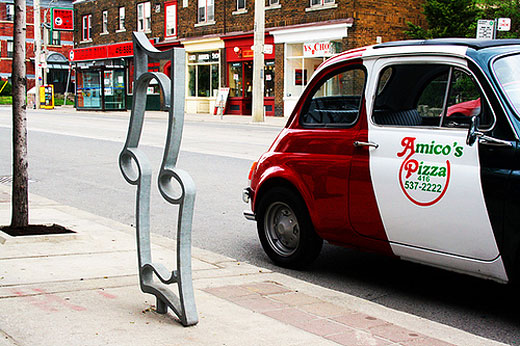 With the recent addition of new bike racks in downtown Windsor, which I'm happy to see, and with the recent addition to some of those racks with some yarn bombs, downtown feels a bit more like a place, rather than just an any-space-whatever.
I'm also aware though, that Tecumseh has had an ongoing bike rack design competition, which has obviously been successful elsewhere. Above, there's a photo from a recent installation of a bike rack sculpture in the Parkdale area of Toronto. With so, so, so many talented sculptors and artists in the city, this should be standard practice. Why doesn't Artcite try to work with the city to have a small bike rack sculpture competition for the downtown core?
Alternatively, we here at Broken City Lab are working on brainstorming new ways to turn any piece of infrastructure into a functioning, safe, and secure bike rack.
[via Worldchanging & spacing]