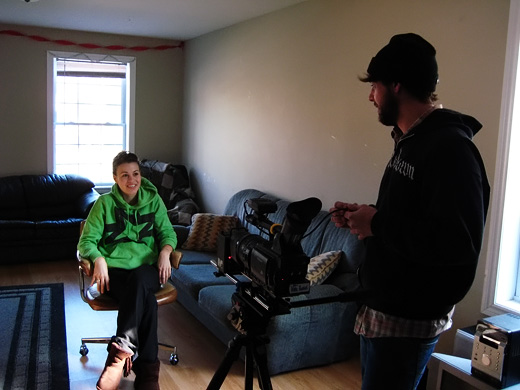 This past Saturday I did my portion of the BCL collab/micro-residency with the lovely and talented wunderkind, Mr.Eric Boucher.
For the collab I had Eric interview my sister's good friend, Sam. Aside from her notable charm, I think Sam was a good candidate for the project because she is a student who came from Sarnia to study at the University of Windsor and could provide us with an honest "outsider" perspective. Under the supervision of Sam's curious cat Joseph, she and Eric chatted about her first impressions of Windsor as well as the similarities and differences between the two border cities, Sarnia and Windsor.
What I found most interesting about the process was the organic way in which the conversation unfolded and continued to unfold after the camera was off between Sam, Eric, my sister and I(as I am sure was the case for the other interviews as well), which was a clear indication of the desire to participate (Windsorites and new windsorites alike) in the pro-Windsorian discourse……we love to talk about our underappreciated city!
I also think it is interesting to note that neither of us are native Windsorites (although my sis, Eric and I are county kids), we all had post secondary education as a common draw to the city, yet, I got the sense that we all seemed to feel like true Windsorites, ready to defend our city to the naysayers, the uninformed, the tresoners and the ones who lost hope.