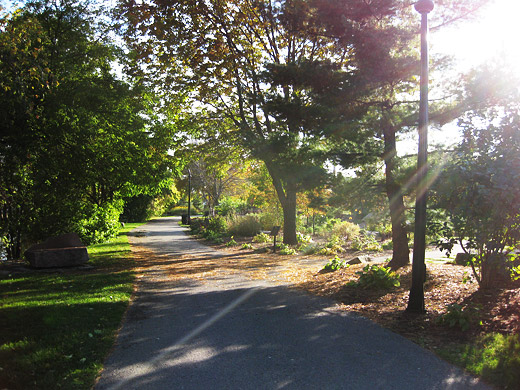 As part of our Extended Field Trip #001, we're in Peterborough staying at the artist-run-centre, Artspace. We're hoping to conduct some intercity research where we'll attempt to understand the similarities and differences between Peterborough and Windsor and hopefully find some intersection thereof to which we can respond. We arrived in Peterborough in the late afternoon and did some exploring immediately. We'll be posting more of our general observations and assumptions about why we saw what we saw later, but for now, we thought we'd give a visual introduction to this city.
Above, a path that follows the Otonabee River, which sits tucked away beyond the visual border of the downtown core. Somehow, this describes the general sense of Peterborough—nice, strangely well-maintained, and a place that just seems to work.
The city is considerably different than Windsor, and we're hoping to figure out why it is that this city of 75,000 north of Toronto is a place that few people want to leave.
Basically, this post will present most of what we saw, much of which we're still trying to reflect on and figure out. The discussion we had last night with some of the Artspace folks helped to frame and confirm what we saw—this place is okay and stable.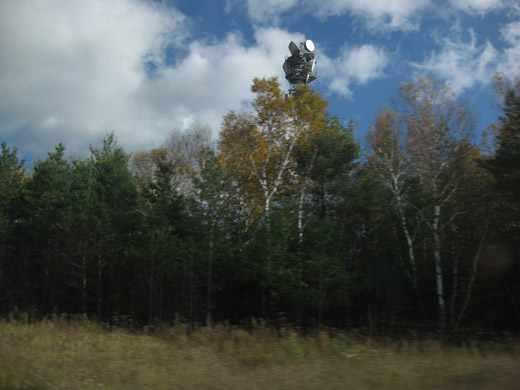 On the way up the 401, some strange cellphone towers.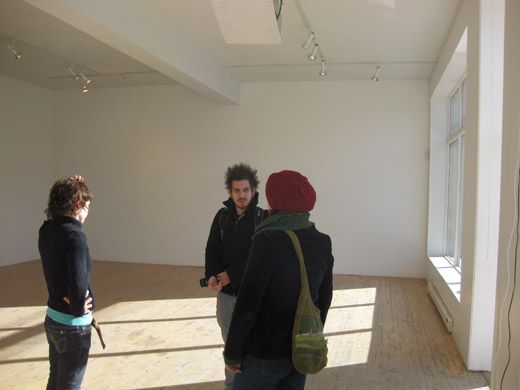 Our arrival at Artspace—Iga, Justin, and Liz in the gallery preparing to embark on our first explorative walk.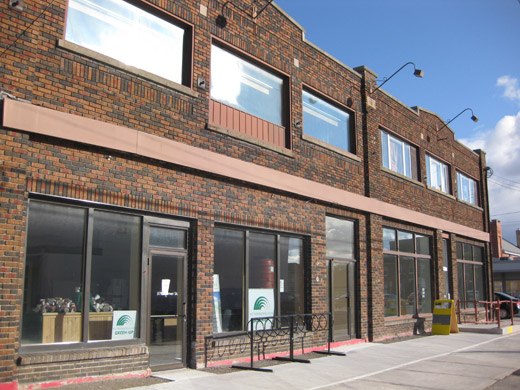 The front side of Artspace, an older building that they've recently moved into.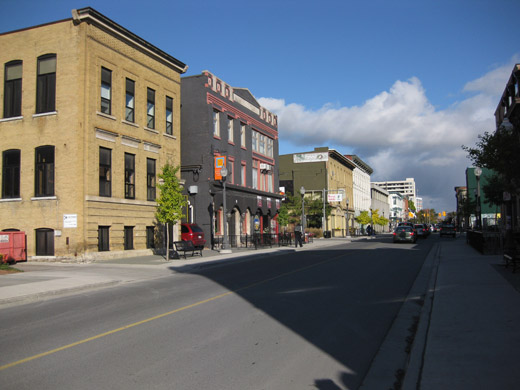 Hunter street.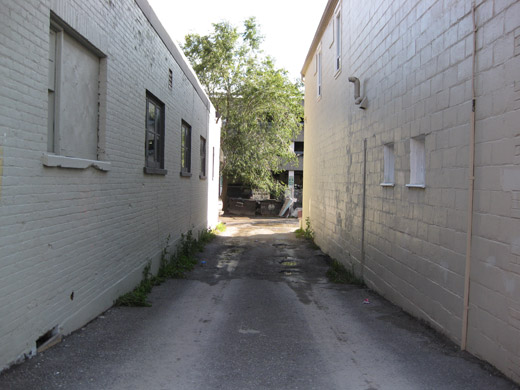 An alley, pretty clean.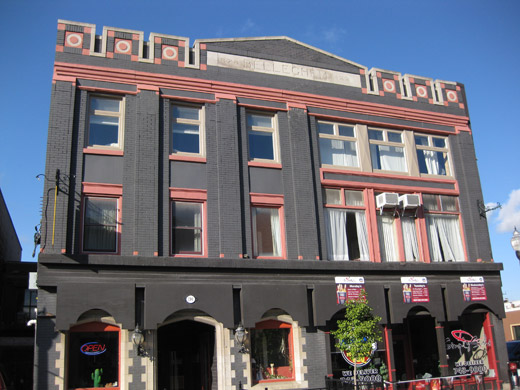 Some of the mixed-use space.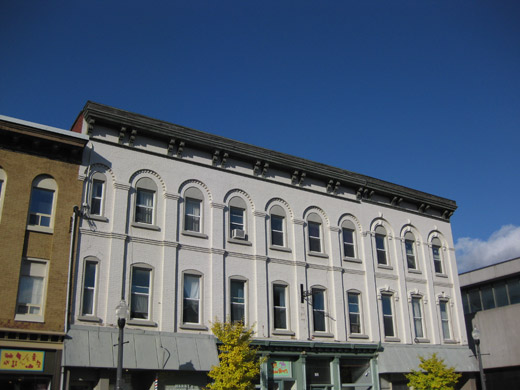 While this street does have some apartment spaces, apparently this is an oddity.
There are people on the streets.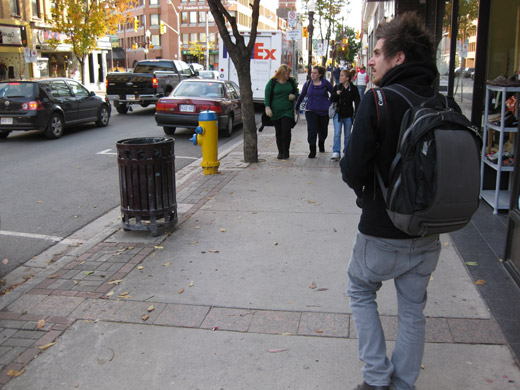 Justin looking on the George St N heading south.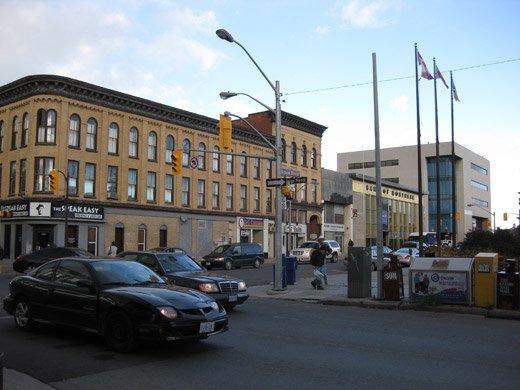 The row of buildings that marks the edge of the downtown concentration of older architecture.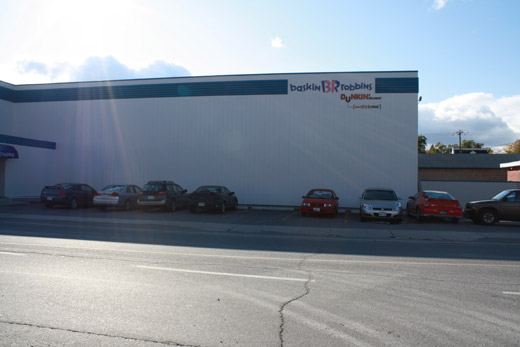 The ice cream factory that, according to legend, makes ice cream only for Canadian Solders in Afghanistan, across the street from Artspace.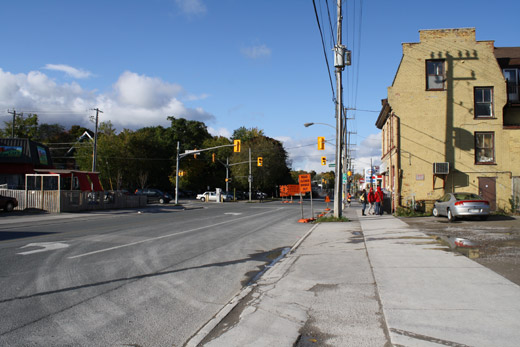 Looking North on Alymer St N.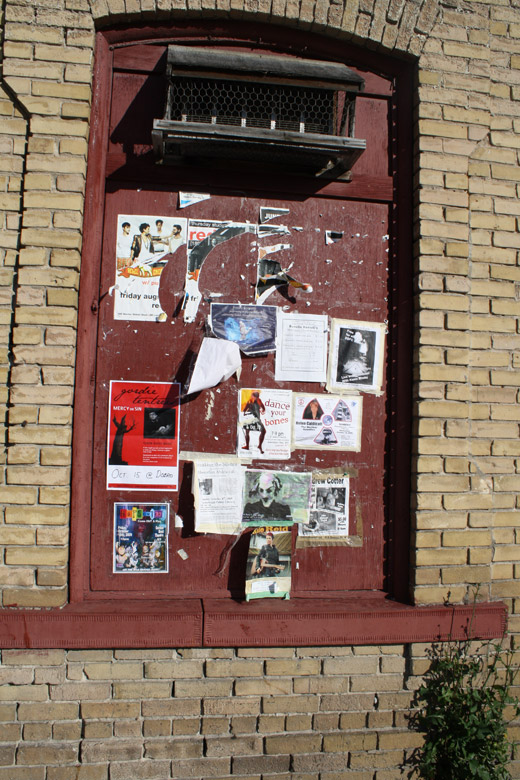 Posters over once-windows, relatively tame.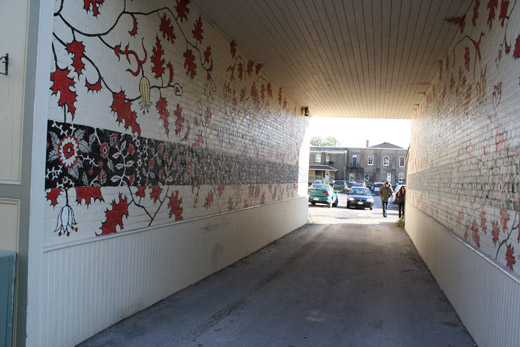 Another alley, decorated, leading to a parking lot.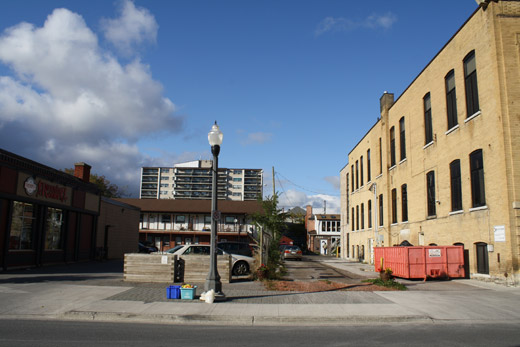 An example of some of the patches in the older facades… parking lot followed by apartments.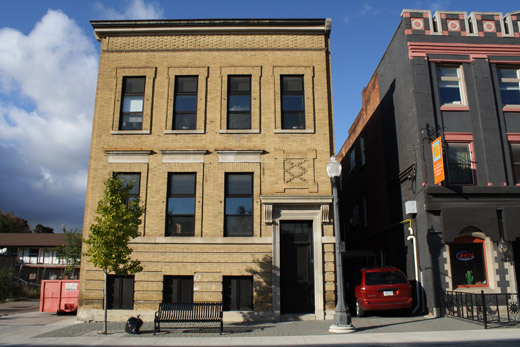 Just a nice building that makes this feel like a functioning downtown next to a building that's kind of tragically been painted over, for the most part.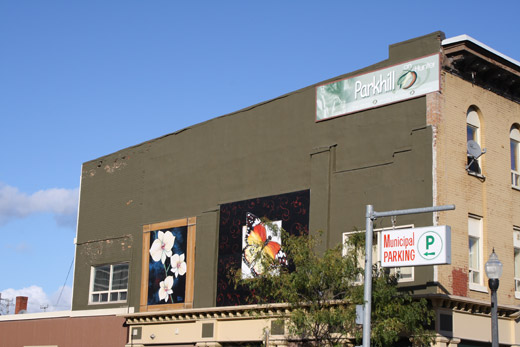 "Murals" next to a parking lot.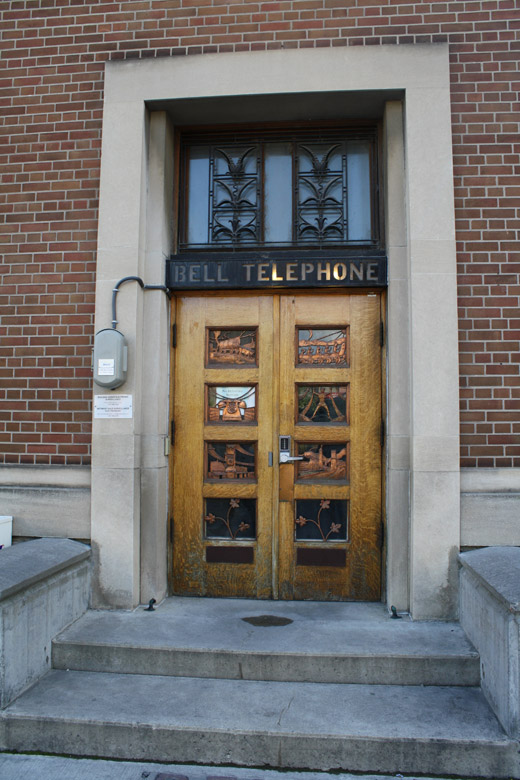 What appears to be some kind Bell Telephone headquarters. Some people are reportedly "happily" underemployed, the largest employers seem to be government (or once-government).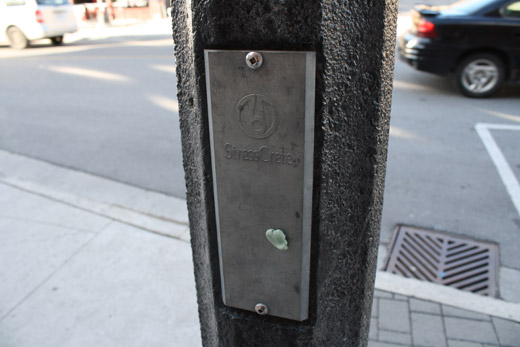 Things are pretty clean, in general. This gum sort of stood out where we'd be used to seeing tags or the light pole itself falling apart.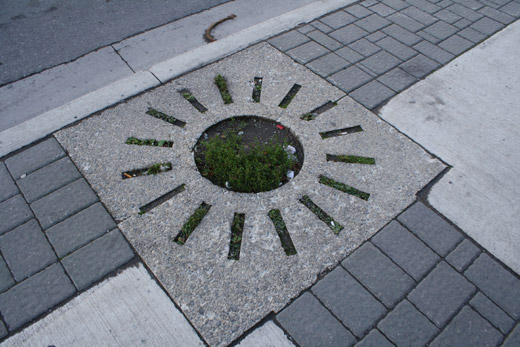 An echo of an attempt at greening the downtown core.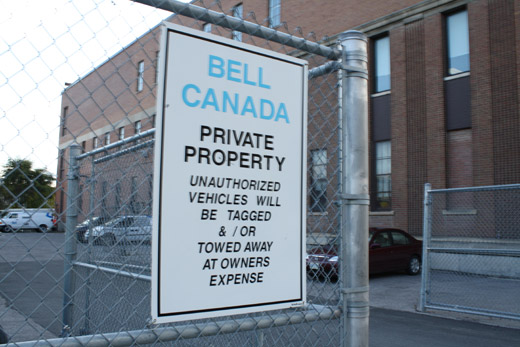 There weren't a lot of fences to speak of, but unfortunately this one kind of scars a block of the edge of downtown.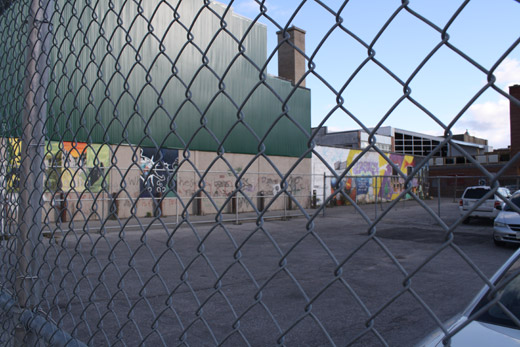 Through the fence you can see some commissioned graffiti.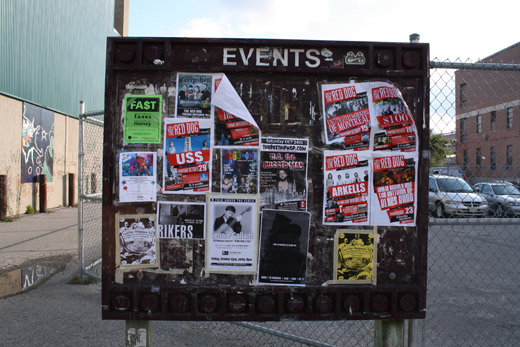 An Events board that seems to be kept up to date and fairly well-organized.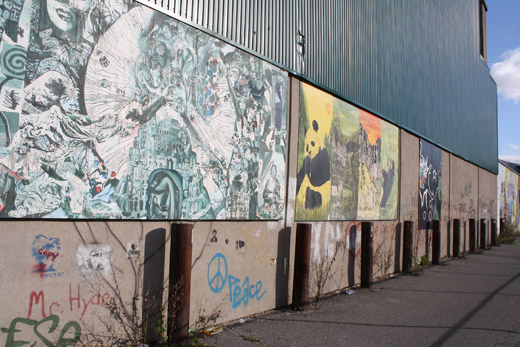 More of the commissioned graffiti, with some leaks of stencils that seem non-commissioned.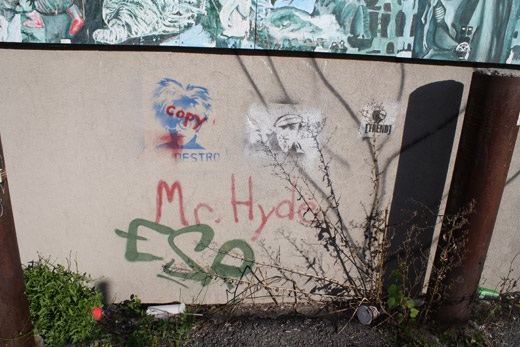 Alongside the contained murals, stencils that are actually kind of interesting.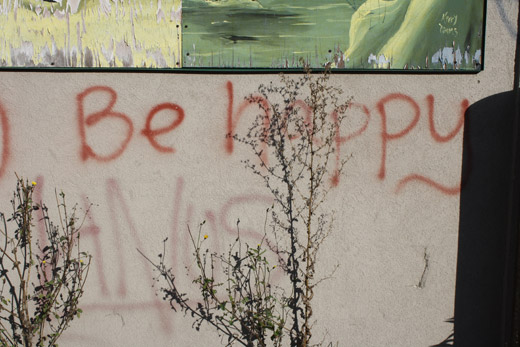 Graffiti that sits on the border of commissioned and non-comissioned, though it seems that it could be indicative of what the general sense of the city is.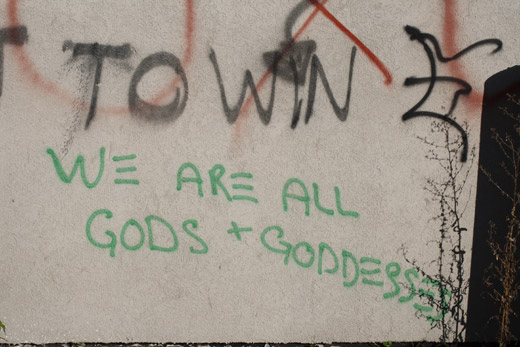 Is this for real? Signs of the hippy population that apparently remains strong here.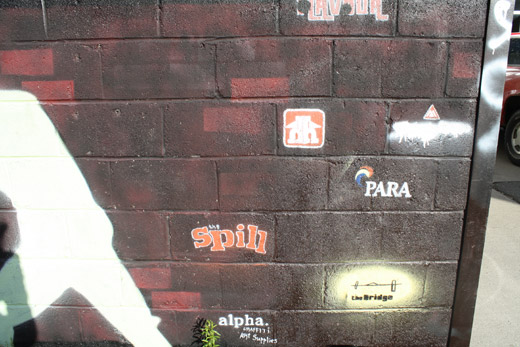 At the end of the wall though, we see some of the "sponsors" of the wall.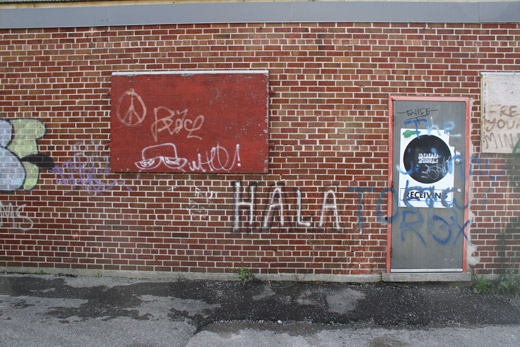 And around the corner, some of the very little tagging we actually saw anywhere, but still fairly sterile.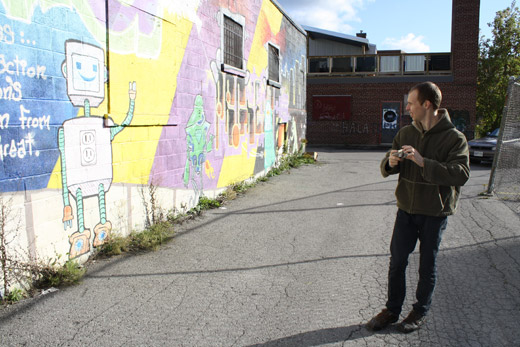 Josh looking at the happy robot with telephones for its feet.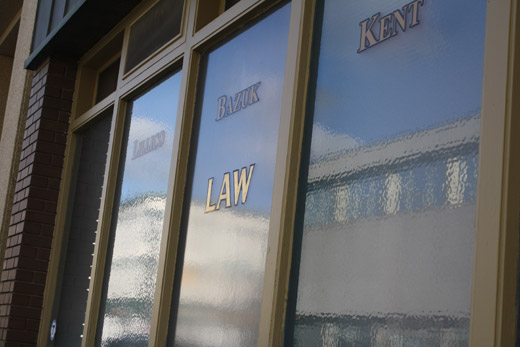 These murals were on the side of this law office and next to the Bell parking lot.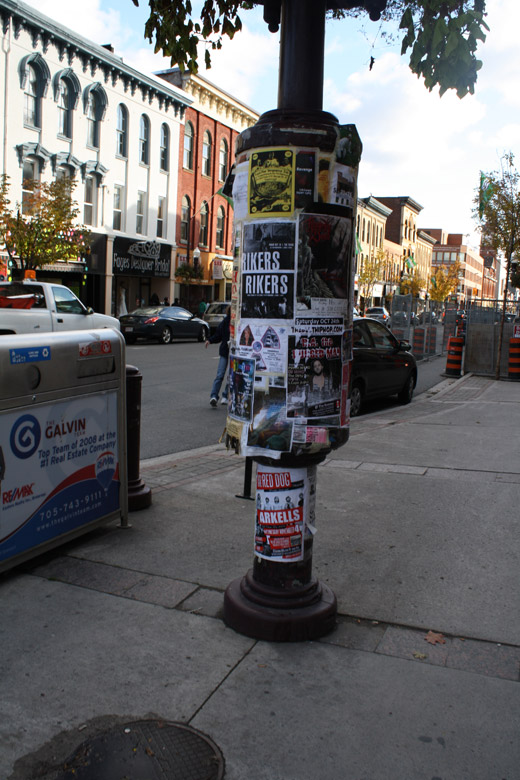 Some overflow, but still generally tame for advertising.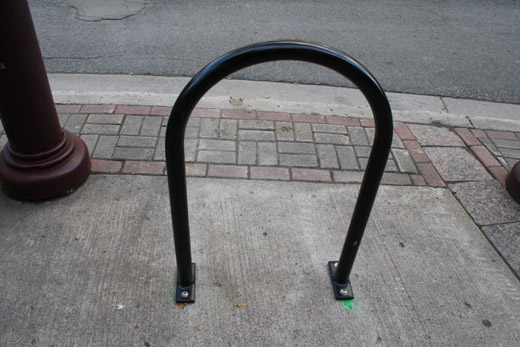 How to park bikes in Peterborough—misleading because there are actually a lot of cyclists.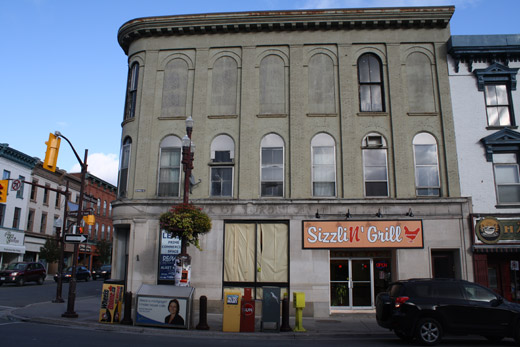 Lovely buildings like this frequently occupy the corner of downtown streets.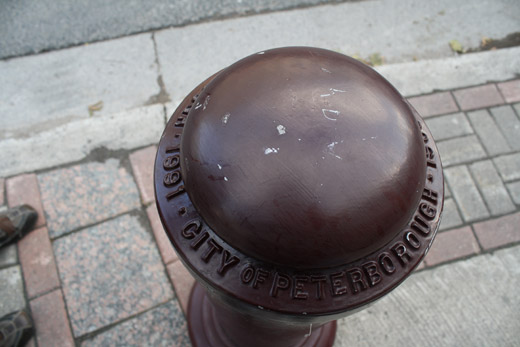 Near the edge of most downtown streets, these brown pillars stood in twos or threes. We are not sure of their purpose, but they might be barricades.
There were a very considerable amount of people walking around downtown. Apparently some of them just pass through to get to the mall, but it's still nice to see.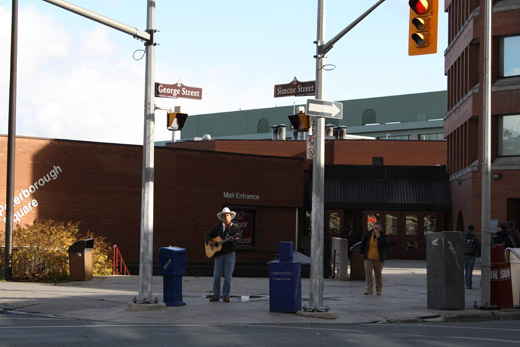 We were told that this mall has been a bit of a failed project since its creation.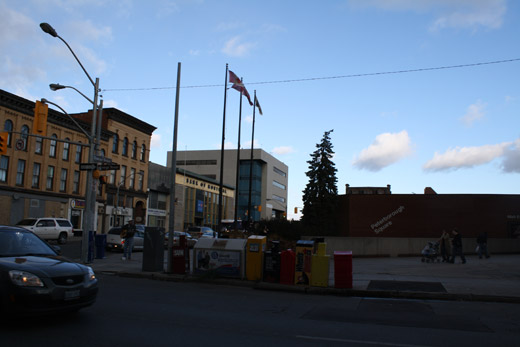 This is another example of the divide between architectural styles.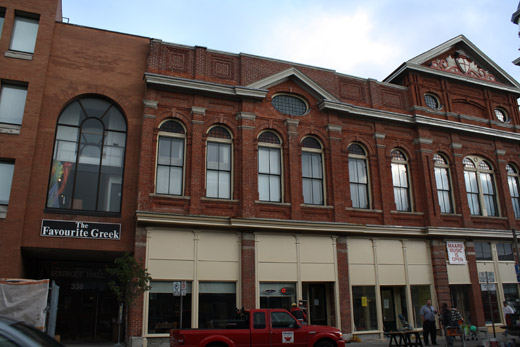 It's nice to see so buildings like this one used for a variety of shops, restaurants, and offices.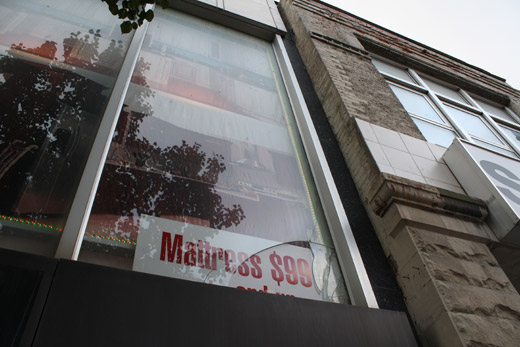 Here is the only broken window we found on our trek.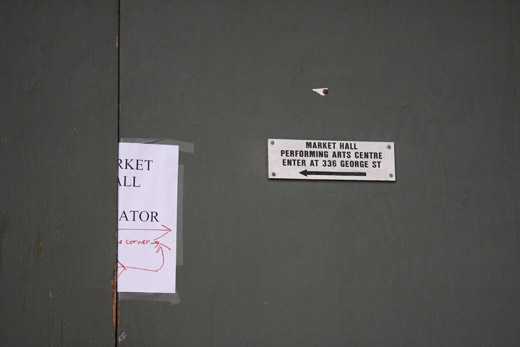 This theatre reminded us of Windsor's Capitol Theatre.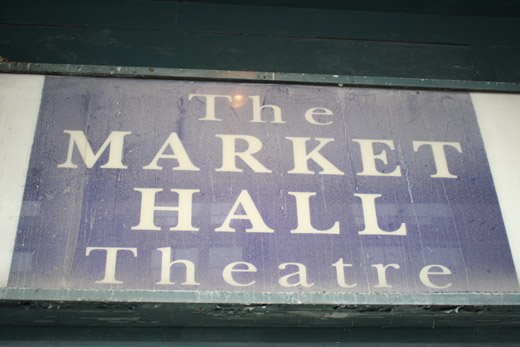 Peterborough apparently has a pretty healthy theatre and performance scene.
This is the mall's "courtyard" which faces the river. Here are a few planters that resemble metal trash bins.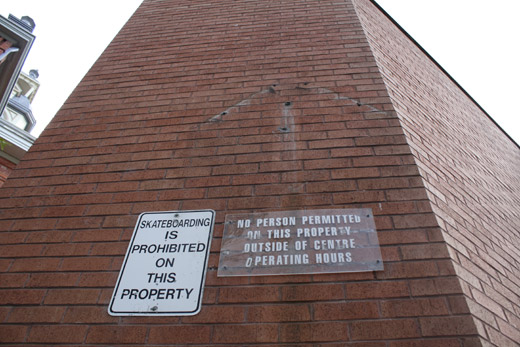 As usual, the mall forbids skateboarding, which I'm sure they feel degrades the mall and potentially endangers its patrons.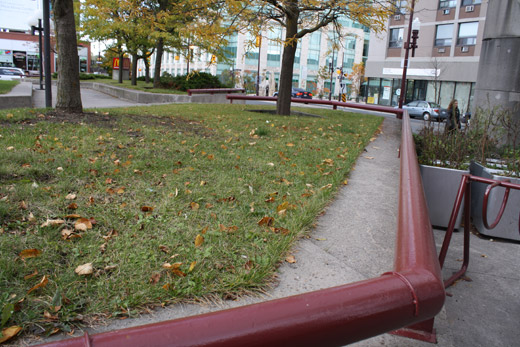 Here is an illustrated example of what a skateboarder could look forward to provided he was allowed to use the area.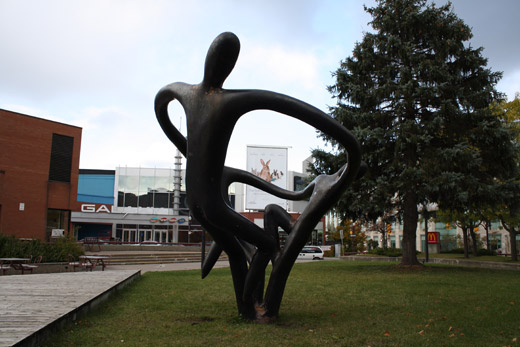 This elongated figure sculpture reminds us of the work lining Windsors riverfront.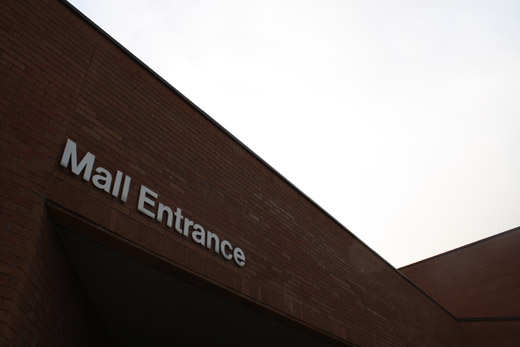 Innocuous mall entrance sign against brick that marks the edge of the downtown.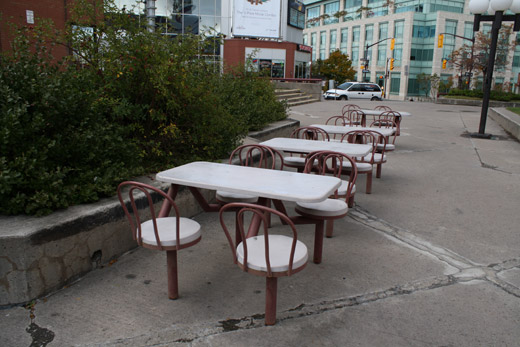 Outdoor seats—it's obvious that the neglect here is considerably more than in the rest of the downtown where it at least appears as though local shop-owners take better care of their space than any large mall-owning development company has.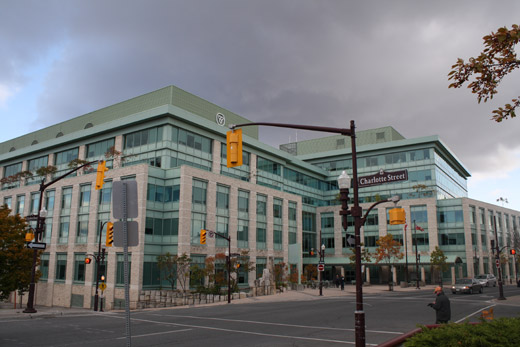 The Ministry of Natural Resources—large employer recently added to Peterborough when the Ontario government started spreading its ministry headquarters around the province.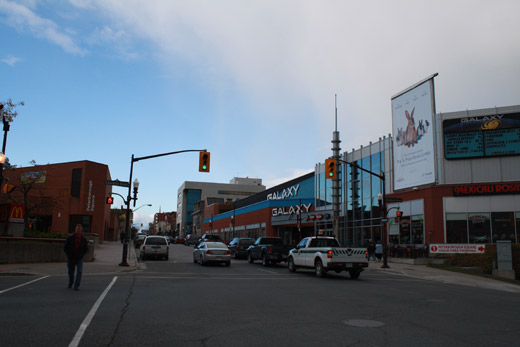 The movie theatre across the street, another building acting as the border of the downtown.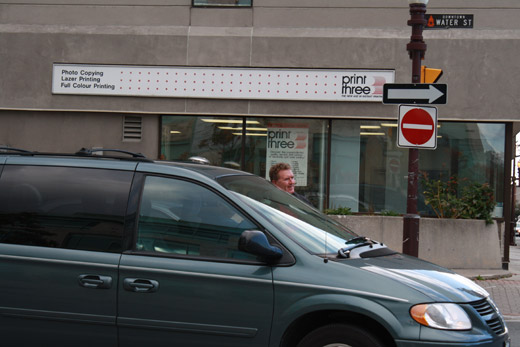 This happens here—people see their friends at a stoplight and go up to the window to chat.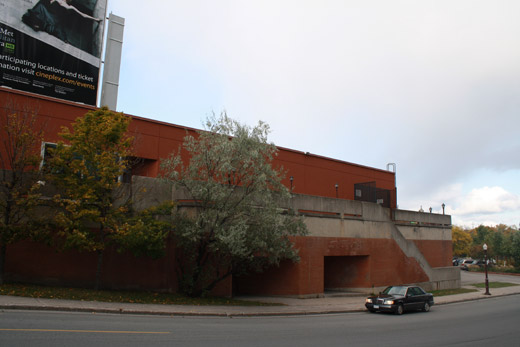 The side of the movie theatre, barren, and one would imagine suggestive of the end of anything worth viewing.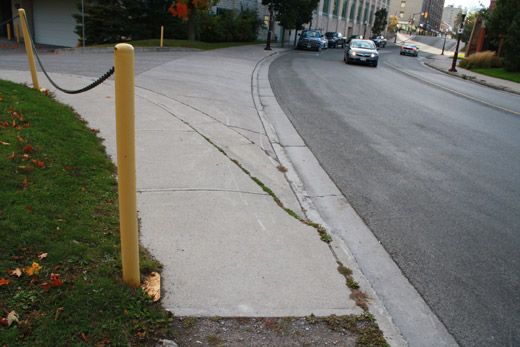 The end of the sidewalk, it doesn't look promising that there's much beyond this.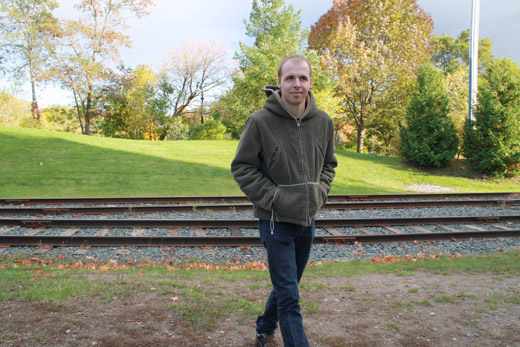 At the train tracks that meet the end of the sidewalk.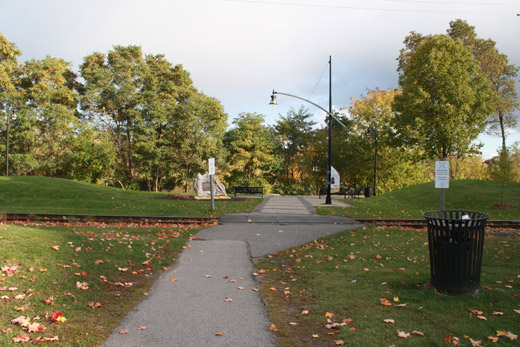 But then, just a bit further down the tracks, an entranceway.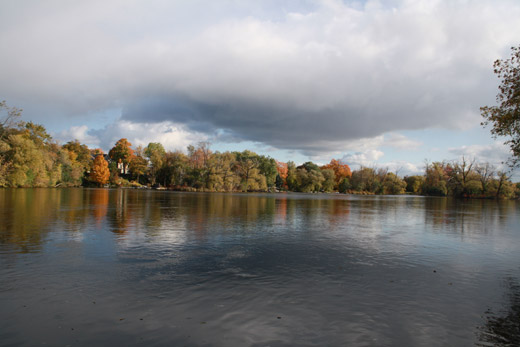 That leads to this view.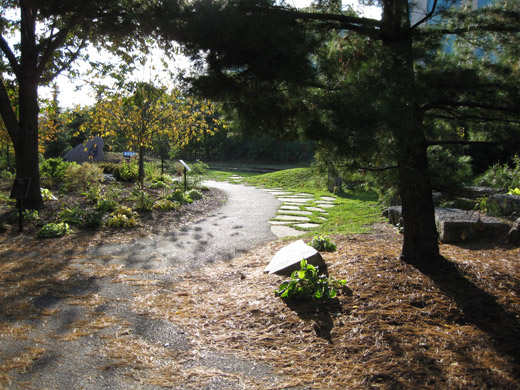 And this pathway.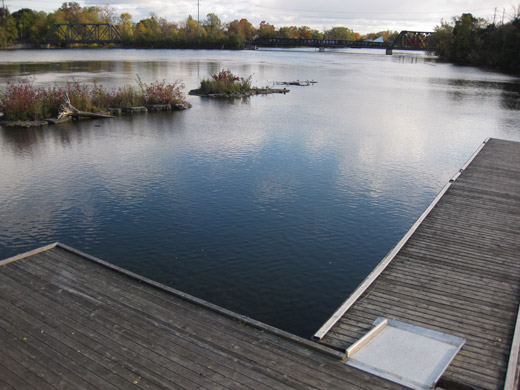 And eventually this dock.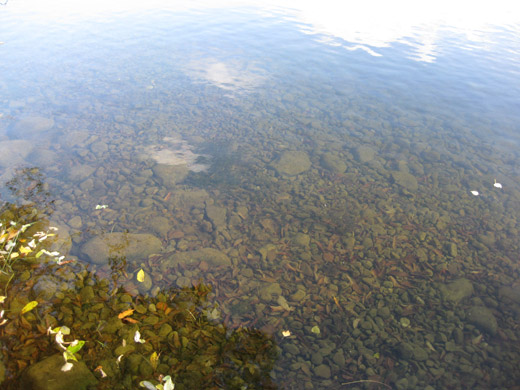 And this clear water.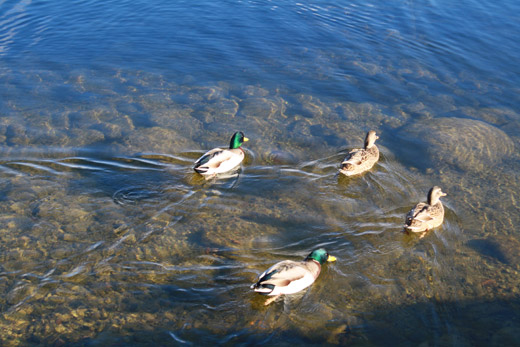 And these ducks.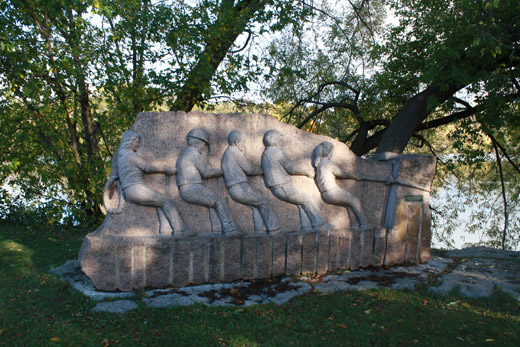 But we're getting ahead of ourselves. There are some of the usual suspects abundant in municipally developed public places.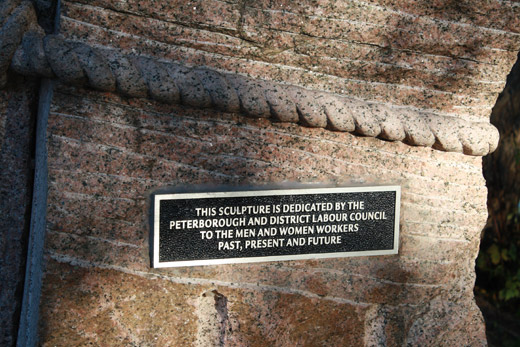 Sculpture of diverse-ish people pulling a rope dedicated to workers.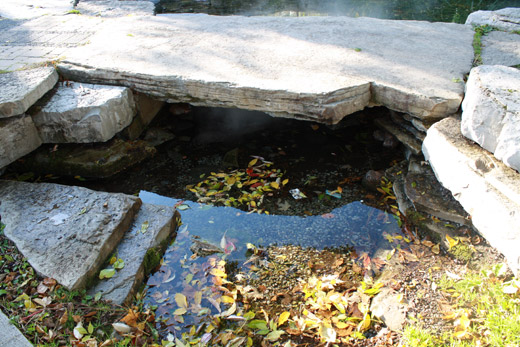 Nearby a shallow pond.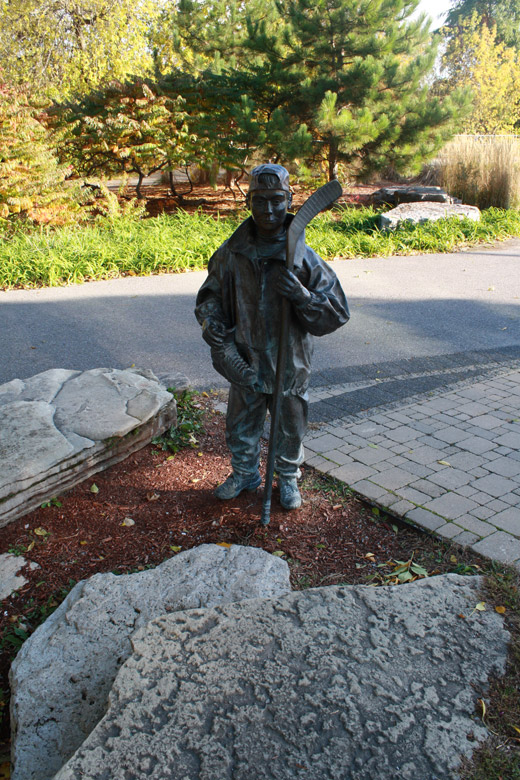 A sculpture…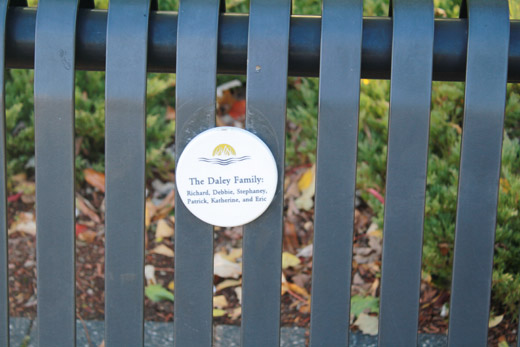 The way in which they demarcate memorial benches, notice the benches themselves aren't made from wood painted pink.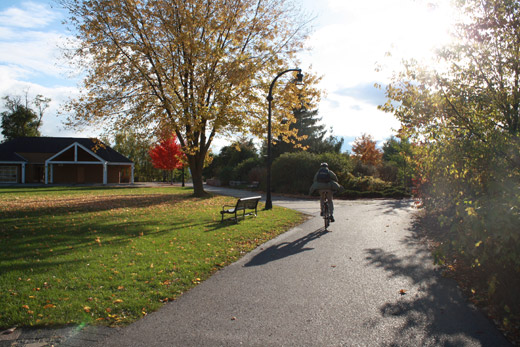 Great bike path.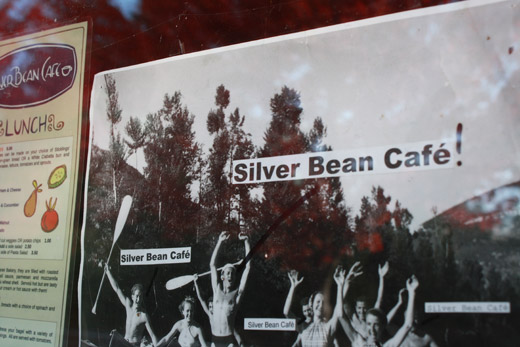 Peterborough's answer to the Green Bean cafe.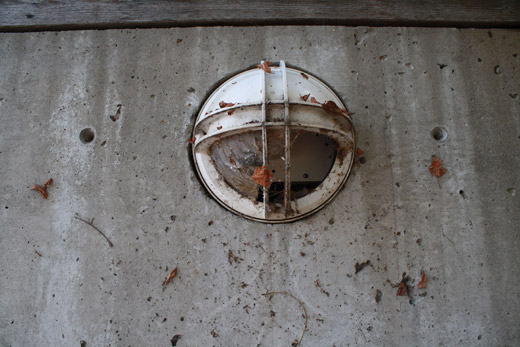 A broken light in an area that one would expect much worse—below grade, along the river's edge.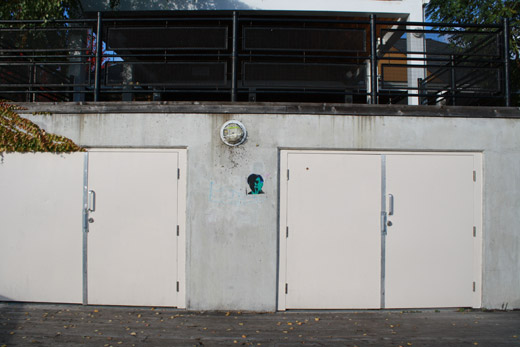 One stencil that's actually well-done in the same area.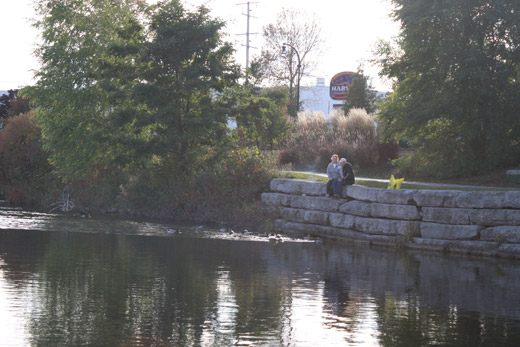 People outside feeding ducks.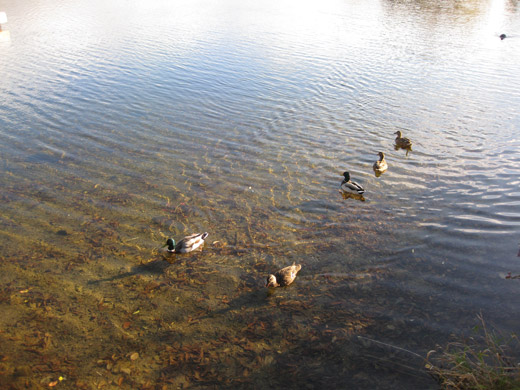 The ducks anticipating bread crumbs.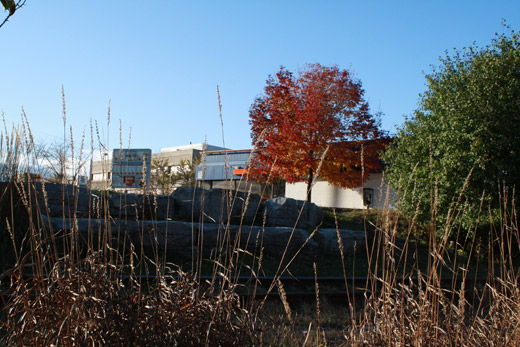 From the edge of the path and beyond the train tracks, you can see Harvey's.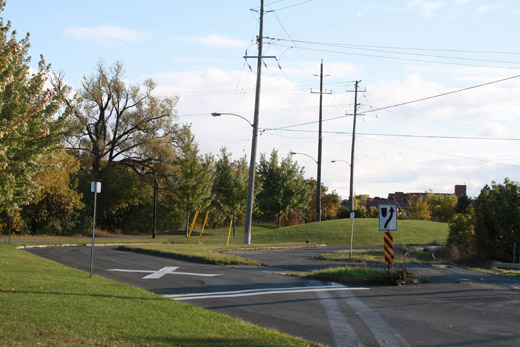 A strange turnabout at the edge of the No Frills parking lot that's just beside the trail.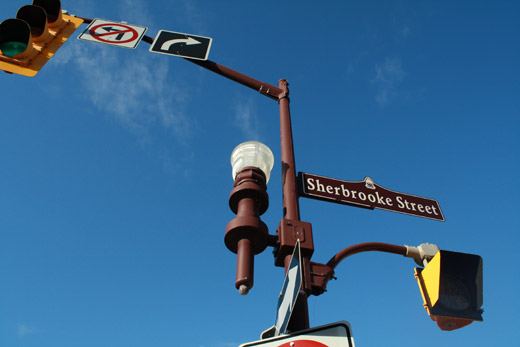 Traffic lights that work alongside the kind of confused identity we heard about in the downtown. Some councillors would like to see the downtown converted back to its somewhat invented historical precedent with oil lamps.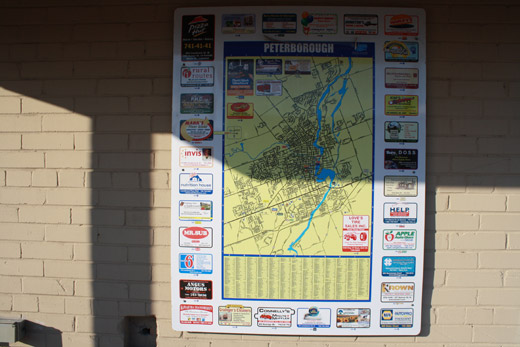 The sponsored map that's kind of useless alongside the abandoned stripmall.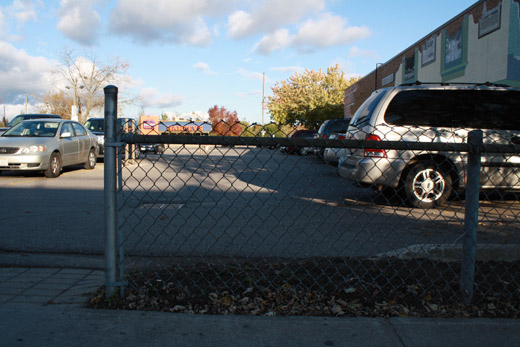 A parking lot fenced in by a 3 foot fence.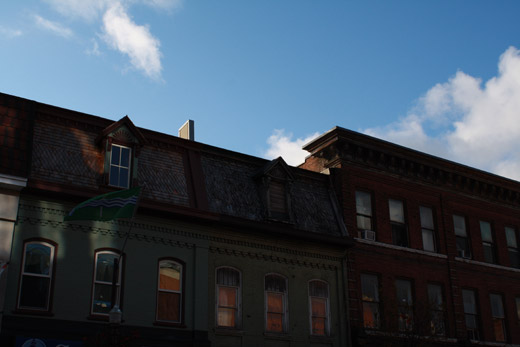 Third storey spaces that are underused and kept vacant because the landlords can make more money than by renting them—sounds familiar.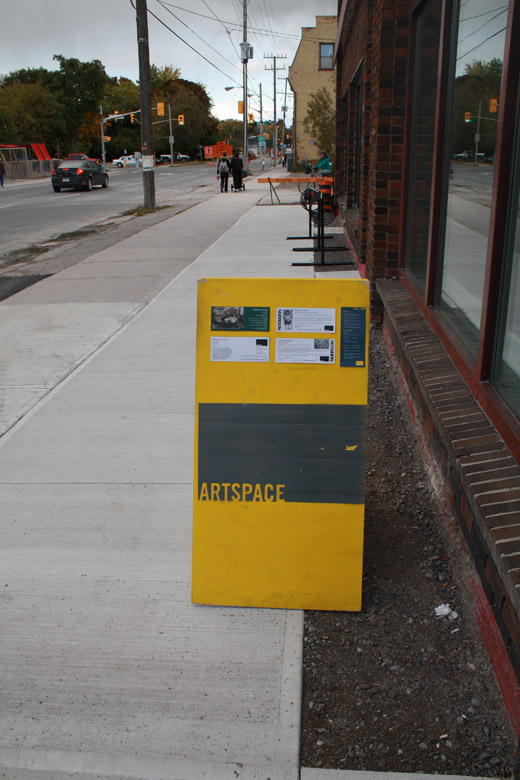 Back to homebase—Artspace's sign.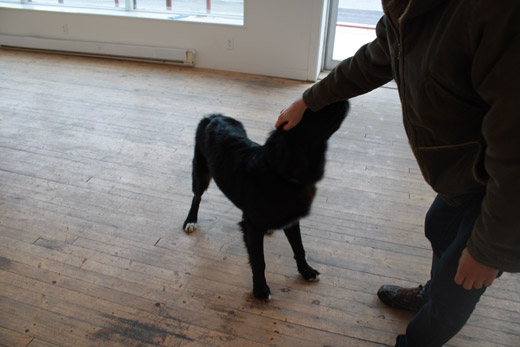 Iga's dog, Cuba and Josh.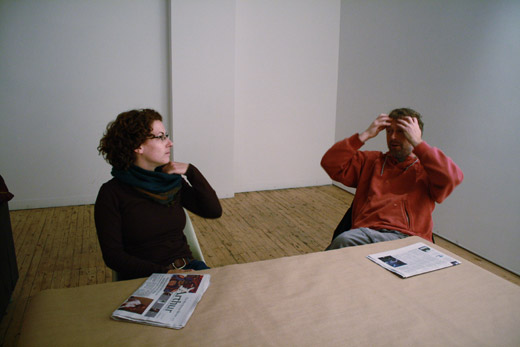 Liz and Paul at our evening roundtable.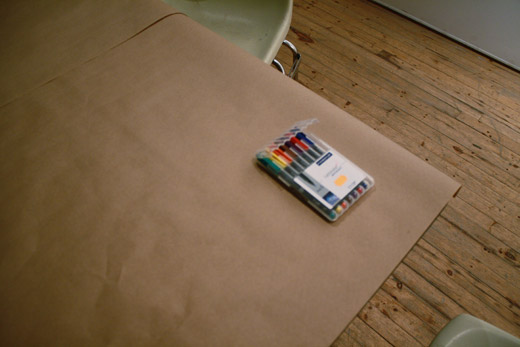 Markers waiting.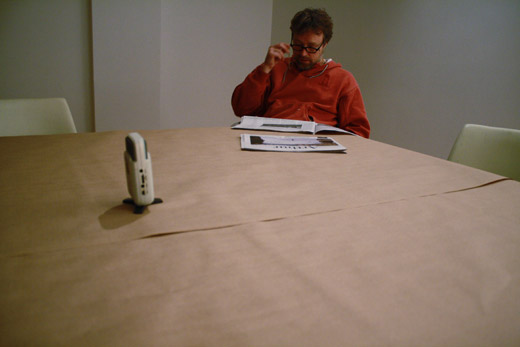 Paul looking over the rather pleasant "Arthur," Trent's student newspaper.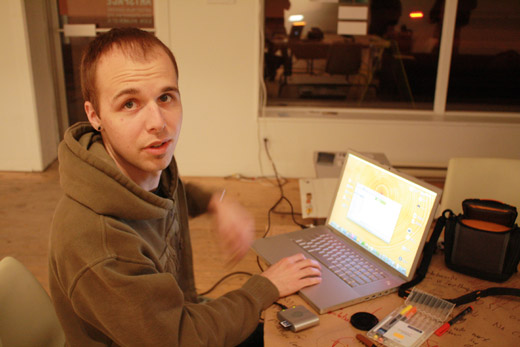 Josh capturing photos.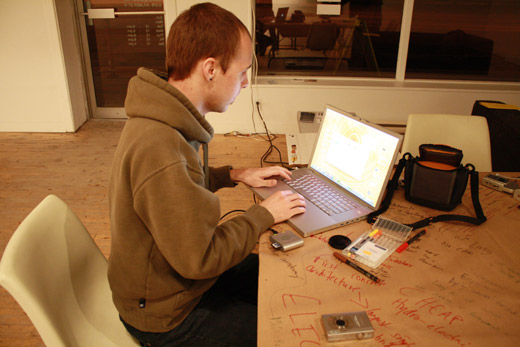 And organizing folders.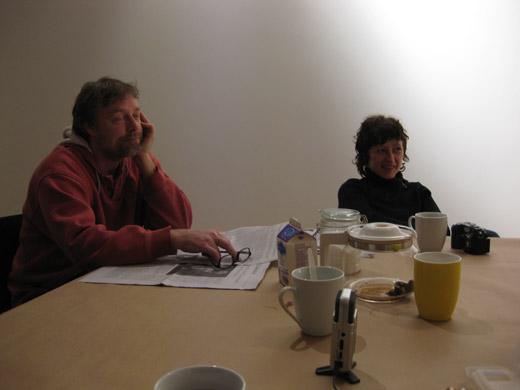 Discussion with Paul and Iga.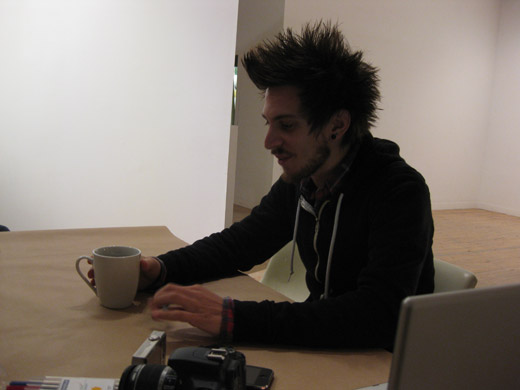 Justin asking questions.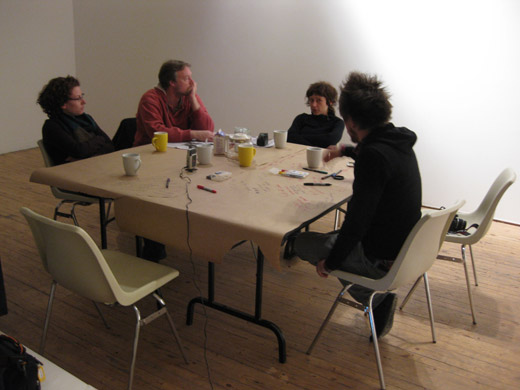 Trying to take notes.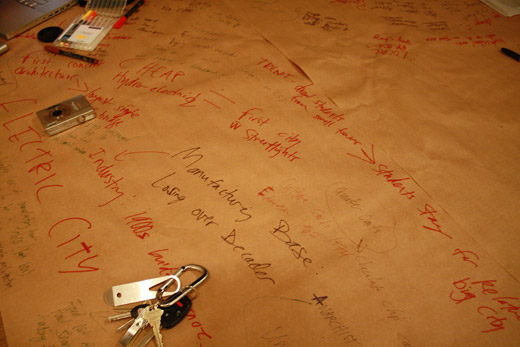 After our discussion, lots and lots of notes on the history of Peterborough and why, in general, things seem to work here.