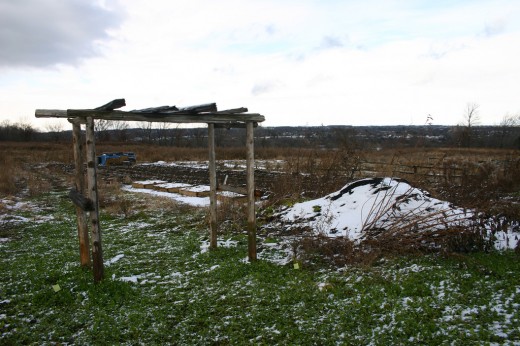 I saw this on Render's blog, and considering our work towards an artist-led community garden, I had to repost it. Not much to look at lightly dusted in snow, but the idea is incredibly great.
Running from April 2009 to the following winter, GROUNDWORK will function as a community garden and creative research site. The project will take place on the grounds of Rare, a 913-acre nature preservation and agriculture education site located on the Grand River between Galt and Blair. GROUNDWORK will bring together a core creative group of a dozen youth from the Gaweni:io School (Six Nations) and Waterloo Collegiate Institute's Collision group to develop and cultivate a community garden/site of creative research and knowledge-sharing.
The community-outreach on this project is considerable, and it's projects like these that involve such deep integration and collaboration with different parts of a community (and it seems Render is taking on more and more of them) that really interests me as an artist and parallels some of the bigger things I think we'd like to do in BCL.