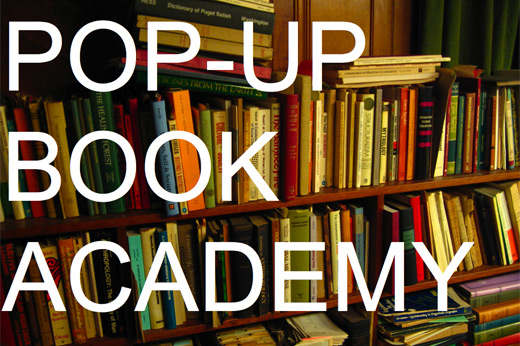 In an amazingly good interview, Daniel Fuller over at Art21's blog discusses projects, ideas, and philosophies of social / dialogical / relational art practice with Sam Gould of Red76.
Red76 has been organizing workshops, lectures and public dialogues in "non-hierarchical" settings since 2000, most recently working on the Pop-Up Book Academy, a school which materializes behind the mask of a temporary used book store. The school utilizes the printed form as a means of investigating social politics and its histories past and present. Much of their work has been involved in working with art spaces focused on alterative pedagogy.
Gould charts a brief history of this type of art practice, attributing the social practice and relational aesthetics trajectories that emerged in late 90s and into the 2000s to difficult economic times and political conditions (that is, the transition into Bush's presidency). He also tackles the big question, "How is this art?" by attributing the classification of this type of practice as art in the art world (and that art world being defined by museums and galleries) to a kind of laziness by the artists working within it, which is to say that while some of the work presented in this context of social practice isn't necessarily best suited for presentation in a gallery, it becomes a type of necessity to allow it to do just that.
In reflecting on the nature of this practice, often enacted through discussions, lectures, workshops, artist talks, seminars, Gould notes that critiques and arguments of their practice often fall into two categories: efficacy (activists), or sincerity (artists). These in particular seem to be somewhat familiar questions.
And, I had to include my favourite line of the whole interview: "You don't need an object to make it [art]. Art is the space which we define for questioning. Objects, or the lack thereof, are placeholders for ideas and propositions."
Again, it's a great interview and I've only barely skimmed the surface in my quick recap here. It's definitely worth reading if you're even remotely interested in the intersection of art and activism.
[via Art21]